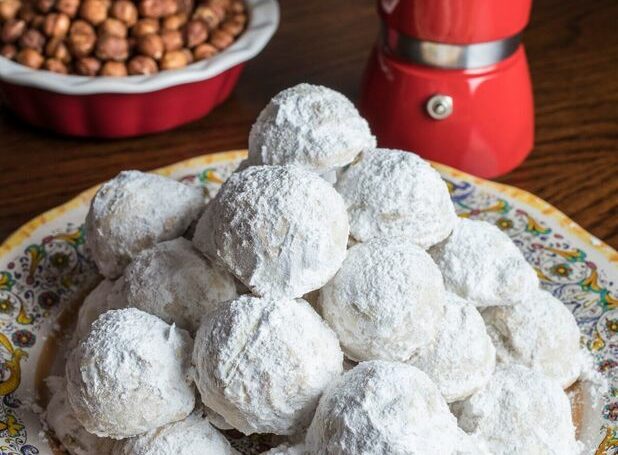 Hazelnut Butterballs
Oh Italy, in all of your hazelnut glory… Hazelnut biscotti, hazelnut spread, fresh hazelnut from the tree, pralines, truffles, and how can I forget Italy's most popular hazelnut treat, the gelato. And what would the famous Bacio Perugina chocolate be without its signature hazelnut on top? Yes, indeed, Italy, the world's second largest producer of hazelnuts, does indeed have a love affair with this little nut.
Also known as a filbert, a hazelnut is well, the nut from the hazel tree. Harvested during mid-fall, the tree drops its delicious nut on the ground and is then harvested by farmers all over Italy. Sold during the fall at outdoor markets as well as large chain stores, shoppers stock up during the fall in preparation of the upcoming holiday baking season. Much of the hazelnuts are sold in the shells, although unshelled can be found at the larger chain supermarkets.
When I am not enjoying them in Italy, I tend to buy my hazelnuts in bulk at Whole Foods. They are shelled, so less work, fresh and delicious.
I have been making my walnut and pecan butterballs for many, many years. They are a favorite among my family members and guests. There's always a batch around in the month of December. Last year, I decided to play around with my recipe, as I always tend to do (!), and created hazelnut butterballs. And OMG!! I'm pretty humble when it comes to my baking. Even if something comes out delicious, I will find reason to critique it. But for these, I must say, I patted myself on the back! They were that good! Now, you got to know, if a cookie has the name "butterballs" in them, they are, well, buttery! These almost tasted like a truffle. They melt in your mouth! They are coated with sugar, crumbly, buttery, super crazy easy to prepare and perhaps my favorite cookie, ever! And look at the ingredient list… So short!
Do yourself a favor this upcoming holiday season, if you bake nothing else, bake some hazelnut butterballs! Since you will be thanking me about these for days, let me say "you're welcome" now.
Hazelnuts Butterballs
Yields 36 – 40 cookies

Ingredients
1 1/2 cups whole hazelnuts
2 sticks butter (left at room temperature for several hours)
¼ teaspoon salt
1/2 cup powdered sugar
1 tablespoon pure vanilla extract
2 cups flour

2 cups powdered sugar for rolling & dusting

Directions:
Preheat oven at 350 degrees
1) Using a food processor, pulse hazelnuts until they are very finely ground, almost resembling breadcrumbs, but do not over pulse into a paste. Set aside.
2) Using a stand or hand-held mixer, blend softened butter, salt, powdered sugar and vanilla until very well combined.
3) With the mixer on low, add the chopped hazelnuts and mix just until combined.
4) Slowly add the 2 cups of flour to the mixture until well blended.
5) Using a 1 inch cookie scoop or a tablespoon, scoop cookies and roll between your hands
6) Place rolled cookies on cookie sheets that have been lined with parchment paper and bake for 20 – 22 minutes. Rotating the sheets halfway through baking.
7) Gently remove cookies from the cookie sheets and let cool just slightly. While still warm, gently roll cookies in the additional cups of powdered sugar. If they break or crumble, allow cookies to cool for one more minute. (This step is done while the cookies are still warm so that the sugar adheres better.) Plate and serve.
TRAVEL WITH US IN 2023! CLICK LINKS BELOW FOR ALL THE INFO!
THE TUSCAN COUNTRYSIDE: MAY 6 – MAY 13, 2023.
BOLOGNA and EMILIA ROMAGNA: MAY 14 – 21, 2023
THE AMALFI COAST: MAY 22 – 29, 2023
CALABRIA: SEPTEMBER 1 – 8, 2023
PUGLIA: SEPTEMBER 9 – 16, 2023

Cosa Mettere in Valigia per l'Italia
Everyone is always asking me what they should pack for Italy,
so I've created a quick reference guide that you can use for your next trip.
Hint: You don't need nearly as much as you think you do!