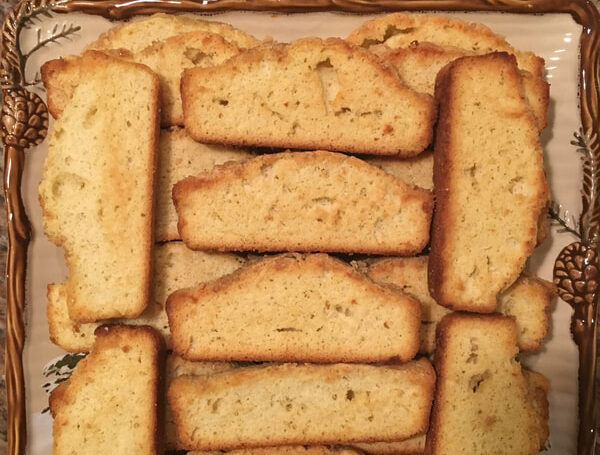 Anisette Toast
There are times when only a decadent treat will do. During the holiday season, those times are many! There are office parties, open houses, the cookie swaps and many other festive gatherings throughout the entire month. It's no wonder by the time the new year rolls around, we all resolve to eat healthier!
I love to bake and this is definitely the time of year where my mixer goes into over drive! It seems that a pound of butter is always sitting on my counter, because, well, you never know when you're going to need some "room temperature" butter, so, best be prepared!
In addition to butter, which makes me feel somewhat guilty when I use 2 sticks per recipe (hello butterballs!), I also love baking with olive oil. As a native of Calabria, we always used what we had most available in the kitchen and growing up, olive oil was definitely more prominent in our kitchen as oppose to butter. There's Mom's famous S cookies, orange and olive oil cake, and our limoncello cake that all call for olive oil.
But there are times in which the decadent treats are best left for guests or special occasions, and there are times in which you just need a simple, light, unassuming treat to go with your tea or espresso. A casual treat, light and tasty but one that will not leave you feeling full or guilty, and these anisette toasts are just perfect for those occasions where you need a little 'something something' without downing 500 calories.
​I love anisette flavor as it reminds me of my upbringing in Italy. During the holiday season, my dad would always have his morning espresso "corretto," meaning with a tiny bit of anisette liquor in it. This was usually reserved for the holiday season, or the cold winter months, when starting the day with a drop or two of liquor was needed to warm up the body! I can close my eyes and smell the aroma now. Sometimes he'd leave behind a little bit in his cup for me to taste, just enough to wet my lips with it. Best not to go to school smelling of espresso and anisette at age 10!
A word about the fat used in this recipe. I have found that I prefer baking with extra light tasting olive oil best, and that is my preference and what I use for baking when it calls for any oil. Light tasting olive oil is very subtle, and as such, your finished product will not have the taste of olive oil at all. If you prefer the flavor of oil in your sweets, by all means, substitute the healthier extra virgin olive oil. Just be conscious of the fact that it will change your final product's flavor. True, extra light olive oil does not have the healthy qualities of EVOO, but keep in mind that we're baking here, the sugar and white flour used also don't have any healthy qualities!
​After all, we can always start being good in the new year!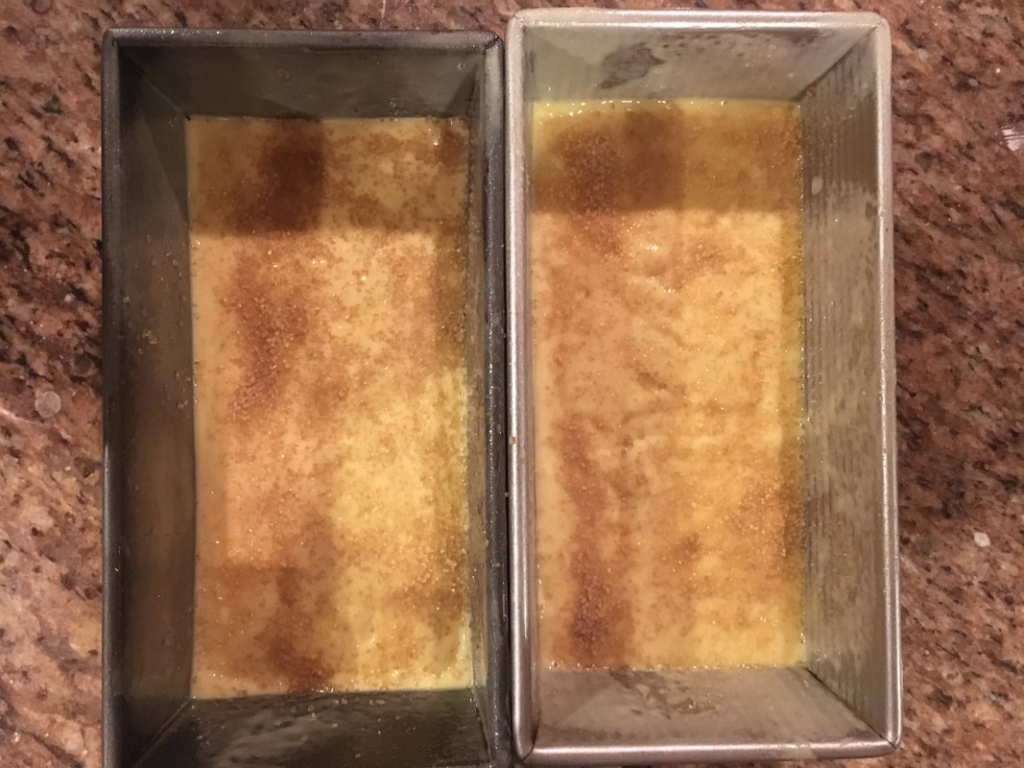 The ingredients used in these anisette toasts are very 'every day' and you likely already have everything you need on hand. I use about 2 teaspoons of pure anise extract, this is a bit much and the flavor is strong but that's what I like, but feel free to use just one teaspoon if you prefer a lighter taste.
A word about the pans used. These are not like traditional biscotti. You will not be rolling these into logs, the dough is far too soft for that. So in order to get them all the same shape and size, these are baked in loaf pans. Regular loaf pans that you use for say, banana bread or meatloaf will do, just spray them well with non-stick cooking spray.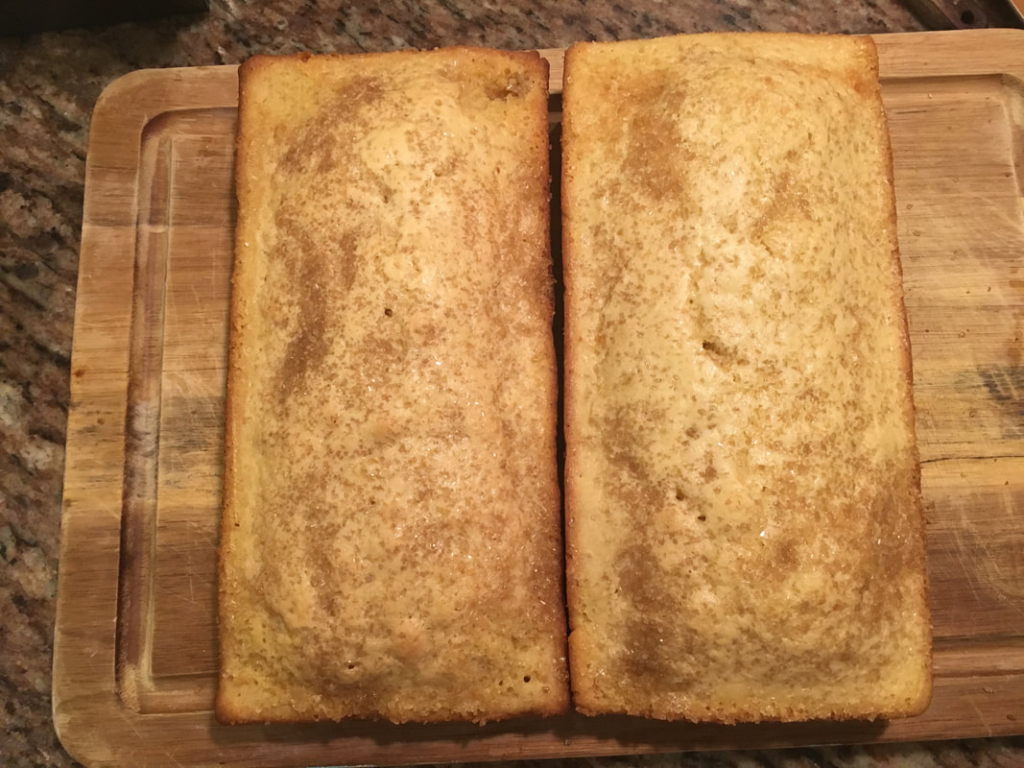 They are however, double-baked like traditional biscotti. This gives the light sponge cookies the toasty crunch that we're looking for. The longer you leave them in the oven, the toastier they will become. Just place them on a cookie sheet and toast anywhere from 5 to 10 minutes per side, depending on how crunchy you would like them.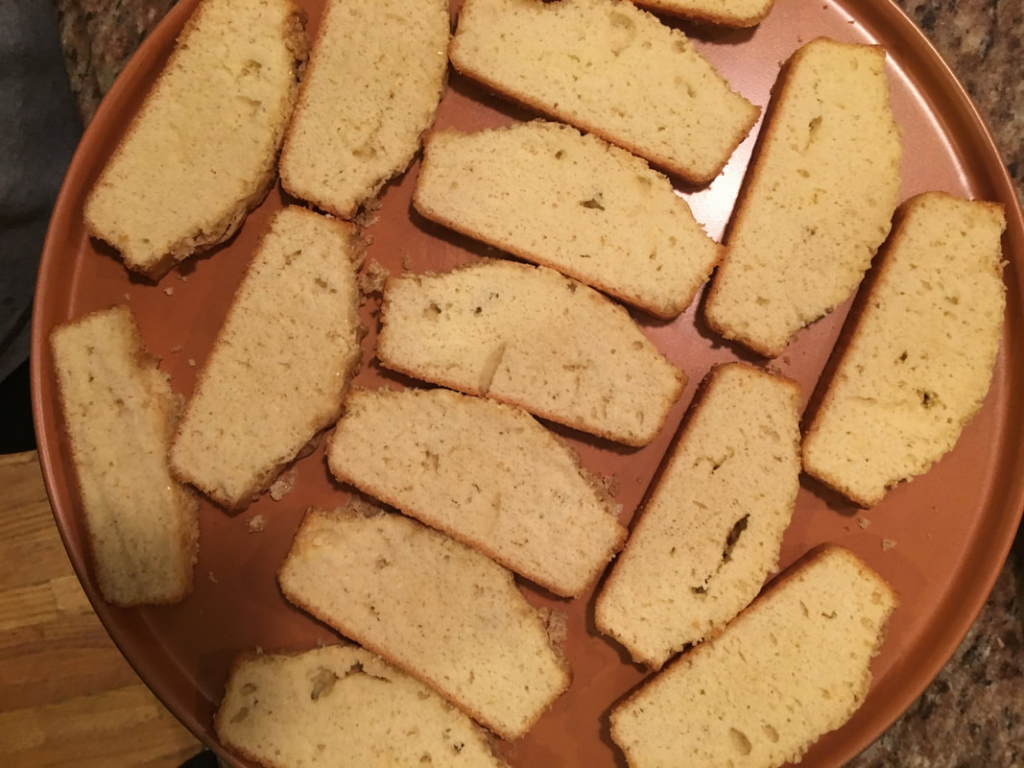 Anisette Toast
Makes 2 loafs
Ingredients
2 cupsall purpose flour
2teaspoonsbaking powder
1/4 teaspoon salt
4 large eggs
3/4cupgranulated sugar
1/2cupextra light tasting olive oil (see note above)
1-2 teaspoonsanise extract or Anisette liqueur
Additional granulated sugar for the top. (Optional)
Directions
1. Preheat oven to 350° F. Spray 2 loaf pans with non-stick cooking spray and set aside.
2. Sift together flour, baking powder and salt and set aside.
3. Using the whisk attachment of a stand mixer or hand-held mixer, beat the eggs for several minutes on medium speed until light and frothy.
4. Slowly add the sugar and mix well for 1 – 2 minutes longer.
5. Add the oil and extracts and blend well.
6. With the mixer on low, add the flour mixture and mix just until combined, do not over mix. The batter will be soft.
7. Divide the mixture in the prepared loaf pans and sprinkle about 1 teaspoon of granulated sugar on top. Bake for 25 minutes.
8. Remove loafs from the pans and allowing cooling for 10 minutes.
9. Using a bread knife, gently slice cookies to desired thickness. At this stage, the cookies will be soft and spongy, so be delicate with how you slice.
10. Place the anisette cookies sliced part down on baking sheets, and bake for about another 5-10 minutes per side, depending on how crunchy you like your anisette toasts.

Cosa Mettere in Valigia per l'Italia
Everyone is always asking me what they should pack for Italy,
so I've created a quick reference guide that you can use for your next trip.
Hint: You don't need nearly as much as you think you do!