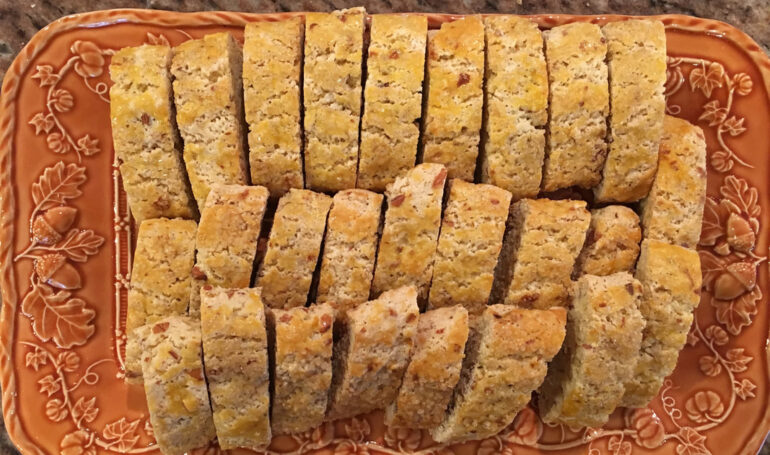 Orange and Almond Cantucci
One of the most frequent questions I am asked the most in my baking classes is "Can I make this in advance?" And the next most frequent question? "Can I freeze these?" The holiday season is a very busy time and everyone is looking to get as much done ahead of time as they can, so understandably, these are great questions.
Some recipes work well for making ahead, others, no so much. For example, pizzelle don't do well if frozen, they just loose their crispness. If properly stored, in airtight containers, they will last about a week. Aluminum tins work great for storing pizzelle. Wrapping them in foil will not work well.
My hazelnut butterballs also last a good week in an airtight container, but they too don't freeze well. They are best rolled in sugar while still warm, as such, it makes freezing them less than ideal.
Then there's biscotti and cantucci. If you're thinking of getting a head start on your baking, than by all means, opt for biscotti and cantucci. By the way, there's no real difference between the two. The term "biscotti" means any twice baked cookie, since the word bis means two or twice. That said, the word biscotto, or biscotti for plural, is also the word for any and all cookies in Italian. Go to any Italian sweet shop and ask for biscotti, and you might get any cookie or sweet treat.
This recipe here is a very traditional recipe that uses no butter or oil, so no added fat. Almonds are very traditional for cantucci, where biscotti can come in many flavors from chocolate to cappuccino to walnut and pecan. This holiday season, be sure to try our fruitcake biscotti or the pumpkin ones. They are a favorite of our students. And everyone loves the cherry, chocolate and orange soft biscotti! I admit, they are my favorites! (But I say that about all of them!)
For this recipe, you will need very basic ingredients. Many of which you are likely to have on hand. You will want to work straight on a clean counter, no mixer or mixing bowl required. If that makes you anxious, because, as one student once said, her eggs were running "everywhere," than by all means, mix everything in a large bowl and just add the ingredients to a clean board for hand mixing the nuts.
See below for tips on how to store them properly to extend their shelf life!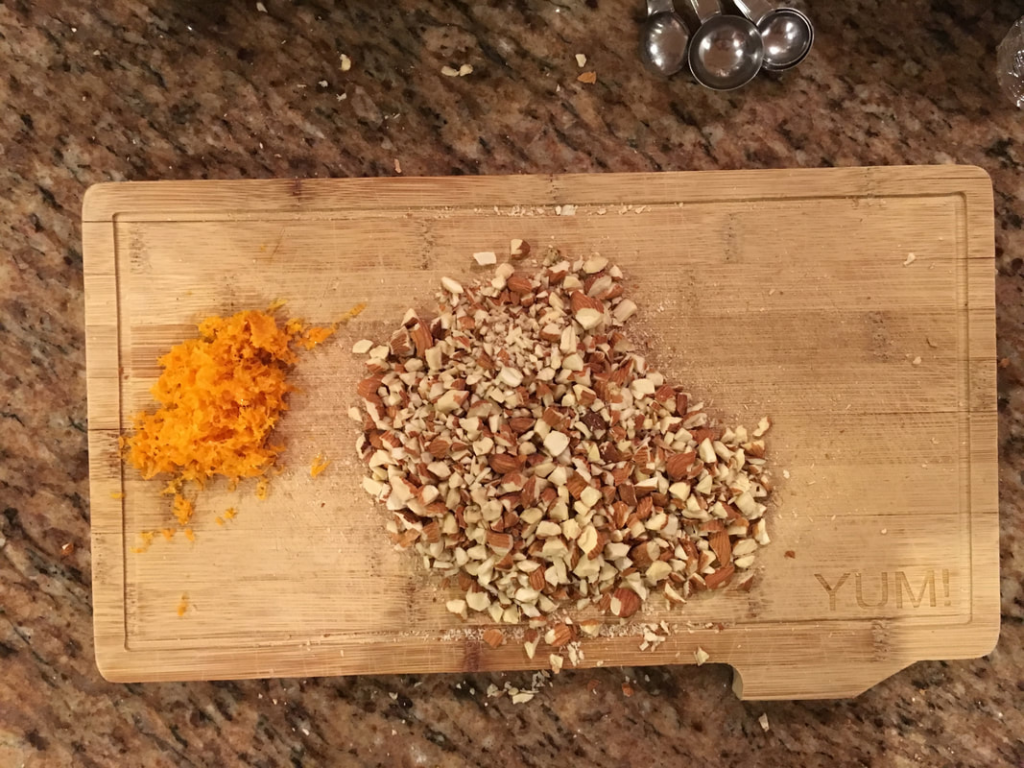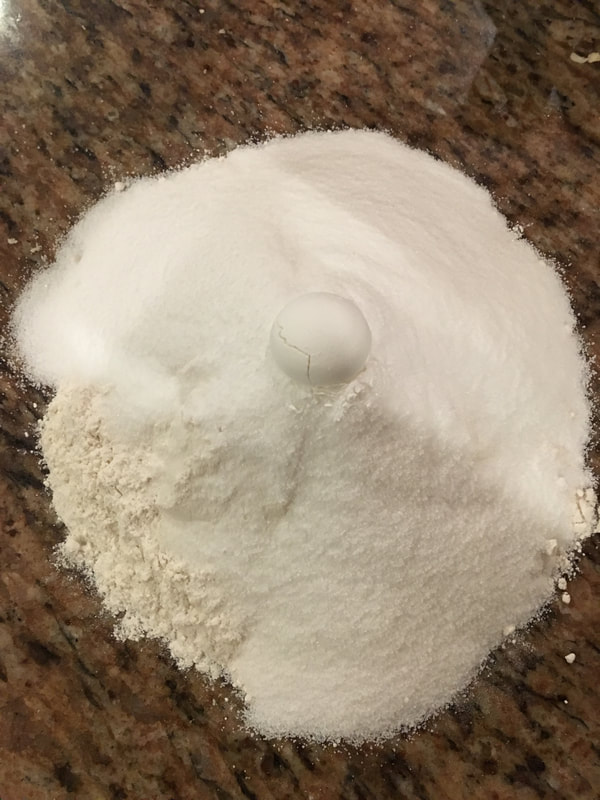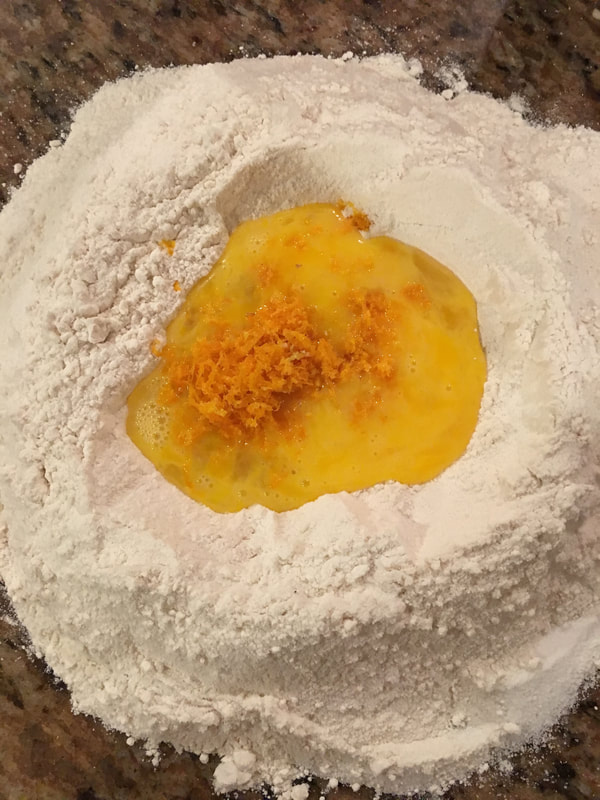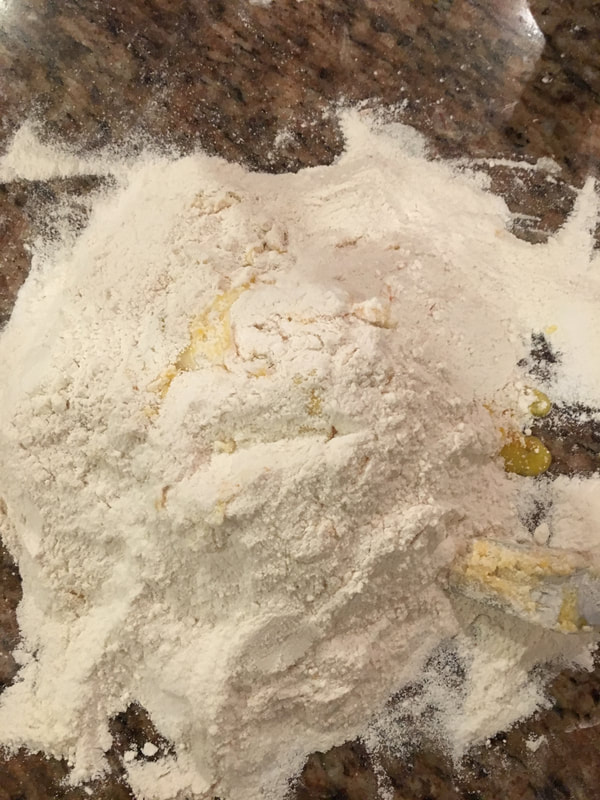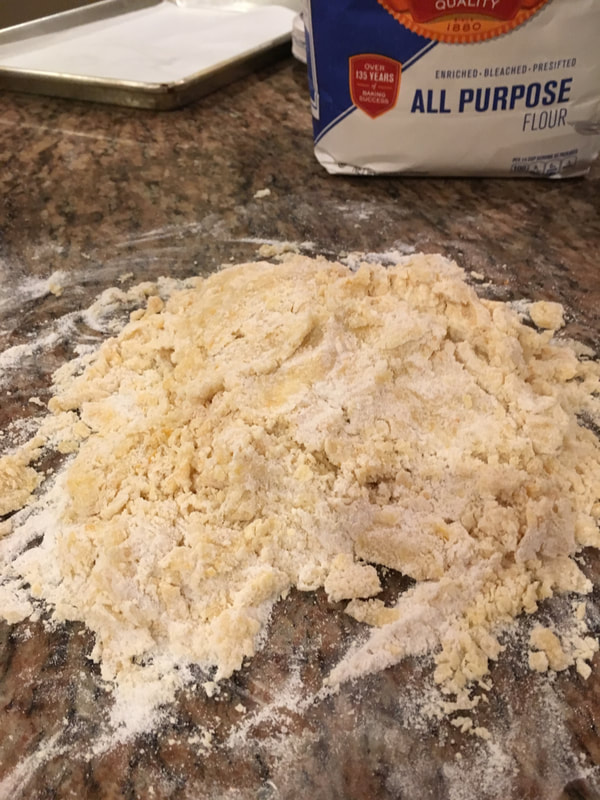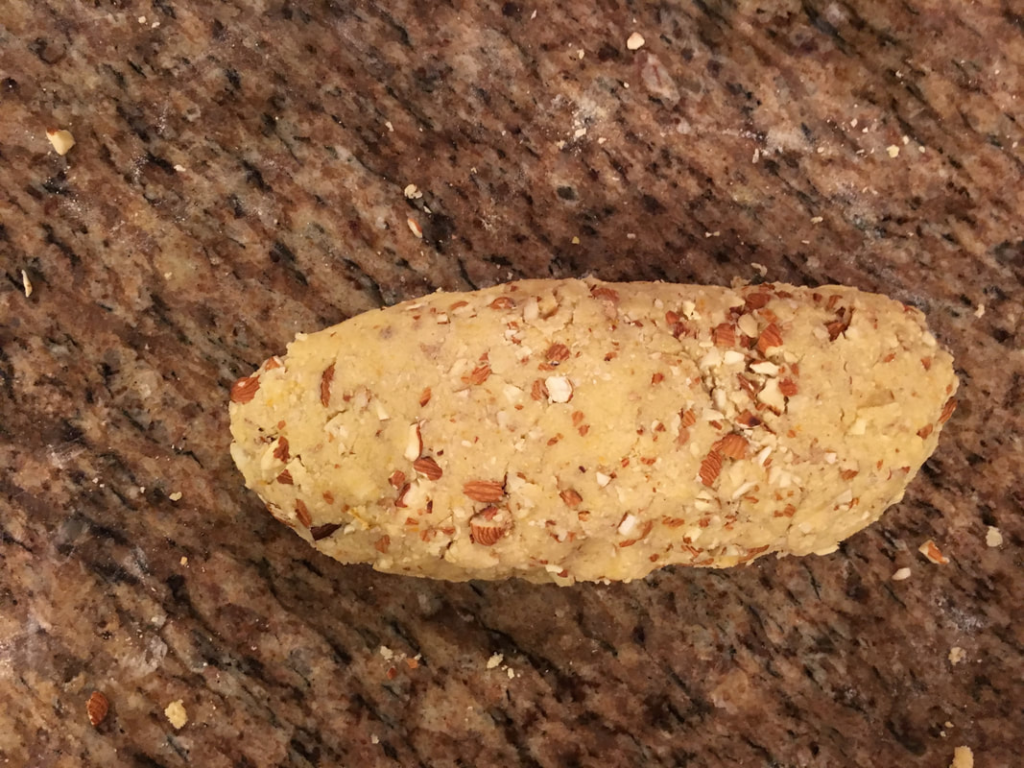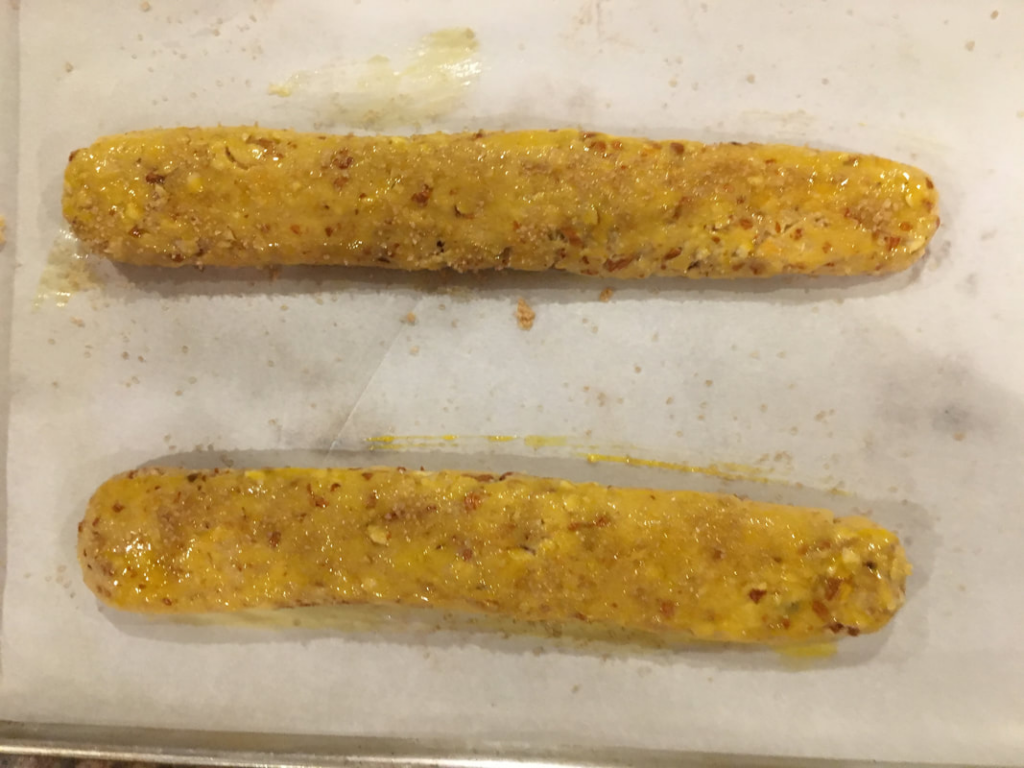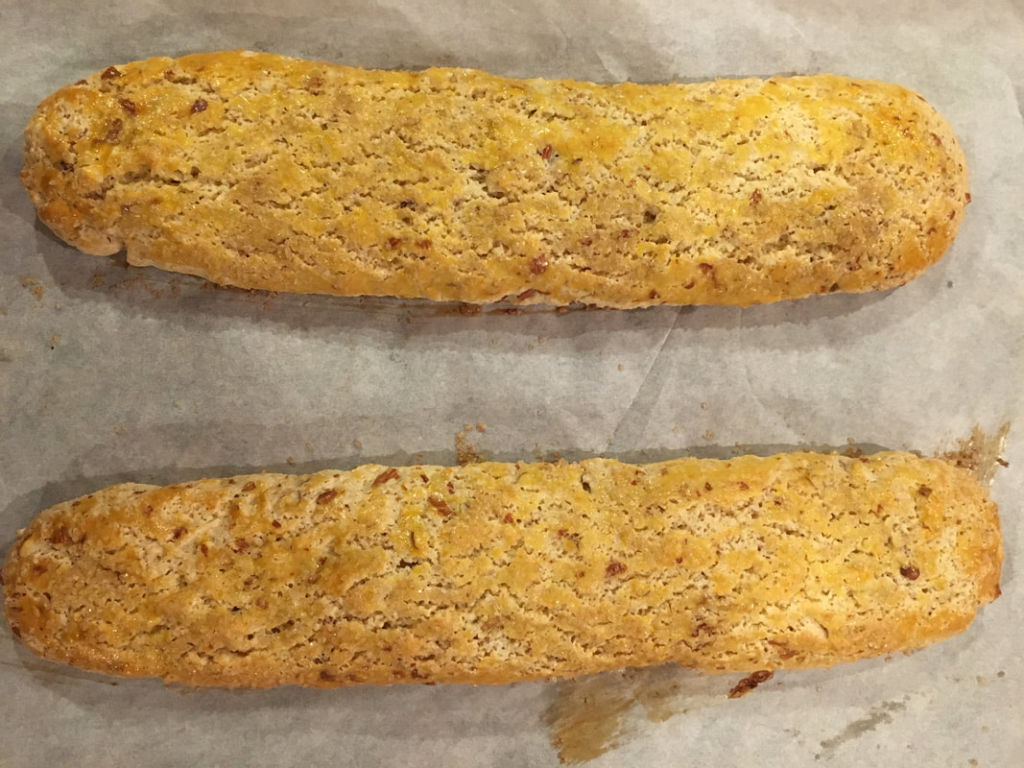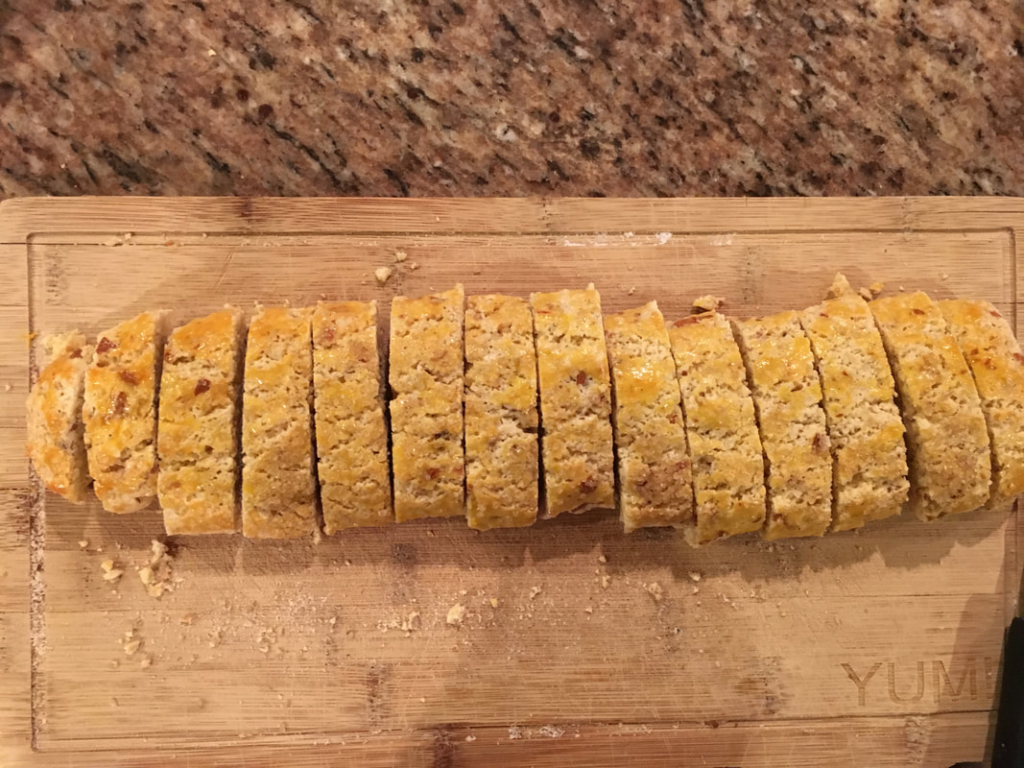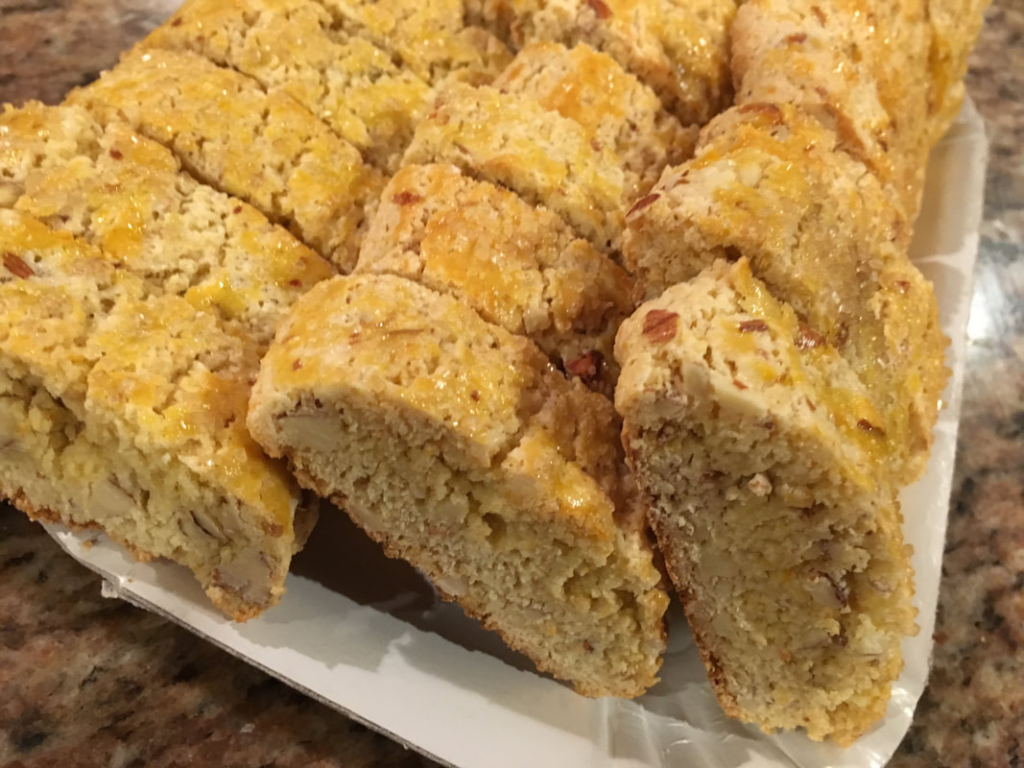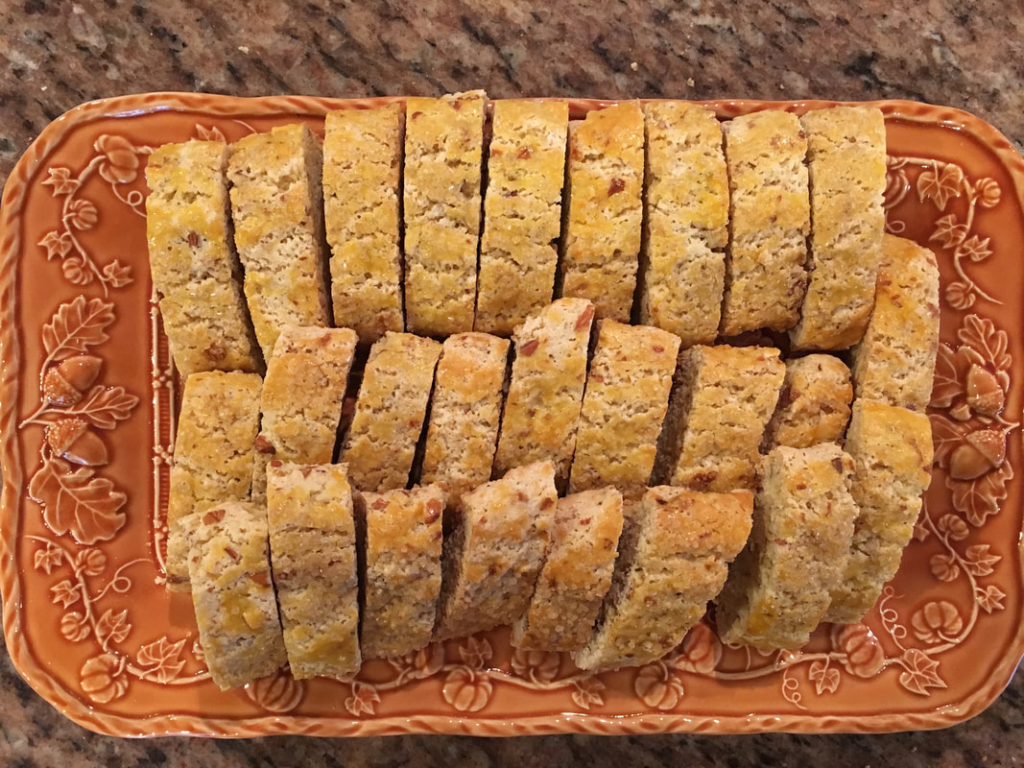 Orange and Almond Cantucci
Makes 24 – 28 Cantucci

Ingredients
2 cups all-purpose flour
1 cup sugar
1 teaspoon baking powder
¼ teaspoon salt
2 large eggs plus 1 large egg yolk, lightly beaten
Grated zest of 1 large orange
1 cup hazelnuts or almonds, roughly chopped
Optional:
2 – 3 tablespoons orange juice (see above note)
Egg wash made from 1 egg yolk
2 Tablespoons raw / granulated sugar
Directions
1. Preheat the oven to 350°F. Line a baking sheet with parchment paper.
2. On a clean surface, mix the flour, sugar, baking powder, and salt by stirring with a fork.
3. Make a well in the middle, and add the eggs and zest. Using a fork or your fingers, start incorporating some of the flour into the egg, little by little, until a dough is formed. (If the dough appears dry and is not coming together, add the orange juice noted above.)
4. Add the almonds or hazelnuts and mix into the dough until well incorporated. Divide the dough in half and form 2 logs. Place them on the baking sheet several inches apart. (Optional: brush each log with egg wash and sprinkle some sugar on top.)
5. Bake for 22 to 25 minutes. Remove the logs from the oven and cool for 10 minutes.
6. Using a serrated knife, cut diagonally into slices, place them back on the baking sheet, cut side down, lower the oven temperature to 325°F, and bake for 10 to 15 more minutes, turning halfway through so they toast evenly. For crunchier cantucci, you can leave them in the oven longer, for up to 20 – 25 minutes.
Storing and Make-Ahead Tip:
Place the cantucci in a zip-loc bag and place the bagged cantucci in an airtight container for up to 2 weeks.
Freeze:
If you wish to bake them in further advance than 2 weeks, you can bake the logs in advance, wrap them tightly in plastic wrap and freeze for up to two months. Defrost overnight in the fridge, follow with step 6 above. Easy Peasy!

Cosa Mettere in Valigia per l'Italia
Everyone is always asking me what they should pack for Italy,
so I've created a quick reference guide that you can use for your next trip.
Hint: You don't need nearly as much as you think you do!