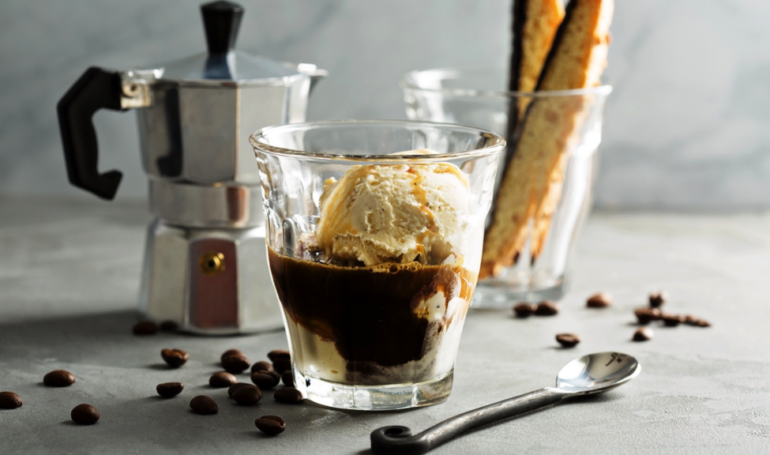 Affogato al Caffe
Summer is around the corner, which means it's gelato season! Not that gelato has to have a season, but I'm one that tends to not eat much of it in the winter months, and enjoy it fully in the summer. Winter is for coffee, cappuccino and lattes with homemade baked treats, and summer is for gelato, granita and sorbetto.

Que in the affogato!

How can something that's just a few ingredients be so good and addictive? The word affogato means drowned in Italian, and this sweet ending refers to vanilla gelato being drowned in a bit of freshly brewed espresso. The ingredients are few, but the end result is pure heaven. While served all over Italy, southern Italians seem to have a particular love for this dessert, so it's often served in my native region of Calabria. It's the perfect combination of hot and cold, all in one. The gelato flavor used is typically vanilla, or crema, which is cream flavor. But that's not to say you couldn't substitute another flavor, such as hazelnut or rum raisin, a few of my personal favorites. A few dry almond biscotti would be the perfect accompaniment to this dessert. Serve on the side or dipped in the serving glass. Once you pour the hot espresso on the gelato, it immediately starts to melt, resulting in a creamy, smooth decadent treat. Perfect to end any meal!


Affogato al Caffe
Ingredients
1 cup freshly brewed hot espresso
1 tablespoon sugar
2 pints vanilla gelato
1 ounce dark chocolate, finely minced
Freshly whipped cream, optional

Instructions
Brew the espresso on the stovetop or via a French Press coffee maker. Add sugar and mix until dissolved.
Place 2 scoops of the gelato in serving bowls or glasses. Divide the hot espresso into the serving bowls, top with minced chocolate, top with whipped cream, if using and serve immediately.

Cosa Mettere in Valigia per l'Italia
Everyone is always asking me what they should pack for Italy,
so I've created a quick reference guide that you can use for your next trip.
Hint: You don't need nearly as much as you think you do!