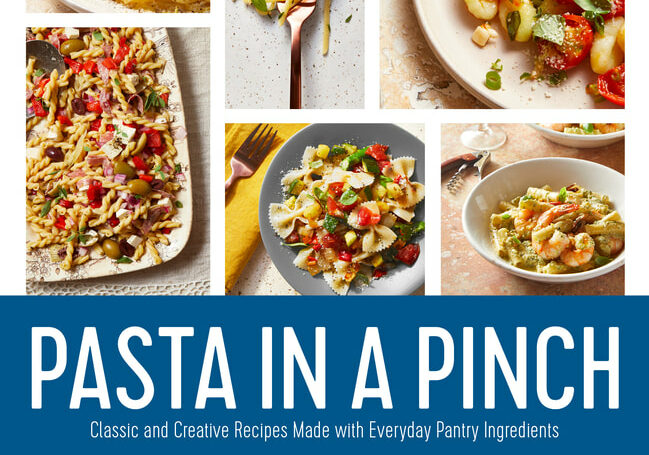 The Second Cookbook is Here!
2020 has been a rough year, can you relate?
Well, something good, no great, came out of it for me! I'm super excited to announce the birth of my second cookbook: Pasta in a Pinch: Classic and Creative Recipes Made with Everyday Pantry Ingredients!

​Like my 1st cookbook, The Five Ingredient Italian Cookbook, this book is near and dear to my heart. As a southern Italian native, I grew up on humble, and not so humble, pasta dishes! Southerners are known for dry pasta, unlike northern Italy, and we eat this staple just about every day!
But we can all get into a pasta rut, can't we? How many times have you yourself said "not that again" when thinking what to cook for dinner. The reality is we all just prep some of the same basic pasta recipes. We have 3 – 4 we always turn to, and rarely deviate.
Well this book will change that! While it contains some classics, it's also filled with creative new ideas to get your mind thinking outside the (pasta) box!
Stock up on a few staples detailed in chapter 1 and never eat pasta the same way again! Learn how just changing a few ingredients gets you a completely different dish and how to improvise when you find yourself out of something!
Grab your copy wherever books are sold, or have it delivered to your door from Amazon by clicking here.

Winter will soon be here, the perfect time for some home cooked pasta dishes, to warm both body and soul!
​Mangiamo!

Cosa Mettere in Valigia per l'Italia
Everyone is always asking me what they should pack for Italy,
so I've created a quick reference guide that you can use for your next trip.
Hint: You don't need nearly as much as you think you do!