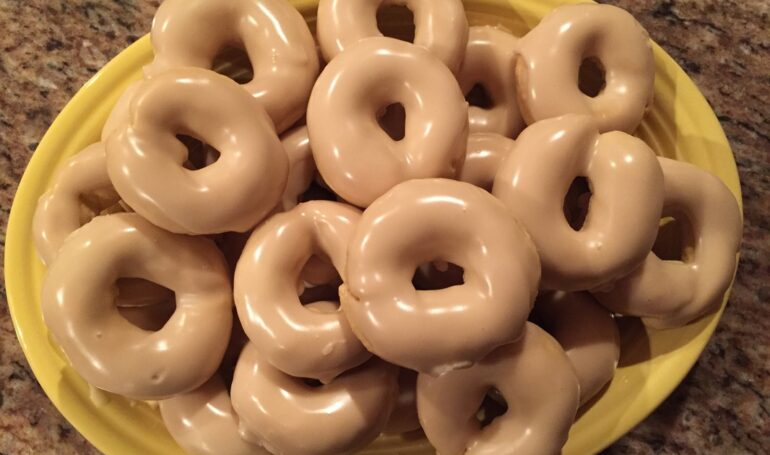 Taralli di Pasqua
There are many versions of these Easter cookies in Italy. Known as "Taralli di Pasqua", this version is very simple and adaptable. Some taralli are boiled first, then baked and further glazed with a sugar icing made with egg whites, while delicious, they are a bit labor-intensive. This version is by far the easiest. You can add lemon or orange zest instead of vanilla (add 1 tablespoon of milk if not using the vanilla) or anise or almond extract. You can add sprinkles, if wish as well. But I much prefer the humble version of vanilla and no sprinkles as it's very unpretentious and pure for such a wonderful holiday.
Ingredients
2 ¾ cups flour, sifted
1 tbsp baking powder
3 eggs
1/2 cup sugar
6 tbsp butter, melted
1 tbsp high-quality vanilla extract (do not use imitation)
2 (approx.) cups powdered sugar
2 (approx.) tbsp. milk
2 (approx.) tbsp. vanilla extract
Directions
1) Preheat oven to 350
2) In a medium bowl, or over some wax paper, sift your flour and baking powder
3) In a large bowl whisk the eggs with sugar then add the cooled melted butter and vanilla.
4) Slowly add your dry ingredients to the wet ingredients until the dough comes together and forms a nice cookie consistency. Knead with your hands towards the end.
5) Pull about 2 tablespoons of dough and form a 12 inch log by rolling dough on your counter. Cut log in three and form circles, pinching the ends to. Continue with the rest of the dough, you will end with about 28 cookies.
6) Bake for 20 – 21 minutes
7) While the cookies bake, prepare your icing by mixing all of your ingredients. Adjusting the amounts as needed until your icing is the right consistency
8) Allow cookies to cool completely before dipping them in the icing
​

Cosa Mettere in Valigia per l'Italia
Everyone is always asking me what they should pack for Italy,
so I've created a quick reference guide that you can use for your next trip.
Hint: You don't need nearly as much as you think you do!