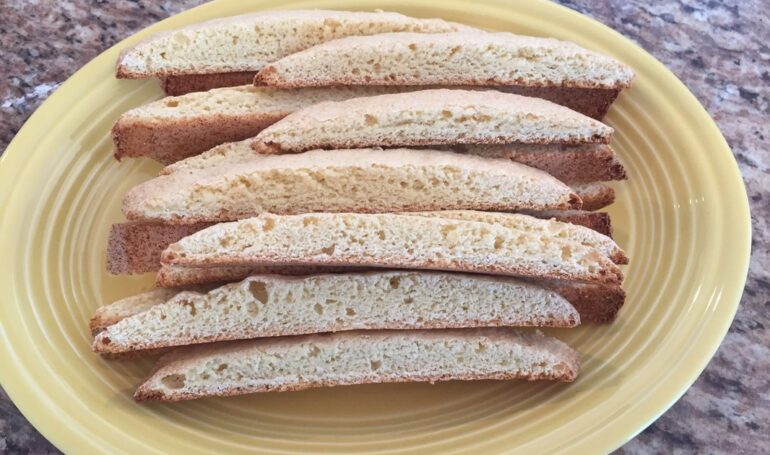 Anisette Toast (or Sponge!)
For so many reasons, I absolutely love these cookies! For one thing, they are super easy. Secondly, they don't have any butter or oil, which I suppose makes me feel a bit less guilty about enjoying a second one. And they are very adaptable. You can change the flavor and make them in lemon, vanilla, or almond, which I rarely do myself but some folks don't like anise. And with one little extra step, you can change the consistency of the cookie! It does not get any better than these!
Below, see the various ways in which you can adapt these.
Anisette Sponge (or Toast)
Ingredients
2 large eggs
¾ cup sugar
1 tablespoon Anise extract
1 cup flour
2 tablespoons cornstarch
1 teaspoon baking powder
¼ teaspoon table salt
Directions:
1. Preheat oven to 350 degrees.
2. Line a baking sheet with parchment paper or use a Silpat, if available.
3.Mix together the flour, cornstarch, baking powder, and salt and set aside.
4. With a handheld mixer, beat eggs and sugar on high speed several minutes until light and fluffy.
5. Add the anise extract.
6.With a rubber spatula, add the flour mixture and blend just until combined, do not overbeat. Batter will be soft.
7. Pour batter onto the baking sheet and with spatula shape into a log. Batter will be too soft to handle with your hands.
8. Bake for 20 minutes
9. Remove from the over and cool for a few minutes.
10. Using a serrated knife, slice biscotti into slices the size of your choosing.
11. Remove the parchment or Silpat from the tray and add the biscotti cut size down and bake and additional 5 minutes. Then turn them and bake for an additional 5 minutes on that side.
* Adaptations:
You can skip the anise and add any other extract you like. You can also use a standard loaf pan instead of a baking sheet. That will give you a more uniform cookie as they will not spread as much. Alternative you can skip the double bake to create an anisette sponge instead of toast. As you can see, you can really experiment with this recipe! 
TRAVEL WITH US IN 2023! CLICK LINKS BELOW FOR ALL THE INFO!
THE TUSCAN COUNTRYSIDE: MAY 6 – MAY 13, 2023.
BOLOGNA and EMILIA ROMAGNA: MAY 14 – 21, 2023
THE AMALFI COAST: MAY 22 – 29, 2023
CALABRIA: SEPTEMBER 1 – 8, 2023
PUGLIA: SEPTEMBER 9 – 16, 2023

Cosa Mettere in Valigia per l'Italia
Everyone is always asking me what they should pack for Italy,
so I've created a quick reference guide that you can use for your next trip.
Hint: You don't need nearly as much as you think you do!