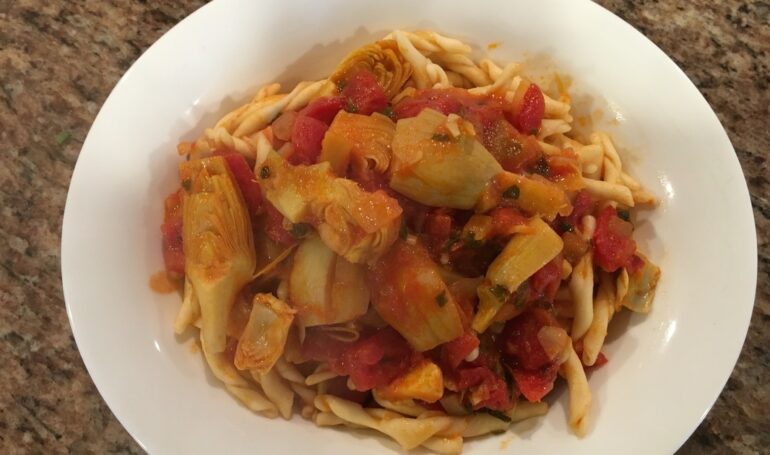 Strozzapreti with artichokes and tomatoes
It was, yet again, another dreary day in Boston today. Though we're winding down on April, it doesn't much feel like it around here. I debated staying home to finish a presentation I am giving on Friday, but decided that Friday is still a ways away and that I would have plenty of time to finish. And so, rain and chilly air and all, off I went to a few of my favorite stores around my area. To the mall, you ask? Nope, not at all, I headed to Whole Foods, Trader Joe's and Wilsons Farm in Lexington, MA. I wasn't really in the need for anything. In fact, I had just done my big grocery shopping for the week. I go to these stores not for "needs" really, but because they are a great way of spending an afternoon, especially a boring one, picking up a few items that the main grocery stores do not carry.

One of those items are frozen artichoke hearts from Trader Joe's. There aren't enough words to describe just how much I love this item. They are absolutely amazing! I've been buying them for years and last year, they stopped carrying them! Imagine my disappointment, anger even, when this happened! I add them to soups, I coat them in egg, parmiggiano cheese and breadcrumbs and bake them, I stir-fry them with sausages and I make them in frittata. Lucky for me, about six months ago, they reappeared in the freezer isle! I wonder if my calls and emails had anything to do with that! 😉

I bought six bags today and went home eager to cook one bag. I was debating just how to prepare them today. Perhaps it was the boring weather but I was feeling a little inventive and decided to cook them in diced tomatoes. Truth be told, I've never cooked them this way but have been wanting to for a bit. I wasn't sure what pasta to use then remembered that I had a special kind that I had been saving for a special recipe. The strozzapreti I used are imported from Calabria, my native region and they are a bit hard to find in the store. In fact, these come from the online shop Pasta & Vino. "Strozzapreti" means to choke priests! They somewhat resemble cavatelli pasta. Where does the name come from, you ask? There are several stories but one is that gluttonous priests devoured this pasta so quickly, due to its deliciousness that they, well, chocked! I'm not sure how true that is but they were very good! Unlike typical dry pasta, they very much taste like freshly made pasta. Their flavor is a lot more delicate and tantalizing than your everyday dry pasta.

I made the sauce using diced tomatoes and one small can of ground tomatoes. I also used imported olive oil, from Calabria, of course! The sauce takes about 25 minutes to cook and the strozzapreti take just two extra minutes than regular pasta, so about 12 minutes, so halfway through the sauce cooking, you can add the pasta to the boiling water. You can purchase the strazzapreti, oil and other delicious products here. Pasta & Vino is a great resource for authentic Italian ingredients that are hard or impossible to find in the grocery stores. Many of their items are imported from Calabria, so that excites me even more!
Strozzapreti with Artichokes and Tomatoes 

​Ingredients
3 Tablespoons Migliaresi Extra Virgin Olive Oil
1 Small Onion, Chopped
2 Cloves of Garlic, Minced
3 Sprigs of Parsley, Finely Chopped
1 Teaspoon salt
1 14.5 oz Can Diced Tomatoes
1 8 oz Can Crushed Tomato Sauce
1 12 oz Bag Frozen Artichoke Hearts
 ½ pound Astorino Strozzapreti pasta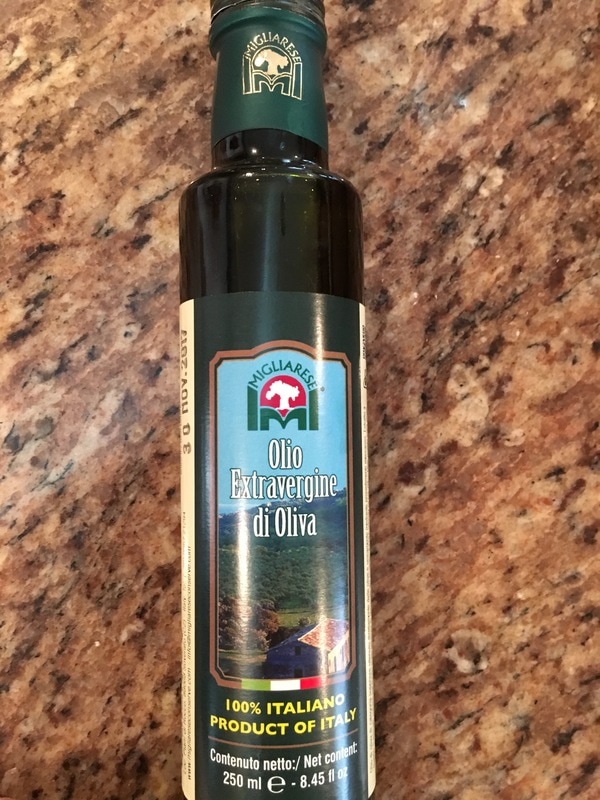 Cosa Mettere in Valigia per l'Italia
Everyone is always asking me what they should pack for Italy,
so I've created a quick reference guide that you can use for your next trip.
Hint: You don't need nearly as much as you think you do!