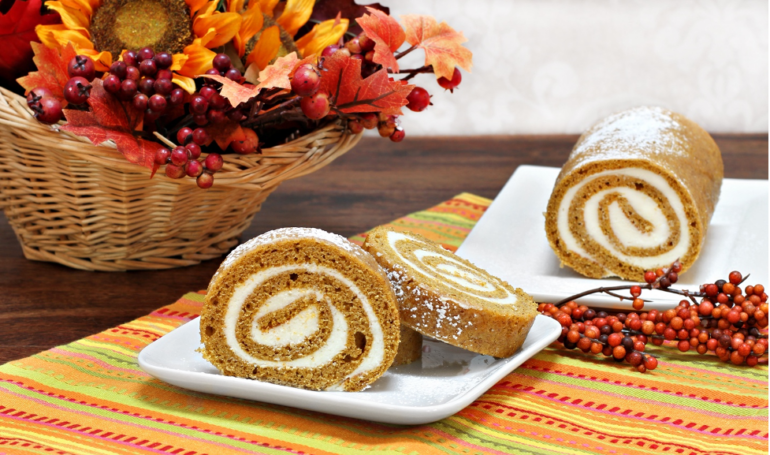 Pumpkin Roll with Mascarpone Cream
It's that time of year, the time where pumpkin is everywhere, and not just in the kitchen. It's pumpkin-scented hand soap, pumpkin-scented candles, pumpkin-scented hand lotion. And who can forget the lattes. While I love the scent, there is such a thing as too much!

I do love cooking, especially baking with pumpkin, and what's more classic than a good old fashion pumpkin roll? I love the look of it, the smell as it bakes in the oven, and how well it pairs with a great homemade cappuccino. No need for a pumpkin latte for me, coffee should taste like coffee, but that's just me.

While traditionally pumpkin rolls are filled with cream cheese frosting or cream, I much prefer an Italian spin and filling it with a deliciously sweet mascarpone filling. It's less tangy than the traditional filling, sweeter and for me, a whole lot more delicious than the traditional filling. If you're new to preparing rolls, take your time in the preparation, as it does take some skill. Don't be discouraged if it breaks or cracks, practice makes perfect so you might have to make a few now, before showcasing one on your Thanksgiving table. Having to eat the less perfect ones is no sacrifice at all. Be sure to generously dust your cotton towel with the powdered sugar, as that will prevent it from sticking as it cools off.

Pumpkin Roll with Mascarpone Cream Filling
Yields 1 roll, serves 8 – 10

Ingredients
1/4 cup powdered sugar (to be sprinkled on towel while cooling)
3/4 cup all-purpose flour
1/2 teaspoon baking powder
1/2 teaspoon baking soda
1 teaspoon mixed spices (cinnamon, cloves, nutmeg, pumpkin pie spice mix)
1/4 teaspoon salt
3 large eggs
1 cup granulated sugar
2/3 cup canned pumpkin (100% canned pumpkin, do not use pie mix.)
8 oz mascarpone cheese, room temperature
1 teaspoon pure vanilla extract
½ cup heavy cream
1/3 cup powdered sugar

Instructions
Preheat oven to 375° F. Grease 15 x 10-inch jelly-roll pan; line with parchment paper. For easier removal of the roll, spray the parchment paper lightly with cooking spray. Set aside.
Sprinkle a thin, cotton kitchen towel with 1/4 cup powdered sugar. (Be sure the kitchen towel is cotton, as the traditional terry-cloth towels will not work well.) Set aside.
Sift together the flour, baking powder, baking soda, spices and salt in small bowl and set aside.
Beat eggs and sugar together in large mixing bowl for 2 – 3 minutes. Add in the pumpkin. Stir in flour mixture and mix just until combined.
Spread evenly into prepared pan and bake for 13 to 15 minutes.
Immediately loosen and turn the cake onto prepared towel that has been sprinkled with the sugar. Slowly peel off the parchment paper. Tightly roll up cake and towel together, and cool for 30 – 45 minutes. This will shape the roll. As the cake cools, prepare the filling.
Using an electric mixer on low speed, beat mascarpone and vanilla in a large bowl. With the mixer still on low, gradually pour in cream. Increase speed to medium and beat in powdered sugar. Continue beating until mixture forms medium peaks.
Carefully unroll cake. Spread mascarpone filling over the cake and reroll cake. Add to serving platter and sprinkle with additional powdered sugar before serving.

Cosa Mettere in Valigia per l'Italia
Everyone is always asking me what they should pack for Italy,
so I've created a quick reference guide that you can use for your next trip.
Hint: You don't need nearly as much as you think you do!