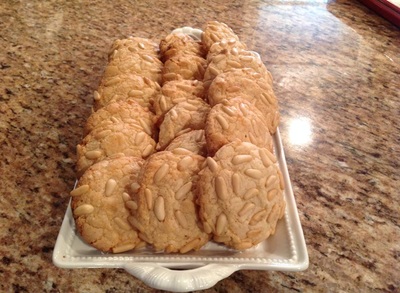 Pine Nut Cookies
'm typing up some recipes for an upcoming baking class (see class schedule if interested in attending!) and came across these cuties. We will be baking these plus 8 other desserts over the course of 3 Saturdays. I hope the students enjoy these. I love Italian amaretti cookies, these are a version of those, though not exactly. Still very yummy and appropriate for the upcoming Easter holiday! Enjoy!
Ingredients
8 ounces pignoli (pine nuts)
1/2 cup granulated sugar
1/2 cup confectioners' sugar
1/4 cup all-purpose flour
Dash salt
1 7 or 8-ounce tube of almond paste
2 egg whites, slightly beaten 
1/2 teaspoon almond or vanilla extract
Confectioner's sugar for dusting
​
Instructions
1) Preheat the oven to 300 degrees. Line 2 cookie sheets with parchment. 
2) In a separate bowl, add pine nuts and set aside
3) Combine sugars, flour and salt in a medium bowl and lightly blend with a fork 
4) Place almond paste in a mixing bowl of an electric mixer and mix to break up. 
5) Add beaten egg whites and mix on low speed until smooth. 
6) Add almond extract and flour mixture and beat until flour is blended in, about 30 seconds. Do not over beat.
7) Scoop up a rounded spoon of dough and dip cookies in the pine nut bowl so that they stick to dough. 
8) Place 2″ apart on baking sheet and re-apply any loose nuts that may have fallen off
9) Bake cookies for about 20-25 minutes. Start watching at around 18 minutes. Shorter time will result in a soft cookie, longer baking time will give you a chewier cookie.
10) Dust with confectioners' sugar, if desired.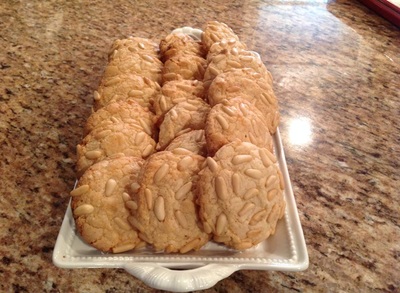 ***************************************************************************************************************************
Ready to make your 2019 Italian Travel Dreams come true? Consider joining us in one of our Culinary Adventures! We have three planned!
​
TUSCANY: MAY 1 – 8, 2019. Click here for all trip info and to sign up!
PUGLIA: SEPTEMBER 1 – 8, 2019. Click here for all trip info and to sign up!
SICILY: SEPTEMBER 10 – 18, 2019. Click here for all trip info and to sign up!

Cosa Mettere in Valigia per l'Italia
Everyone is always asking me what they should pack for Italy,
so I've created a quick reference guide that you can use for your next trip.
Hint: You don't need nearly as much as you think you do!