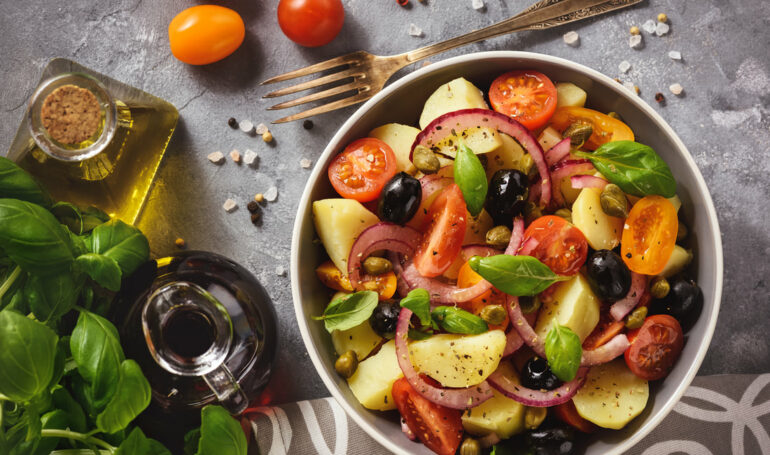 Pantesca Salad
Tomatoes, olives, and red onions—these are some of the major flavors of Sicily. This salad brings all these ingredients together nicely in an easy summer salad that delivers a strong, robust flavor. Originating from the island of Pantelleria, a renowned area for producing capers, this salad sometimes contains tuna packed in olive oil, mackerel and anchovies.

​Ingredients
2 or 3 medium potatoes
4 medium vine-ripened plum tomatoes
1 small red onion
¼ cup black olives
1 tablespoon capers, rinsed
3 tablespoons chopped fresh basil
3 tablespoons extra-virgin olive oil
Salt, as desired
½ teaspoon dry oregano
Instructions
1. Add the unpeeled potatoes to a medium saucepan with enough water to cover them, and boil until fork-tender, 15 to 20 minutes.
2. Meanwhile, dice the tomatoes into 1-inch cubes and add them to a salad bowl. Add the olives, capers, basil, oil, salt, and oregano and mix well.
​3. Drain the cooked potatoes and quickly rinse under cold water to cool slightly. Peel and dice or slice the potatoes to your preference. Add the potatoes to the bowl with the tomatoes. Mix well so all flavors are developed. Serve as a salad or light first course.

Cosa Mettere in Valigia per l'Italia
Everyone is always asking me what they should pack for Italy,
so I've created a quick reference guide that you can use for your next trip.
Hint: You don't need nearly as much as you think you do!