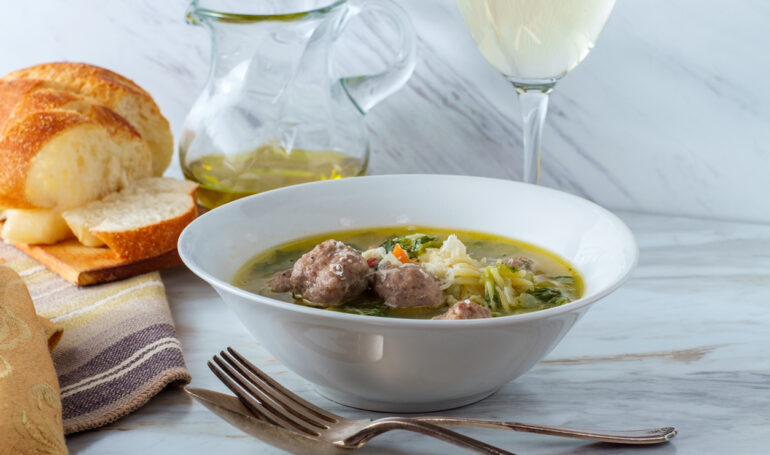 Italian Wedding Soup with Turkey Meatballs
Fall is here, and chilly nights are almost a given during this time. What's better than a warm and comforting soup on a cold night? Almost nothing, if you ask me. A favorite soup of mine that is always on rotation during the fall and winter months in my home is Italian Wedding Soup with Turkey Meatballs. As opposed to beef or the traditional beef & veal combination, turkey lends itself well to this soup as I prefer lighter-tasting meatballs in soups. Think the traditional beef and veal combo for a great, thick tomato sauce, but I like turkey when I crave a light soup.
There are a few steps to this soup, and it is not a recipe I would call "lazy" by any means. But you will be well rewarded for your efforts. Traditionally, escarole is the vegetable used in this soup. But you may ask if you can substitute other greens, such as Swiss chard, kale, spinach, or collards. You certainly could, but know that escarole is usually the vegetable used.
A not so Lazy Recipe
If you have read my recipes before, you know I'm all up for a kitchen shortcut that doesn't compromise the final dish, so you may be wondering why I don't just boil the escarole with all the other vegetables together when making the broth. I prefer to cook it separately because escarole is a bitter green, which tends to make the broth slightly bitter. You could skip this step and boil everything together. However, if you don't like that somewhat bitter undertone to your soup, I propose you cook it separately.
You will add the meatballs to the broth raw. I don't fry or bake them beforehand. There is no need for that extra step as they cook thoroughly in the delicious broth. They turn out tender, moist, light, and delicious. This recipe makes a lot, between 50 – 60 marble-sized meatballs. You can freeze some uncooked and prepare them at a later time. You can drop them in raw and still frozen in any broth.
Italian wedding soup with turkey meatballs is a beautiful dinner prepared on a cold weekend. You can add some small pasta, such as orzo, or have some crusty bread on hand for dunking in the delicious broth.
Italian Wedding Soup with Turkey Meatballs
Serves 4 – 6
Ingredients for the Broth
2 medium heads of escarole, trimmed, chopped and washed thoroughly
3 large carrots, peeled and diced
2 celery stalks, diced
1 small onion, diced
2 ripe tomatoes, quartered
2 tablespoons chopped parsley
Salt & ground black pepper, to taste
1 large vegetarian or chicken bouillon cube (or 8 cups of prepared chicken broth)
Instructions
Wash thoroughly the chopped escarole and boil it in lightly salted water for 10 minutes. Drain it in a colander and set it aside. Meanwhile, prepare the broth.
In a large soup pan (large enough to hold all the final components), add the carrots, celery, onion, tomatoes, and parsley, and fill the pot ¾ of the way up with water (or stock.) Season with salt and pepper, add the bouillon cube (if using water), and bring everything to a full boil. Meanwhile, prepare the meatballs.
Ingredients for theTurkey Meatballs
3 – 4 slices of high-quality Italian bread (do not use anything too spongy; bread from a bakery works better than anything commercial)
16 – 20 oz ground turkey
2 large eggs
1⁄2 – 3⁄4 cup bakery-style bread crumbs
1⁄2 cup freshly grated Parmigiano Reggiano cheese, plus extra for topping
2 tablespoons finely chopped Italian parsley
2 – 3 garlic cloves, finely minced
1 teaspoon salt
Black pepper (optional)
1/4 cup Orzo pasta (optional)
Instructions
Soak the bread slices in several cups of plain cold water. Soak for 5 minutes or so.
In a large mixing bowl, add all of the rest of the meatball ingredients.
After the bread has soaked, drain the water, and using your hands, squeeze out as much water as possible. The bread should be moist, not wet. Using your hands, crumble up the moistened bread and add it to the mixing bowl. (If the bread used has a thick crust, you can remove it.)
Using your hands, mix all the ingredients thoroughly. If the mixture is too soft, add a few more tablespoons of breadcrumbs. If the mixture feels too hard or dry, break an additional egg, beat it lightly, and add a few tablespoons of the beaten egg. The mixture should feel moist and soft but not wet or dry.) Do not over-mix or work the mixture too much.
Shape the small meatballs to about the size of a large marble. Set them aside on a clean dish.
To complete the soup
Add the drained escarole to the soup pan and mix well. Add the meatballs and simmer over medium heat for 15 – 18 minutes, mixing gently with a wooden spoon. If you are using it, add some tiny pasta such as orzo, when there is about 10 minutes left of the cooking time. Serve hot with grated cheese, if desired, and some fresh Italian bread.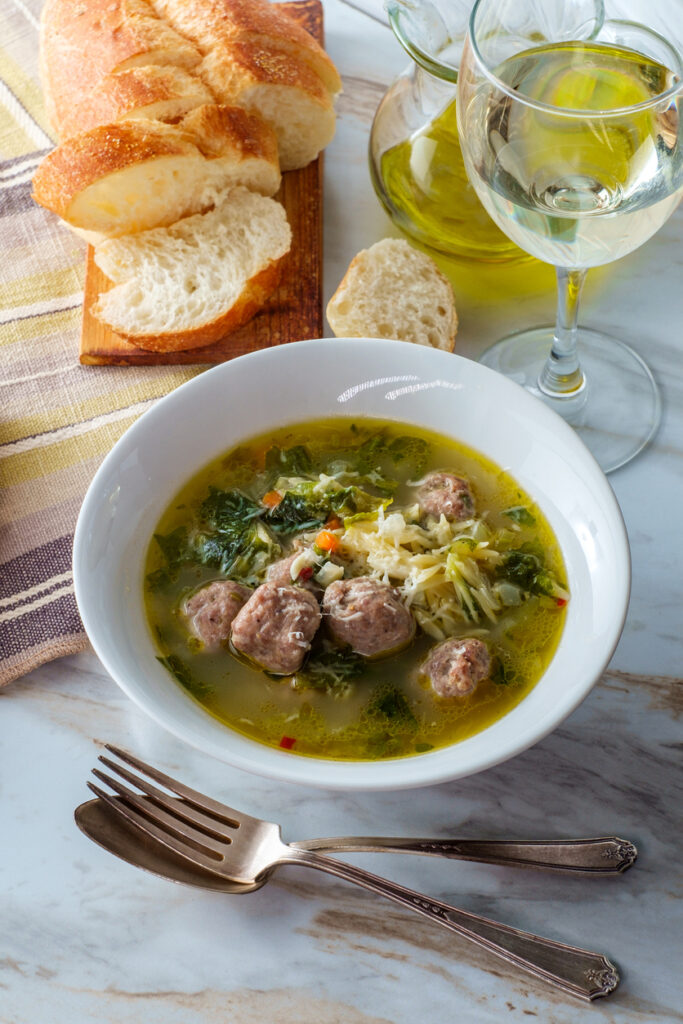 Cosa Mettere in Valigia per l'Italia
Everyone is always asking me what they should pack for Italy,
so I've created a quick reference guide that you can use for your next trip.
Hint: You don't need nearly as much as you think you do!