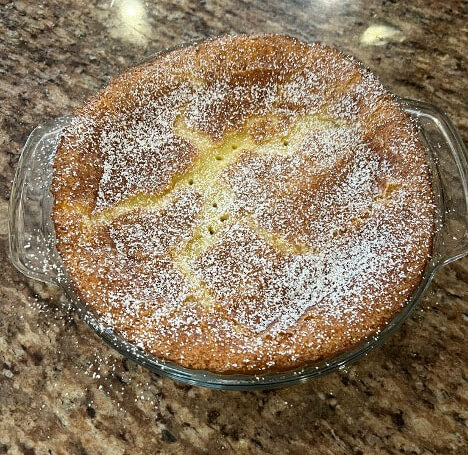 Italian Milk Pie
It's a cross between a baked pudding, a custard and a pie, or a crustless custard pie, if you will, but whatever you might want to call it, this creamy concoction is delicious, as it is easy to prepare. My mom used to make this pie/pudding on a weekly basis when my sister and I were kids and we lived in Italy. Mostly, she made it because my sister hated milk, and it was a way of getting some milk in her, despite it being in a pie form!

The preparation couldn't be easier, mix sugar and eggs, add some sifter flour, and the milk, and add to a prepared pie plate and bake. For flavoring, you could use a teaspoon of vanilla, or the zest of one lemon, or even an orange. I like to serve it simply with some whipped cream on the side, and a dusting of powdered sugar. For the one pictured, I added a light sprinkle of cinnamon sugar, which is completely optional. I think it adds a fall flavor to it, but you can skip it if you want, or even add a tiny bit of grated nutmeg, for that fall flavor, again. It's a kids favorite, but I've yet to meet an adult who would turn a slice of this away!

Italian Milk Pie
Yields One 9-inch pie

Ingredients
3 large eggs
2/3 cups granulated sugar
1 cup all-purpose flour
1¾ cups whole milk

Flavoring (Choose one)
1 teaspoon vanilla extract
Zest of 1 lemon
Zest of 1 orange

Optional
Cinnamon sugar
Grated nutmeg
Powdered sugar
Whipped cream

Instructions
Preheat oven to 350 degrees, butter and dust with flour a 9-inch pie plate and set aside.
With the mixer on high, beat the sugar and eggs until light and foamy, about 3 minutes. Add one of the optional flavoring choices and continue mixing.
Sift the flour and slowly add it to the egg mixture until fully blended.
With the mixer still on, add the milk slowly and mix until combined. Turn the mixer off and using a rubber spatula, mix the batter from the bottom up, as some flour tends to build up at the bottom. Mix until the mixture is creamy and free of any lumps.
Add mixture to prepared pie plate. If desired, top the mixture with some cinnamon sugar or grated nutmeg. Bake for 40 minutes. Remove from the oven, cool completely before serving. Pie will keep refrigerated for a few days, although it is tastiest the first and second day.

Cosa Mettere in Valigia per l'Italia
Everyone is always asking me what they should pack for Italy,
so I've created a quick reference guide that you can use for your next trip.
Hint: You don't need nearly as much as you think you do!