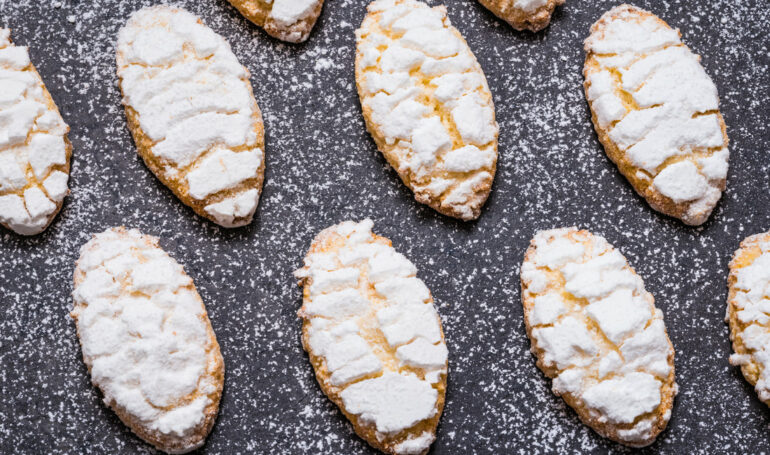 Gluten Free Ricciarelli
Christmas is almost here which means it's time for baking, baking and more baking! I bake every few days during the month of December because homemade sweets make for perfect gifts for pretty much everyone, plus it's something I genuinely love doing. It's a win-win because I am doing something I love, and the recipients get to enjoy something homemade that they might otherwise not have access to, or think to buy for themselves.

As I now lead Zoom cooking classes, I have been receiving requests for private classes that are gluten free. While I don't strictly follow a GF diet, as I come up with menus for these classes, I realize I do eat a lot of GF foods, without realizing that they actually even are! And when it comes to sweets, one of the best ways to bake GF treats is by using flours made from nuts. It's a delicious swap using nut four in place of traditional all purpose white flour. In addition to Amaretti, which we recently shared with you our recipe, one other nutty biscuit that I love are ricciarelli!

Hailing from Tuscany, this particularly recipe can be found in my first cookbook, The Five Ingredient Italian Cookbook, and I'm happy to share it with you now. This recipe takes just 30 minutes or less to prepare, is kid friendly, family friendly, and gluten free, and even dairy free. The prep time is just some 20 minutes at most, with a bit of inactive time allowing the biscuits to rest. Baked in just 15 – 20 minutes or so, each batch yields about 22 – 24 cookies, the perfect gift-giving amount.

In the almond growing area of Siena, in Tuscany, ricciarelli are enjoyed throughout the year, but particularly at Christmas time. Both soft and chewy, these macaroon-like biscuit are the ideal gluten-free treat without the guilt. Traditionally they are shaped into a diamond, and you can attempt to shape them with wet hands, or simply just scoop out some dough into small mounds instead. While the original recipe is made using almonds, you can follow the exact same recipe and swap out the almonds for hazelnuts, pecans or even peeled pistachios.
Ingredients
2 ½ cups toasted slivered almonds
2 teaspoons orange zest
1 cup confectioners sugar, divided, plus extra
2 large egg whites
Pinch of salt
1 teaspoon vanilla

Instructions
Line two baking sheets with parchment paper.
In the bowl of a food processor, add almonds, zest and ½ cup of the confectionary sugar and grind until mixture resembles fine breadcrumbs.
Whisk the egg whites until soft peaks. Gradually add the remaining ½ cup of the sugar and continue whisking until stiff peaks form.
Fold in the almond mixture and vanilla until combined. Drop several tablespoons of the mixture onto the parchment paper and with wet hands construct a diamond shape. Dust with additional confectioners sugar. Let cookies stand for at least 1 hour to dry out.
Preheat oven to 350 degrees and bake cookies for 15 – 20 minutes or until corners have darkened and the top has cracked. The center will be soft. Dust with confectionary sugar.

Cosa Mettere in Valigia per l'Italia
Everyone is always asking me what they should pack for Italy,
so I've created a quick reference guide that you can use for your next trip.
Hint: You don't need nearly as much as you think you do!