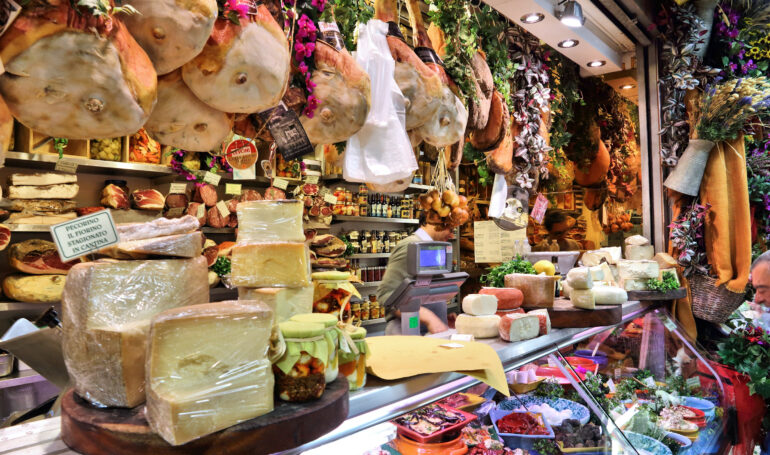 Food Items To Bring Back from Italy
So you just signed up for an amazing Italian culinary adventure? Congratulations! You're about to have the time of your life! You're already daydreaming of all the tasty food you'll eat, the oil you'll drizzle over your crusty bread, the wine you'll drink with every meal, the gelato you'll enjoy while peoplewatching in the piazza. Your mouth is already watering just thinking about it! And who can blame you, there's a reason I decided to mostly focus my business on food and wine! Are you now wondering what Italian food items to bring back??
As a leader and escort of said Italian culinary adventures, one of the most frequently asked question I get while we're in Italy is: "What can I bring back home from Italy to the US?" Or rather: "What can I not bring back from Italy to the US?" Or the ever important question: "How much wine can I bring back from Italy?" These are all fair questions! You're visiting one of the most delicious countries in the world, of course, you're going to want to bring some of that goodness back home with you! But it can be daunting, confusing and downright frustrating to figure it all out. So I have detailed it all below for you to review before your next trip!
Please keep in mind that the below applies only for US entry, so if you are returning home to somewhere else other than the US, please review your home country policy for what is acceptable to bring back and what is not.
US Regulations
The info in this post comes from the US Embassy, and please note that this applies only for personal / gift giving purposes, and this info is not intended for anyone wanting to sell items when they return home, or start an import business. This is simply so you're well informed for your next Italian adventure. One more point to make, you'll be asked to fill a customs form upon entry to the US. Please be honest on this form! Declare everything that is in your luggage that was purchased in Italy.
The last thing you want is to be gifting away your goods to the customs officers! Plus, if by some off-chance you get pulled from the line, and you have your luggage checked, and they find something that shouldn't be there or isn't declared, not only will you be out of your goodies, you can face fines up to $10,000. It's just not worth it.
So what is allowed?
The below is a partial list of what Italian food items are allowed. Keep in mind, anything in extreme amounts will raise suspicion of possible resale, so you may be questioned on quantities, even if the product is allowed. Also, keep in mind that the flight will be at least 7 – 8 hours long, just because you can bring back seafood, or other perishables, doesn't mean you should be packing some fresh swordfish that you just purchased at the market in Sicily!
A key point to remember, just because many items below, including wine and olive oil have "unlimited quantities" listed for allowance, doesn't mean you can actually bring back liters and liters of each because your airline will certainly have weight restrictions. Most airlines allow you 1 – 2 checked luggages, depending on your ticket class, and the weight is usually between 20 and 30 kilos, that too depends on whether you are traveling economy or business. So take the "unlimited quantity" allowance with a grain of salt.
ITALIAN FOOD PERMITTED FOR US ENTRY
Wine / Alcohol – Technically, you are allowed unlimited quantities, but please note passengers must be 21+ years of age, and duty rates of 3% of value per liter may be applied for anything past the first liter. Large quantities may draw suspicions of resale so you may be questioned by the authorities.
Roasted and unroasted coffee beans – Unlimited quantities
Green and black tea – Unlimited quantities
Honey – Travelers can bring back comb honey, royal jelly, bee bread and propolis if intended for personal use, and not to be fed to bees.
Nuts – Nuts that have been boiled, cooked, ground, oven dried, pureed, roasted or steamed are permitted. Raw nuts are not allowed.
Spices – Most dried spices can be imported but orange, lime, lemon and other citrus leaves cannot. Most vegetable and fruit seeds cannot be brought back.
Olive oil and other vegetable oils – Unlimited quantities
Any sort of baked goods such as breads, cookies, crackers, cakes – Unlimited quantities
Candy and chocolates – Unlimited quantities
Cheese and cheese products – Pasteurized hard cheeses in vacuum sealed containers, labeled with country of origin are allowed. Cheese must not contain any meat product.
Pasta and Noodles – Unlimited quantities
Seafood for personal use – Unlimited quantities. Fish can be fresh, frozen, smoked, cooked. Seafood must be vacuumed sealed, canned or jarred.
Canned goods – Generally allowed if no meat is in them (jams/jellies/spreads/mustards)
Condiments – Unlimited quantities
Flour or other baking items – Unlimited quantities
Dry fruit such as apricots, dates, figs and raisins – Unlimited quantities
Truffles (mushrooms) – Allowed in "small amounts"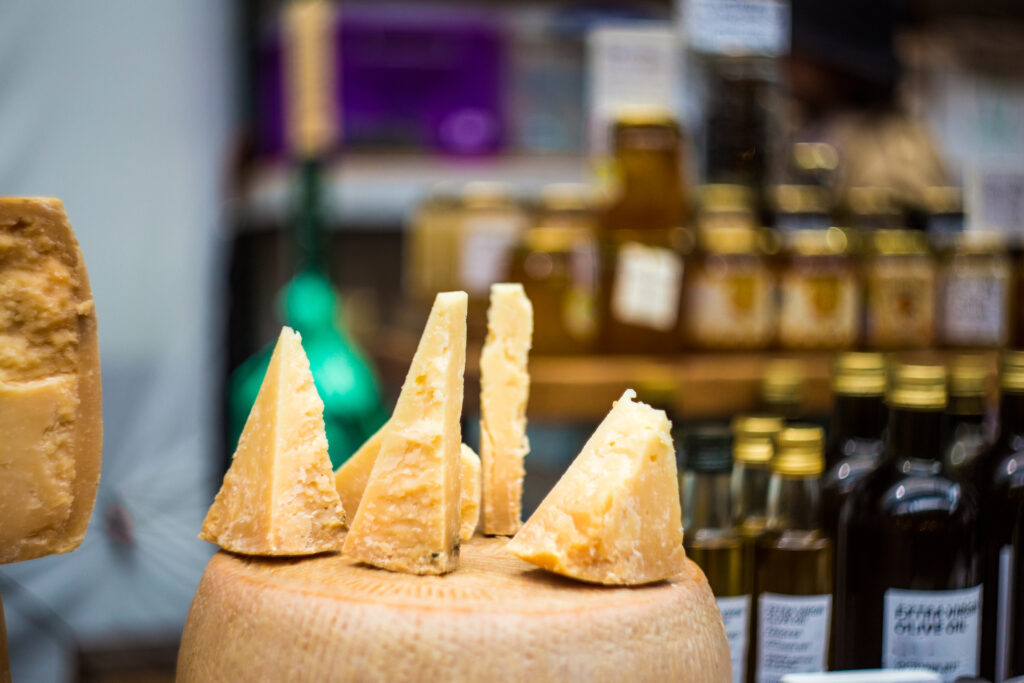 ITALIAN FOOD TO LEAVE BEHIND
Meat of any sort including chicken or pork products (fresh, packaged, canned, vacuumed sealed, jarred) is not allowed. US Customs is very strict about this.
Meat containing products such as soup mixes, bouillon cubes – Not allowed
Liquid milk and liquid dairy products – Not allowed unless intended to be used as feed for infants and children (butter is allowed).
Fresh or frozen fruit of any kind – Not allowed (Canned fruit is allowed.)
Lucky for us, the list of what we can bring back is rather extensive! Of course, the meat products are the hardest to resist. This just means you will have to enjoy them that much more when you are in Italy. Keep in mind that all the items I mentioned above that are permitted, should be in your checked luggage. Hand luggage have their own set of rules which are not detailed in this article.
My Favorites
My favorite foodie products to bring back from Italy include Parmigiano cheese, especially from our Bologna culinary tour, candy and chocolates as they make great gifts, and baked cookies and cakes, such as Cantucci Toscani, because I have a sweet tooth, and these items are more of a childhood nostalgia for me. They remind me of the treats my mom used to stuff in my lunchbox! Dry fruits such as dates and figs also find their way in my luggage, as some baking items, like the Italian baking powder that I love so much. And yes, an authentic glass jar of Nutella is always in my luggage.
While it is tempting to bring back some wine and olive oil from producers that we visit during our tours, they are both simply too heavy to carry around, so I often opt to have some of these items shipped to my home.
Other non-Italian food souvenirs from Italy that are worth considering include leather goods from Florence, ceramics and pottery from the Amalfi Coast, an authentic Bialetti Moka coffee pot, Murano glass from Murano and Venice, lace, Christmas ornaments and original art. 18K gold jewelry are always on everyone's list. Always try to keep your receipts for all your Italian purchases. In case you ever get questioned by customs, or they attempt to double-tax your items, you will have proof to back up your purchase.
Join us in 2024 for an amazing culinary tour and bring back all these allowed items! Click here for all the info!

Cosa Mettere in Valigia per l'Italia
Everyone is always asking me what they should pack for Italy,
so I've created a quick reference guide that you can use for your next trip.
Hint: You don't need nearly as much as you think you do!