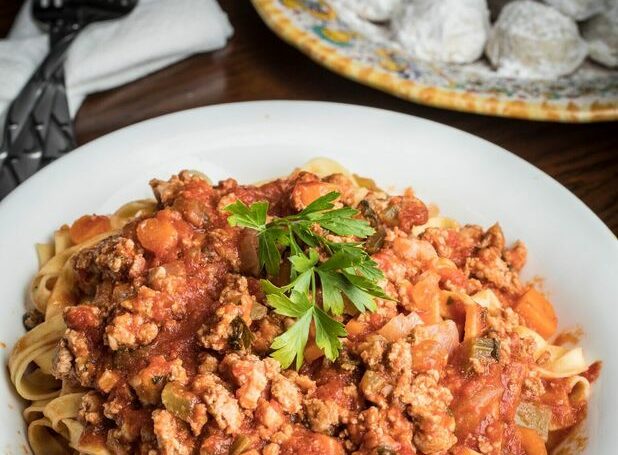 Fettuccine with Lazy & Light Turkey Bolognese Sauce
I have to admit, I have a bit of an aversion to ground beef. I can't remember the last time I cooked with it, not to mention when it was the last time I ate a beef burger. I don't care for beef period, but ground, even less.
Now I know I am in the minority, and I'm ok with that. Food is all about a matter of preferences, right, and it should be that way. Recipes were created to be adapted by taste, so if you are reading this, you are at liberty to play around with this and all the recipes you see on this blog. With the exception of the baking ones, those are a bit more difficult to "play around" with, but Italian cooking? By all means, change the meat in this dish to beef, if you wish, I'll take no offense. Although you should give turkey a chance just once, at least.
Speaking of playing with recipes, this is MY version of this recipe. Some Bolognese sauces call for milk or cream, some for wine, some for meat stock. Some also call for 3 – 4 hours of cooking! I can't say that I'm fond of any of those, especially the "simmer for 4 hours" part! Who has time for that? Life is what's happening when your sauce is cooking? Humm, no.
This is my lighter and faster version. You'll thank me later.
This makes a wonderful first course for Thanksgiving, if you are serving a first course on that day, that is. Or for a Sunday lunch during the upcoming festive season. You'll find that once you have mastered this, you'll make it time and time again. This is definitely guest-worthy!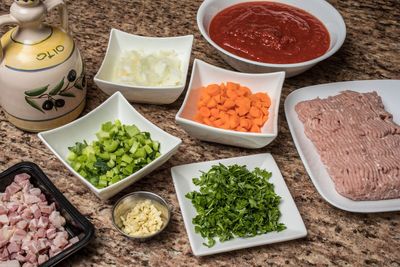 See the ingredients, pretty basic, right? I hate when recipes call for one-off ingredients that I use once in one dish and never use again. It's a waste of money and an extra trip to the store. Both of which I want to avoid! Here we have diced carrots, celery, onion, garlic, parsley, oil, some diced pancetta, the ground turkey, EVOO, crushed tomatoes…. Nothing out of the ordinary here!
​Below are the step by step instructions as detailed in the recipe. How easy is this??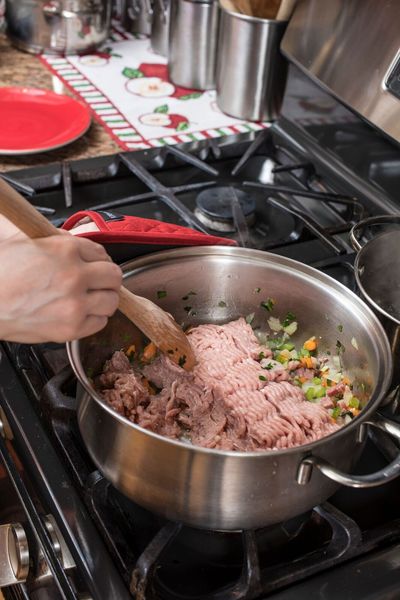 Lazy & Light Turkey Bolognese Sauce with Fresh Fettuccine
Ingredients
3 – 4 tablespoons olive oil of your choice
1 – 2 small carrots, finely diced
1 – 2 celery ribs, finely diced
1 small or ½ medium onion, diced
Salt to taste – about 1 teaspoon
4 oz pre-diced pancetta
2 – 3 cloves of garlic, chopped
2 Tablespoons chopped parsley
3 – 5 leaves fresh basil (if in season and available)
1 16 to 20 oz package ground turkey
1 28 oz can of crushed peeled tomatoes
1 ¼ cups of water (milk or cream can be substituted for a creamer sauce)

1 lb. fresh fettuccine (found in the refrigerated isle of any grocery store)

Directions
In a medium sauce or sauté pan set to medium heat, add the oil, carrots, celery, onion, salt and simmer for 3 – 4 minutes. Add pancetta and simmer for an additional 1 – 2 minutes. Add the garlic, parsley and basil.
Add the ground turkey and using a wooden spoon, break up the meat and brown all over, cooking it for 5 minutes.
Add the crushed tomatoes and water, reduce heat and allow simmering for 30 minutes.
Cook fresh fettuccini according to the instructions (usually only for a few minutes) and top with the sauce.
* This recipe makes enough for 1 lb of fresh fettuccini. If you are using less, leftover sauce can be refrigerated for up to 3 days or frozen for future use. Thawing in the refrigerator overnight is advised for any frozen sauce.
This recipe of mine originally appeared in the Winter Edition of Foodies of New England. If you live in New England or New York, be sure to pick up this wonderful magazine for incredible recipes to try this winter!
The beautiful images are courtesy of Erb / Dufault Photography, taken for the magazine article.

Cosa Mettere in Valigia per l'Italia
Everyone is always asking me what they should pack for Italy,
so I've created a quick reference guide that you can use for your next trip.
Hint: You don't need nearly as much as you think you do!