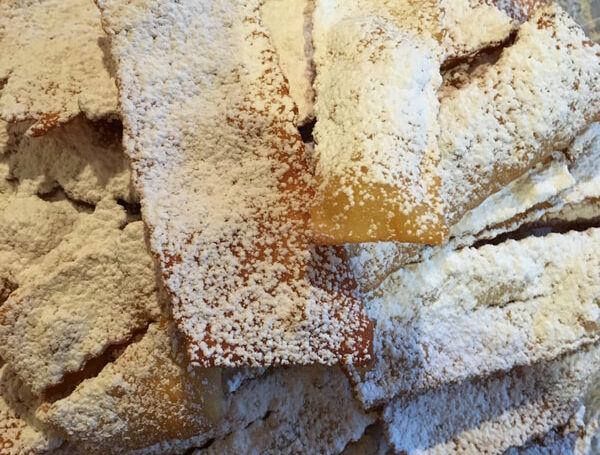 Chiacchiere di Carnevale
"I can't be left alone in the room with them," I told my sister with a very serious tone. And I wasn't kidding. As a frequent home baker, over the years, I have pretty much learned self-control. As much as I love baking and having something sweet to go with my after dinner espresso, I am definitely a sharer as well. I frequently bake and immediately give away much of my efforts to neighbors, friends or even the mailman! And if I don't give away the fruits of my labor, I will enjoy them with family over several days. Rarely over doing it, for the sake of health or overindulgence. I find that giving goodies away permits me to bake more often, which also gives me the ability to try different recipes on a more frequent basis.

All that said, the rules change completely when it comes to chiacchiere. I don't show any self-control, nor do I share! These crispy pieces of sweet dough are fried and immediately dusted with confectionary sugar. They are very, very addictive! Much like potato chips, it is impossible to eat just one! And like I told my sister, I can't be left alone in the room with them! And I am not even kidding! Over indulgence is almost a sure bet with these. They are most often eaten during carnival season in Italy. The period before lent in which overeating, in preparation of the more restrictive period of lent, is almost a given.

The word "chiacchiere" loosely translates to "small talk" or "chatter" in English. More than that, it means a few laughs. In Italy, you'll often hear people say something like "C'i incontriamo per due chiacchiere?" Or "Shall we meet for a few laughs?"

There are various variations of these, much like most Italian dishes. Many add white wine, some add grappa and many add citrus zest. These here are vanilla and when sweeten with the confectionary sugar, they are just perfect! If you have anise liquor or white wine, you can add a few tablespoons here, in place of the milk. You can also add citrus zest, but if you do, I suggest leaving out the vanilla or the anise liquor as those flavors to not blend well with the zest of lemon or orange.

Truth be told, these are not very lazy. In fact, if you have an extra set of hands, it will make the process of rolling the dough in the pasta machine that much easier. They are a great Sunday afternoon activity. If you do not have a helper in the kitchen, you can still make them just as easily; just give yourself at least an hour's time from start to finish. And be prepared to munch on these all day long. They go well with coffee, tea, wine, anisette liquor or all by themselves!

This recipe makes about 70 pieces.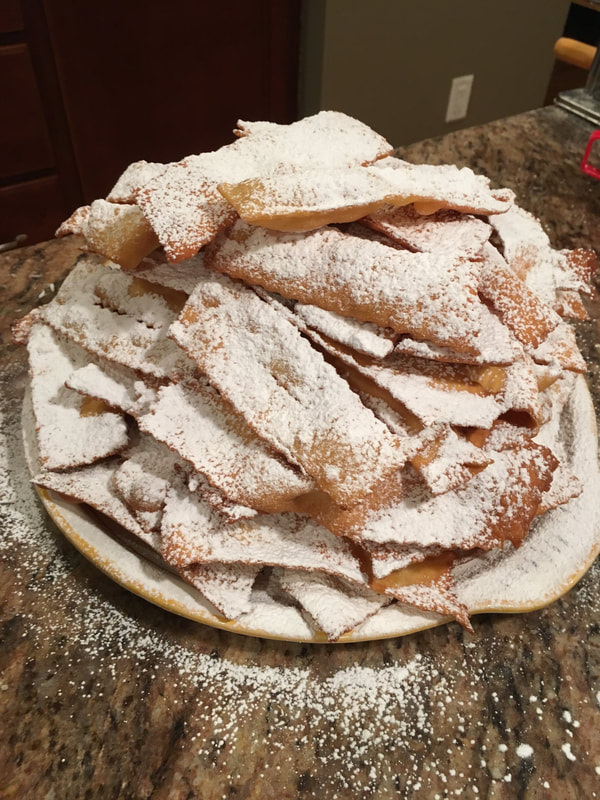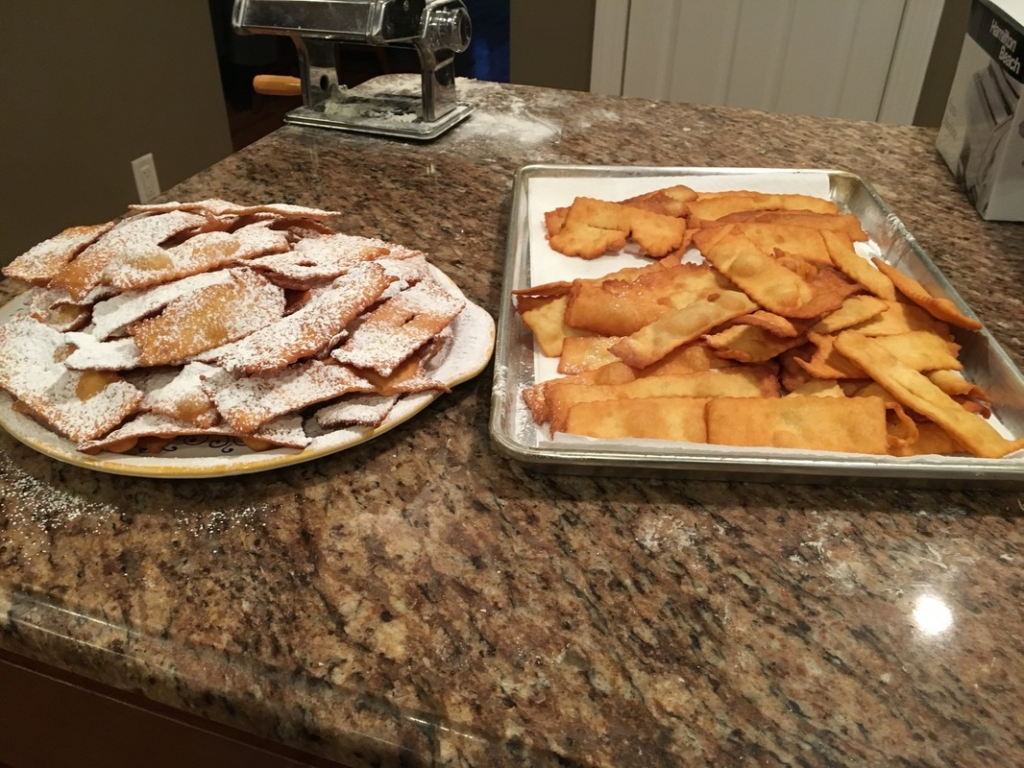 Chiacchiere

4 cups of flour
½ cup sugar
3 large eggs, slightly beaten
4 tablespoons butter, melted
2 teaspoons vanilla
1 1/2  teaspoons baking powder
2 – 5 tablespoons of milk

4 – 5 cups of vegetable oil for frying

Confectionary sugar for topping

Specials tools required: pasta machine
On a clean work surface, place 4 cups of flour and add the sugar.
Make a hole in the center and add the eggs, melted butter, vanilla and baking powder.
Using a fork, gentle start pulling in some of the flour into the hole, being careful that it does not spill over your counter.
Start kneading the dough and add milk, one tablespoon at a time, as needed. (Depending on the size of your eggs, you might end up needing anywhere from 2 – 5 tablespoons of milk.)
Knead the dough until all ingredients are well incorporated and the dough is smooth. It should feel like pizza dough.
Divide the dough into 4 pieces. Working with one piece at a time, (cover the other pieces using plastic wrap), run the dough through a pasta machine. Start with the thickets setting working your way to the second to last thinnest setting or until about 1/10 of an inch in thickness. You will end up with sheets that resemble fresh lasagna sheets.
Using a decorative pastry wheel, or pizza cutter, cut chiacchiere into desired shapes. Typical shapes are rectangles about 5 inches long and 1 ½ – 2 inches wide. Place on clean kitchen towel and continue with the rest of the dough.
Preheat the vegetable oil
Fry the strips of dough in the oil until just golden, paying close attention to not overcrowd the pan or burn the chiacchiere. Should take about 30 – 40 seconds.
Remove chiacchire using a tong and place on a cookie sheet that has been lined with paper towels.
Plate in serving platter and dust with confectionary sugar.
TRAVEL WITH US IN 2023! CLICK LINKS BELOW FOR ALL THE INFO!
THE TUSCAN COUNTRYSIDE: MAY 6 – MAY 13, 2023.
BOLOGNA and EMILIA ROMAGNA: MAY 14 – 21, 2023
THE AMALFI COAST: MAY 22 – 29, 2023
CALABRIA: SEPTEMBER 1 – 8, 2023
PUGLIA: SEPTEMBER 9 – 16, 2023

Cosa Mettere in Valigia per l'Italia
Everyone is always asking me what they should pack for Italy,
so I've created a quick reference guide that you can use for your next trip.
Hint: You don't need nearly as much as you think you do!