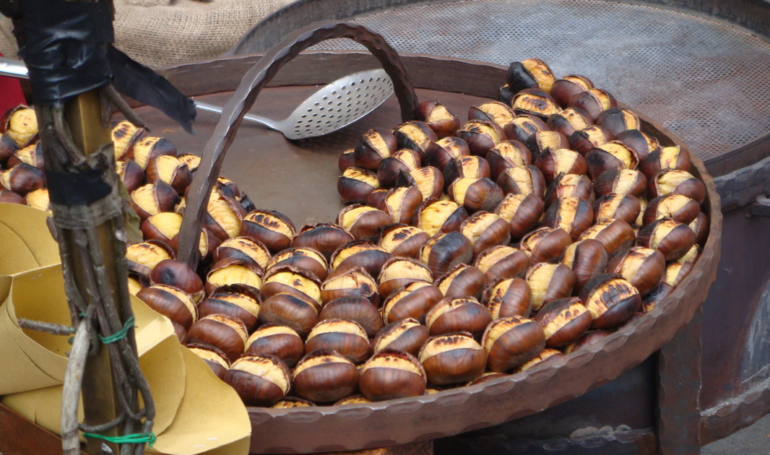 Chestnuts Roasting on an Open Fire…..
hestnuts roasting on an open fire…. I bet you couldn't read that without singing it! And while we're a bit too early to break out the Christmas tunes, the time is just right to start roasting some castagne. It's during this time of year that they are at their peak and chestnuts make a great addition, particularly a great ending, to any meal. While they have the name "nut" in them, they are different  from other traditional nuts in several ways. They are lower in calories and fat when compared to other nuts and seeds, but are equally as rich, if not more so, in vitamins and minerals.  They are also very starchy, resembling potatoes and corn when it comes to their starch content. Naturally gluten free, chestnuts are a great culinary addition for anyone trying to eat a gluten-free or reduced-gluten diet. Chestnuts are also a great source of Vitamin C, which we all know we can use more of in the winter to ward off colds!
 
Because they are so starchy, they tend to spoil a lot faster than other nuts. Treat them as you would your potatoes and store them in a cold, dry and moisture-free environment, such as on a shelf in your basement or even the produce drawer of your fridge.  When selecting them at the store, be sure they are free of any noticeable moisture, blemishes or mold.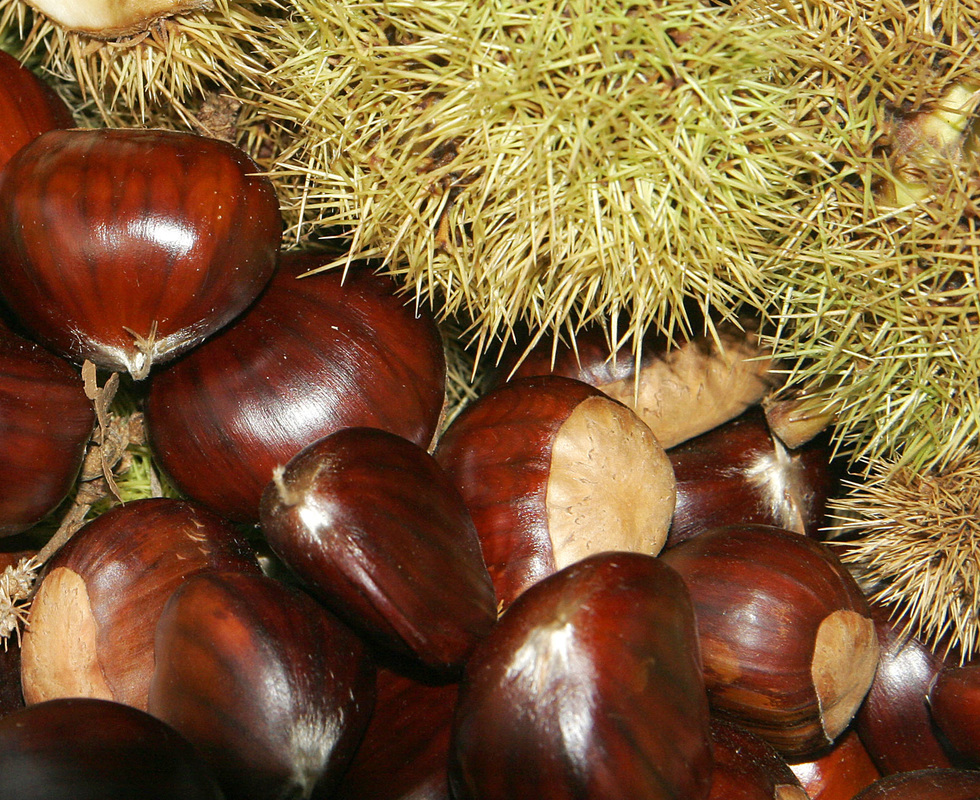 A popular staple during this time of year all over Italy, they are particularly popular in Tuscany, Umbria and central Italy, where you'll find vendors selling roasted chestnuts in the middle of the piazzas and squares. Their delicious aroma can be smelled well before you can even visually spot the vendor. And while it's perfectly acceptable to eat them raw, they rarely are. The skin is a bit hard to remove if you're attempting to eat them raw. In fact, even by roasting them you could have some difficulty removing the skin! It can be a bit work, but worth the effort.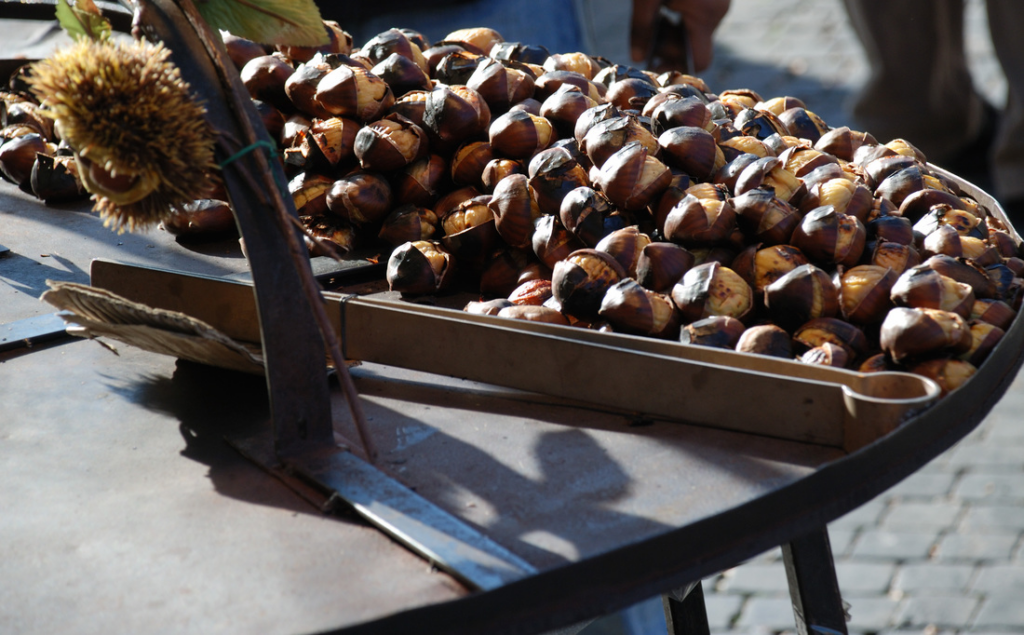 My preferred methods of eating chestnuts are boiled or roasted. If you're roasting them, make sure you very carefully cut a small X on them using a small paring knife. This is done to remove their internal pressure while cooking and this also eases in removing the skin once they have been roasted. Heat your oven to 400 degrees and place scored chestnuts on a baking sheet. I put my pan directly at the bottom of the oven, without the rack, but if you're concerned that you will burn them, which is possible if you are unfamiliar with the roasting process, you can use the lowest rack setting. Be sure to shake the pan several times, the roasting time takes about 20 minutes. Do not be alarmed if you hear a loud "pop" while the chestnuts are in the oven. Even if you score them, you could have an unruly one pop, and yes, it might cause a bit of a mess in the oven. They're delicious hot, straight from the oven, the cooler they get, the higher the difficulty level in peeling them!
 
For boiling: If you're looking to remove the peel and eat them whole, score chestnuts with an X and then boil them in enough water until they are covered. Boil for about 8 – 12 minutes, depending on the size. If you are using in a recipe that requires a chestnut puree of sorts or in a stuffing, boil for about 15 – 20 minutes and they will become much softer. You reduce your chances of having a perfectly peeled and whole chestnut if you boil them for too long, so if you're looking for presentation on your Thanksgiving table, you might not want to boil them for too long. You can test the doneness at intervals until you have the right consistency for your needs.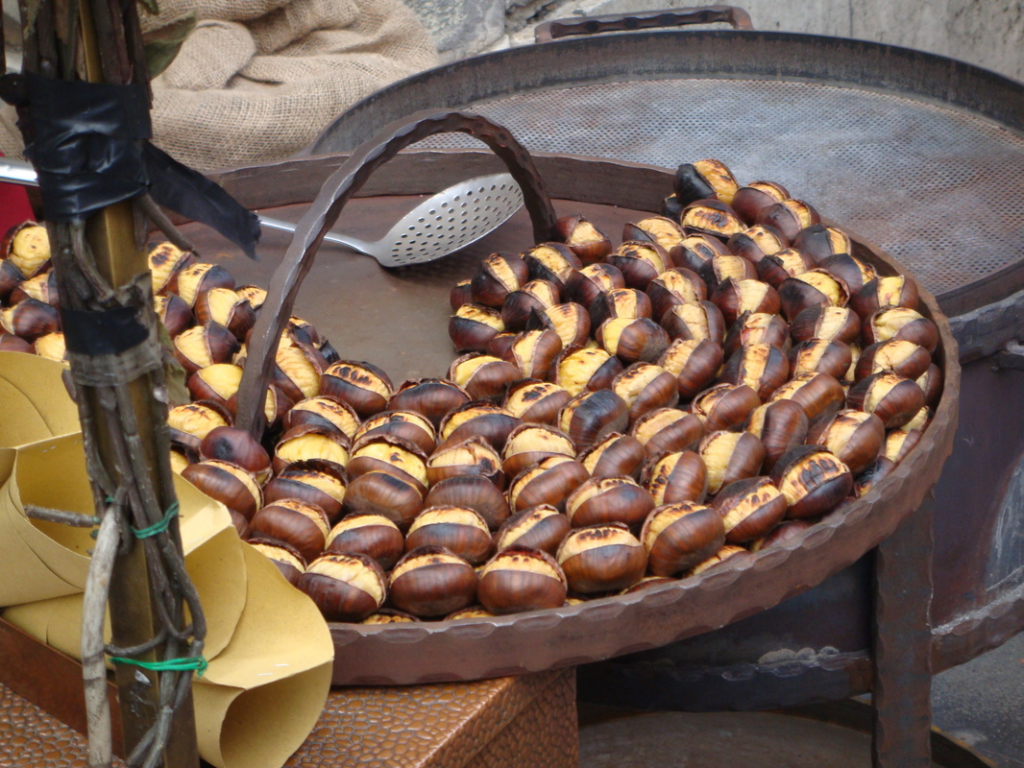 While I enjoy ending my winter meal with chestnuts and a glass of wine, there are other variations of use. They are ideal in both sweet and savory dishes and they can be added to pasta dishes, soups, add thickness to stews and are a popular ingredient in turkey stuffing on Thanksgiving. If however, you are new to chestnuts and they are not an ingredient you use frequently, I highly suggest eating them in its simplest form, roasted. They are also wonderful roasted on an open fire, (again with the song!) If roasting by the fire, it is advisable to use a chestnut-roasting pan, which looks like any other baking sheet or pan with holes in it. This helps the heat circulate. If you do not have one, simply poke some holes on a disposable aluminum pan. Roast on the ashy portion of the fire and not directly on the flame. Shake pan several times to avoid burning. Roast for about 15 – 20 minutes.

In a sense, chestnuts are like potato chips, you can't eat just one, they're highly addictive! Whether you choose to boil, roast or cook with them, I highly suggest you don't let this winter season go by without trying some for yourself. You'll see that they do indeed, deserve their own song! ***************************************************************************************************************************
Ready to make your 2020 Italian Travel Dreams come true? Consider joining us in one of our Culinary Adventures!
CHIANTI: MAY 1 – MAY 8, 2020. Click here for all trip info on this great adventure!
AMALFI: MAY 10 – 17, 2020. Click here
for all trip info on this great adventure!
EMILIA ROMAGNA: MAY 19 – 26, 2020. Click here
for all trip info on this great adventure!
SICILY: SEPTEMBER 1 – 8, 2020. Click here
for all trip info on this great adventure!
CHRISTMAS in TUSCANY: DECEMBER 4 – 11, 2020. Click here
for all trip info on this great adventure!

Cosa Mettere in Valigia per l'Italia
Everyone is always asking me what they should pack for Italy,
so I've created a quick reference guide that you can use for your next trip.
Hint: You don't need nearly as much as you think you do!