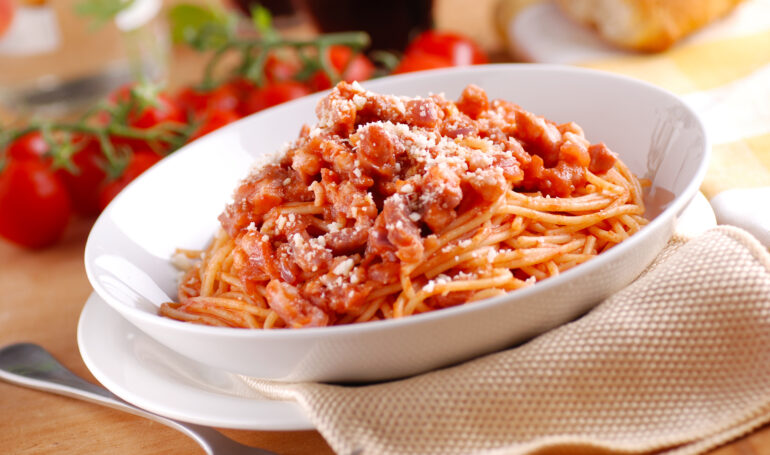 Bucatini all'Amatriciana
Someone recently called me a "carbavore." Not a carnivore but a carbavaore, because I could easily live a happy life on nothing but carbs. Give me pasta, pizza, bread, and I'm happy!! That's not to say that this is a healthy lifestyle by any means, but it is a preference of mine to opt for these items over meats, even if I try to limit pasta dinners to just once or twice a week. And it pains me to do so! I'm not a huge meat eater, and I always say I could be a vegetarian, if it wasn't for products like prosciutto, salumi and other delicatessen items. Those Italians do make exceptional deli products! 
One of my all-time favorite pasta dishes is Bucatini All'Amatriciana. This is a simple red sauce, infused with some pancetta (or guanciale, if you can find it), and a little splash of white wine. Yes please! Sign me up! This dish is known as a specialty of Rome and Lazio, but originally, this recipe came from the town of Amatrice, which originally belonged to Abruzzo, and was passed on to Lazio in 1927.
It was originally created as a "white" pasta condiment, and the original name of that pasta dish is Pasta Alla Gricia. This is still a popular dish in Lazio, and all of Italy, thought to be named after another small hamlet a few miles from Amatrice named Gricia. Gricia was, and still is known as an amatriciana without tomato, or amatriciana bianca.
In the second half of the eighteenth century, the Neapolitans, among the first in Europe to recognize the great qualities of the tomato, began to cultivate them, and distributing them to other territories, including those of Amatrice, which fell under the Neapolitan jurisdiction at that time. And thus "Gricia with tomatoes" was born, which is what we now know as Pasta all'Amatriciana!
I love this sauce for its simplicity, yet at the same time, for its bold flavors. It's easy for any week-night, but fancy enough for serving as a first course at any dinner party. Just avoid the white linen tablecloth as you will undoubtedly get sauce on it! I included this recipe in my Pasta in a Pinch Cookbook (Rockridge Press, 2020, get your own copy here) because it's such a classic, and can really be made in a pinch.
The original recipe doesn't change much, but you will still find different variations from the older cookbooks to the more recent publications, such as my own version in my book. And yes, you can still have it be Pasta all'Amatriciana! Onion, or no onion? Wine? Red or white? And how about garlic? It all depends on whom you ask, and you'll get a different reply, and surely their version will be the best. Bottom line, make it how you like it, we're not the food police, nor am I a food historian.
I am going to go on the assumption that you're going to have a hard time finding authentic pork cheek from Amatrice, so I have substituted pancetta instead in the recipe below, which is much easier to find. (And while they may not admit to it in public, even Italians in Italy substitute pancetta!) Pancetta comes from the word pancia, which is the belly of the pig. So we are substituting the cheek for the belly. Because pancetta is a bit leaner than guanciale, I add 1 – 2 tablespoons of oil in this recipe. If you happen to find real, authentic guanciale, you can skip the oil, as the fat it will render in the pan is enough, no oil needed.
While Bucatini pasta is typically used, you can use any pasta shape you prefer and have on hand. Rigatoni are wonderful alternatives, as is any long pasta such as spaghetti.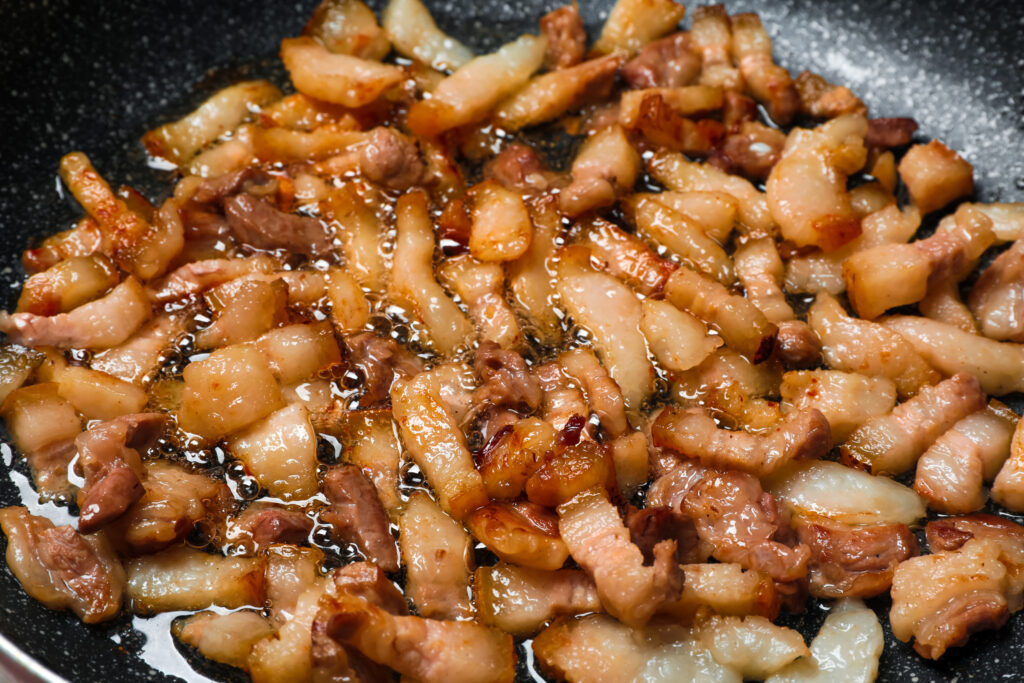 Below is the recipe for you to give it a try yourself. You'll see it's simple, but so flavorful!
Bucatini all'Amatriciana
Serves 4
Directions
½ cup cubed pancetta (or guanciale from Amatrice)
½ cup dry white wine
1 – 2 tablespoons olive oil
½ small onion, finely chopped
1 (28-ounce) can or jar of high-quality crushed tomatoes such as San Marzano
Hot red pepper flakes – to taste
Table salt for the pasta water
1 pound bucatini or other preferred pasta
½ cup grated Pecorino Romano cheese
Instructions
In a large sauté pan over low heat, cook the pancetta for 4 to 5 minutes, until some of the fat is rendered. With a slotted spoon, remove the pancetta from the pan and set aside on some clean paper towels, leaving any remaining fat in the pan.
Carefully add the wine to the pan and allow the alcohol to reduce for a few minutes. Add the oil and onion and cook for 3 to 4 minutes, or until the onion becomes translucent.
Carefully add the tomatoes and pancetta back to the pan, along with the pepper flakes, and cook for 15 to 18 minutes uncovered, stirring occasionally.
Meanwhile, in a 6-quart pot over high heat, bring about 4 quarts of salted water to a boil. Add the pasta, stir, and cook to just under al dente, about 2 minutes less than the box instructs.
Drain the pasta and add it to the sauce and cook for 2 additional minutes, mixing all the ingredients well.
Remove from heat, stir in the grated cheese, and serve immediately.

Is a trip to Rome in your near future? Below are some restaurant recommendations that serve great Bucatini All'Amatriciana! Enjoy real authentic Roman cuisine at any of the restaurants below. Romans are big pasta eaters. Other typical Roman pasta dishes to try on your next trip include Pasta alla Carbonara, La Grigia, and Cacio & Pepe.
Salumeria Roscioli, Via dei Giubbonari, 21, Rome
Armando al Pantheon, Salita de'Crescenzi 31, Rome
Trattoria Da Enzo al 29, Via dei Vascellari, 29, Rome
Da Bucatino, Via Luca della Robbia, 84, Rome

Cosa Mettere in Valigia per l'Italia
Everyone is always asking me what they should pack for Italy,
so I've created a quick reference guide that you can use for your next trip.
Hint: You don't need nearly as much as you think you do!