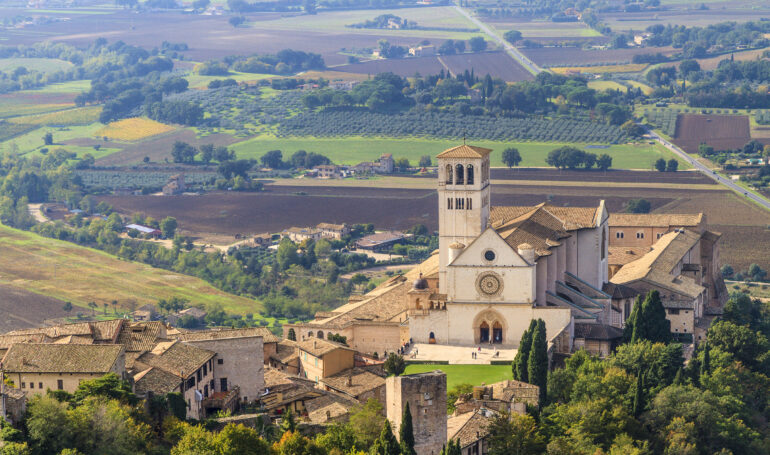 My Favorite Italian UNESCO Sites
Did you know that Italy is home to the largest number of UNESCO World Heritage Sites? Italy holds claim 58 UNESCO sites to be exact, with 31 additional sites on the tentative list right now. Is that not mind-blowing for such a small country? It just means that no matter how many times you have been to Italy, there's always so much more to see, and do. While I don't plan on visiting every site on the list, I have made it a personal and professional goal to visit every region in Italy. I'm still lacking a few, I'm looking at you Friuli Venezia-Giulia, Marche, Molise and Valle D'Aosta, hopefully in the near future!  
After a quick count, turns out I have been to 26 Italian UNESCO sites, and each one reminds me of how lucky I am to do what I do, and to have been born in such an amazingly beautiful and historical country. So, without further ado, I wanted to share with you a few of my favorites Italian UNESCO sites. This is not an all-inclusive list, I have realized that picking favorites of anything in Italy is next to impossible, but I wanted share with you a few places I love dearly. The list is not in any particular order with the exception of the first two mentions. The Basilica of St. Francesco will always be a favorite of mine, and Verona happens to be my favorite city from all that I have visited so far, so after these, the list is not in order of preference.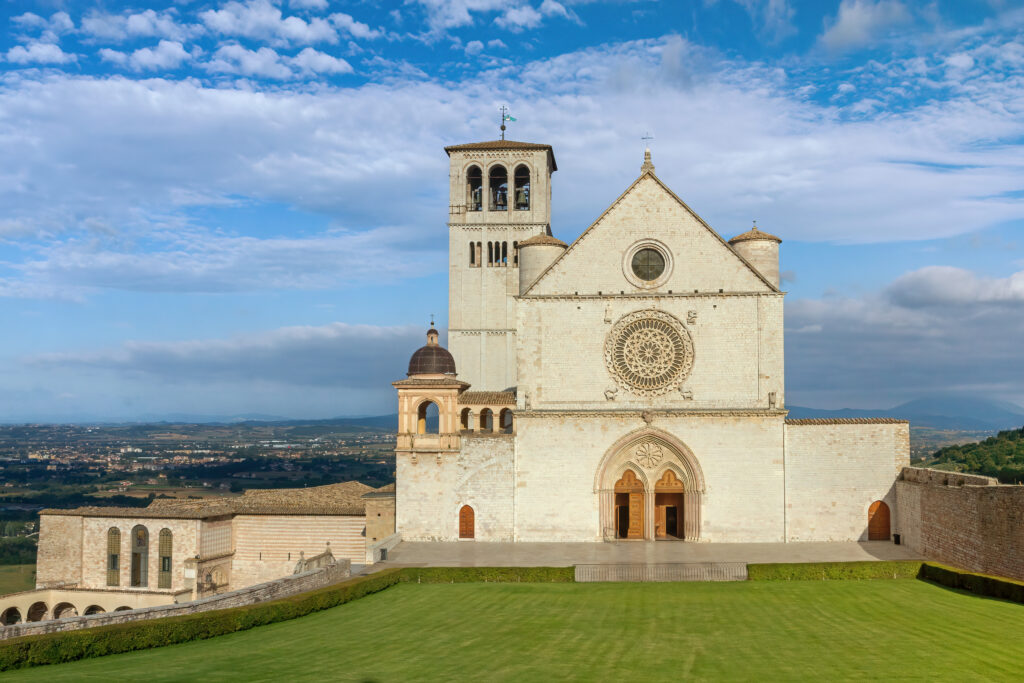 Basilica of San Francesco, Assisi
Few places in the world breathe an atmosphere of intense and collective spirituality like the Basilica of San Francis of Assisi. Completed in 1253, the Basilica is the beating heart of the town in the province of Perugia, and a reference point for the entire Catholic world. The Basilica is divided into two parts, the upper Basilica has a gabled façade enriched by a large rose window and flanked by a bell tower. With the interior of the church being airy, bright, and the entire building is soaring towards the sky. The Basilica is most famous for the frescoes by Giotto, which depict significant episodes in the life of the Saint.
The interior of the lower Basilica is richly decorated with frescoes by artists such as Giotto, Cimabue and Simone Martini. Here, the atmosphere is darker and more intimate compared to the upper Basilica, and invites silence and prayer. It is no coincidence that the Crypt of San Francesco is accessed from the lower Basilica, which houses the coffin of the Saint.
Back outside, walk under the arches of the long portico in front of the entrance to the Basilica and take a moment to admire the panorama that surrounds you, a breathtaking view awaits. Both the Basilica and the town of Assisi will always hold a special place in my heart, perhaps because St. Francis is my "name saint," or perhaps because San Francesco happens to be the Patron Saint of pets and animals, and as a pet owner, I always feel like he has my dog's back.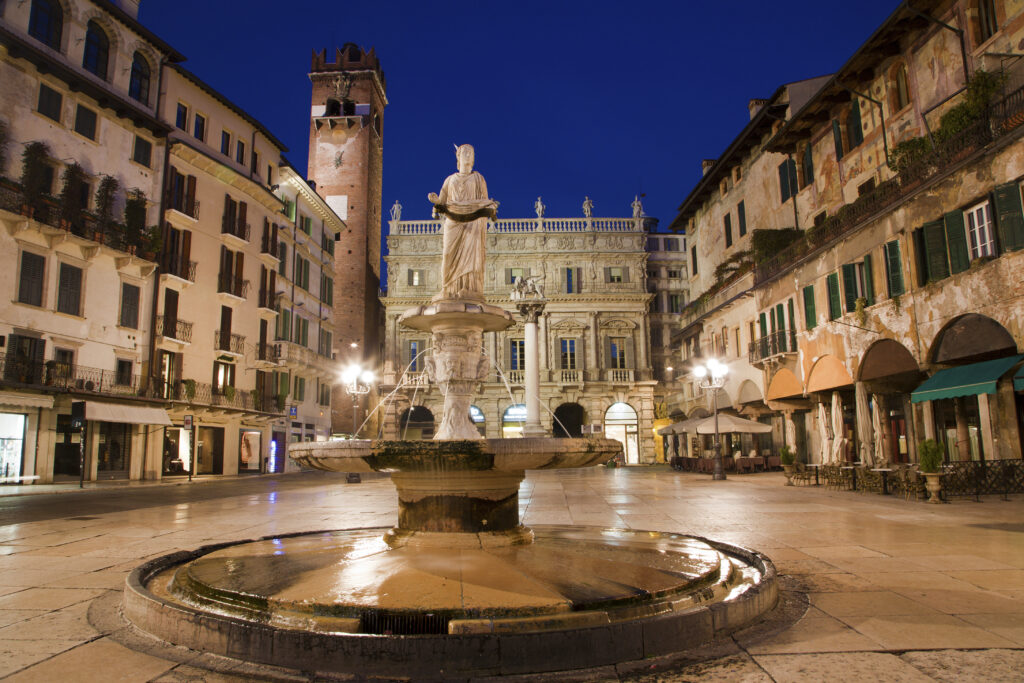 The City of Verona 
Verona is one of the oldest and most beautiful Italian cities, and yes, my favorite cities of all that I have visited in Italy thus far. It is the largest city in the Veneto region, after Venice, but for some reason, to me Verona feels small, intimate, and cherished. Close to Lake Garda, Verona is one of the most iconic, loved, admired Italian cities, and a UNESCO site since 2000. During the summer months, visiting ancient Verona can provoke a mix of emotion. Enjoying an evening at the arena is a must. The arena is a Roman amphitheater that can hold 15,000 spectators, and an evening here alone justifies a trip to Verona. Contemporary artists who have held concerts here include Andrea Bocelli, Duran Duran, Paul McCartney, and Sting, just to name a few.  
In Verona, it is easy to feel transported thousands of years back in time. Enter Piazza Erbe, (my favorite pizza in Verona,) or Piazza Bra, or walk on the Ponte Stone, or go through the Borsari and Leoni gates, and back in time you are. Verona is also the homeland of Romeo and Juliet, the protagonists of the famous tragedy by William Shakespeare. An immortal story that can be relieved by visiting Casa Capuleti, be sure to look out on the balcony and swear your love to your beloved! Not visiting with a loved one? No problem! In Verona it won't be too difficult to drown your sorrows in good food or wine! Between risotto with radicchio, risi e bisi,  various asparagus dishes, all washed down with a nice glass of Valpolicella or Amarone, and Verona will still have plenty to offer you!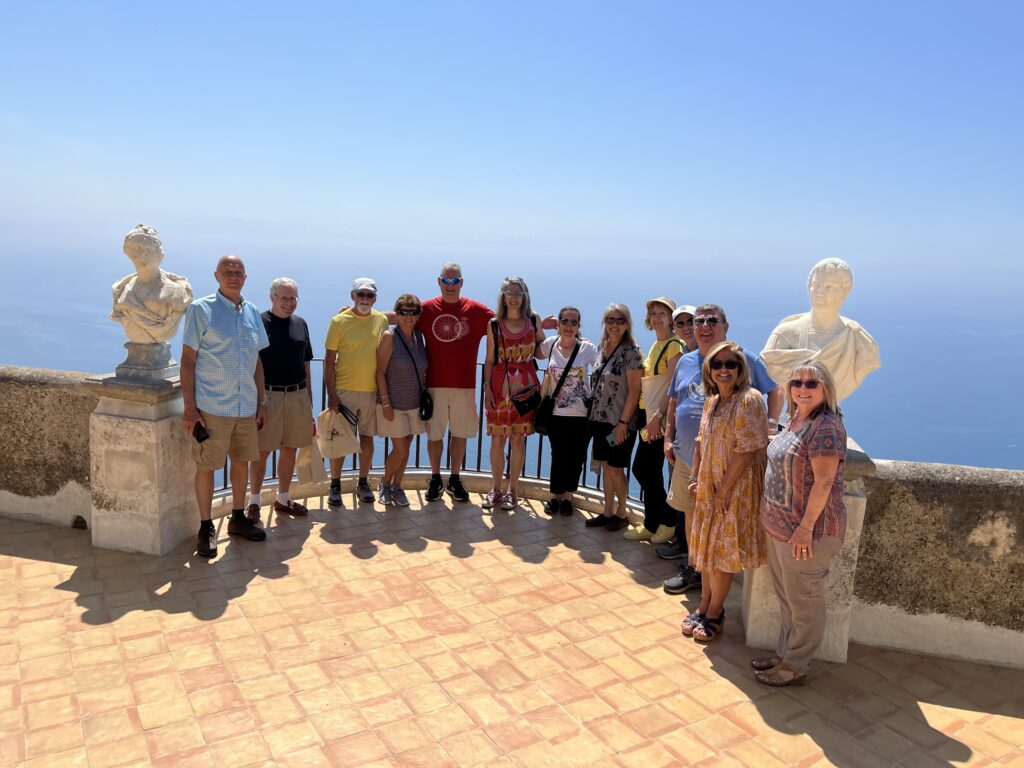 The Amalfi Coast
It's not by coincidence that the Amalfi Coast happens to be my most popular culinary adventure. I don't think there is a need to convince anyone to visit, known by practically everyone, even by those who have never been there. The coastal stretch that overlooks the Gulf of Salerno and goes from Positano to Vietri sul Mare is pure wonder, a feast for the eyes. With its overhanging cliffs, celestial blue waters, tiny bays and terraces planted with vines, olive trees and citrus fruits, the Amalfi Coast is most deserving of being named a UNESCO Site.
Starting from Positano, with its colorful houses and the domes of the churches with tiled roofs, then move towards Amalfi, the jewel of the coast, and you're in for a treat for all senses. Visit the Cathedral of St. Andrea, the patron saint of Amalfi, and stop at Pasticceria Pansa afterwards for an espresso and a Delizia al Limone pastry. In less than a mile from Amalfi, you'll reach Atrani, the smallest town in Italy with narrow alleys and houses that climb up a hill.
A little further north, be sure to not miss a visit to Villa Cimbrone in Ravello with its splendid gardens and the Terrace of Infinity which offers a spectacular view. Not far away are Maiori and Minori, worthwhile stops as you make your way along the coast. Vietri sul Mare is known for its splendid artistic ceramics, while Cetara is a small fishing village frozen in time. If you love a gently hike, go along the Path of the Gods which connects Agerola and Positano.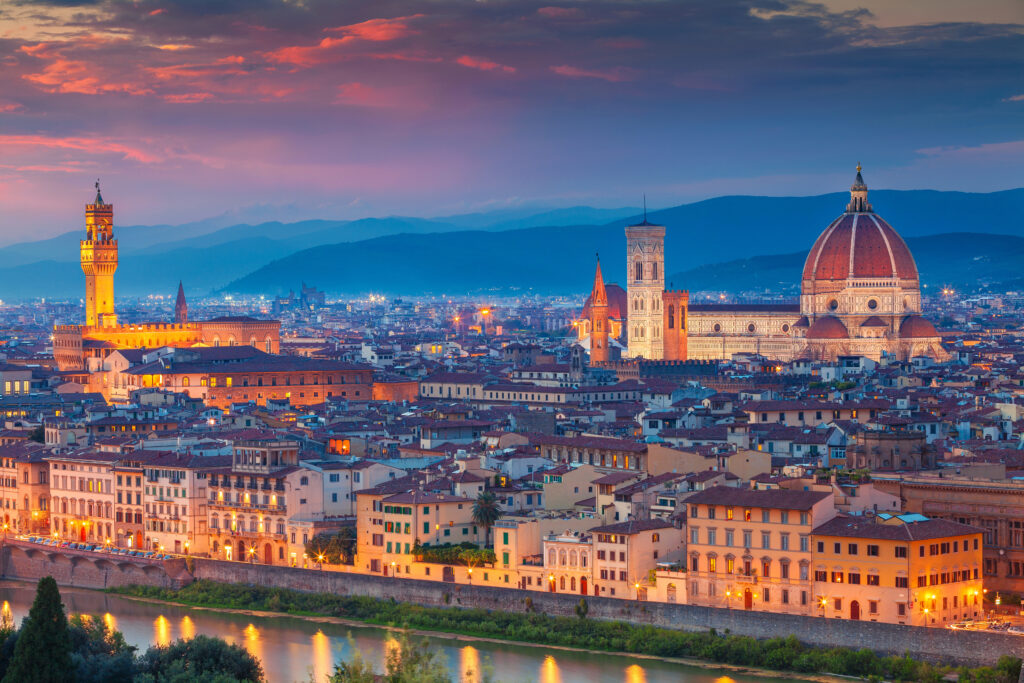 The City of Florence
What more can be said about Florence that hasn't already been said before? The reasons for visiting Florence are truly endless. A unique destination that has fascinated travelers from all over the world for centuries, with its many beauties and absolute charm. Classical art, a thousand historical references, the Ponte Vecchio, the Uffizi Gallery! 
Florence is synonymous with the Renaissance, a treasure trove of art and beauty. Michelangelo, Giotto, Brunelleschi, Donatello almost become travel companions during your visit to the city. You meet them in museums and churches, even outdoors, in places such as the Loggia dei Lanzi, Palazzo Vecchio, Piazza della Signoria and the Boboli Gardens. Getting to know Florence, through its palaces, monuments and museums is certainly an effective way to discover the charm of the Medici city adored by all who visit.
When art, history, museums and churches have run their course, one of my favorite activities to do in Florence is simply to enjoy a coffee and a pastry at one of the city's famous cafes, enjoying people-watching, a pastime as old as time in Italy. Visiting and experiencing one of Florence's historic cafes is equivalent to me as becoming a Florentine, if only for an hour. Visit the Paszkowski Café Concerto, born in 1846 as a brewery, but soon became a Concerto Café where the famous Paszkowski band performed with a female orchestra, very rare at the time. Or perhaps enjoy an outdoor drink at Caffè Gilli, in Piazza della Repubblica, an elegant café, frequented in the past by artists and intellectuals such as Marinetti and Ardengo Soffici.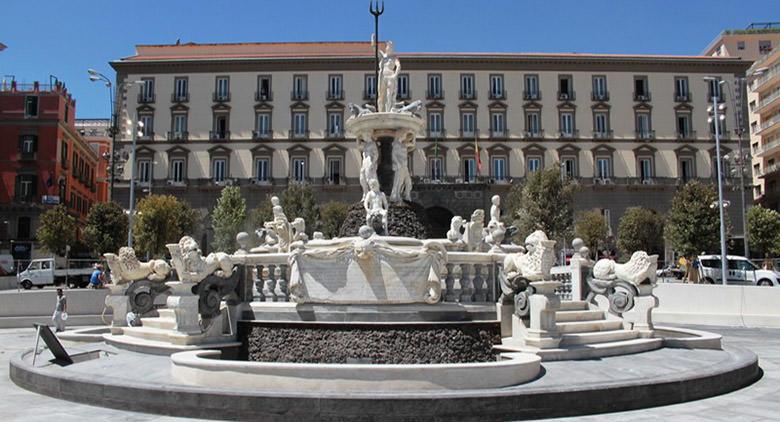 The City of Naples
Naples, perhaps one of Italy's most misunderstood city, is also on the list of favorite sites for me, for its uniqueness and also for sentimental reasons. You see, my first "big trip" as a young child living in Calabria was to Naples. But not to sightsee, but to visit the US Embassy and obtain my US Passport. It is in Naples, ironically, that I became an American. I recall this trip vividly, but me getting my US passport here is no reason for you to visit! 
Instead, visit Naples because each district of the historic center has a unique soul, from the very central district of Montecalvario, to that of San Giuseppe, close to the port of Naples, without forgetting the Avvocata district and the Pendino district, among the areas of Naples richest in churches. Further north, but still in the historic center of Naples, there is the district of San Carlo all'Arena with the splendid Piazza Carlo III and the Church of Santa Maria degli Angeli alle Croci.
The streets of Naples are lively, full of people who come and go. Markets are plentiful, with their fruit stalls, seafood, clothes, and screaming merchants shouting about their goods. The people of Naples are simple, authentic, without apology. They carry on with a smile as if hiding a secret. Their accent is undeniable, and they are able to make you feel at home immediately. Neapolitans are proud, proud to live there and proud of being from there. The glitz of the Amalfi Coast, just about an hour away, seems and feels much further in distance. Visit Naples for its food. It's practically impossible to have a bad meal here. In Naples, food has value, has passion, has life. Homeland to pizza, just look into the eyes of any pizzaiolo, and you'll find love for his craft. 
"Vedi Napoli e puoi muori" is a famous saying that means, "See Naples and then die." But why such a morbid saying? It's not morbid at all really, it means that to discover its beauty, you have seen it all, it will leave you breathless. Essentially, one must experience this city, before one dies.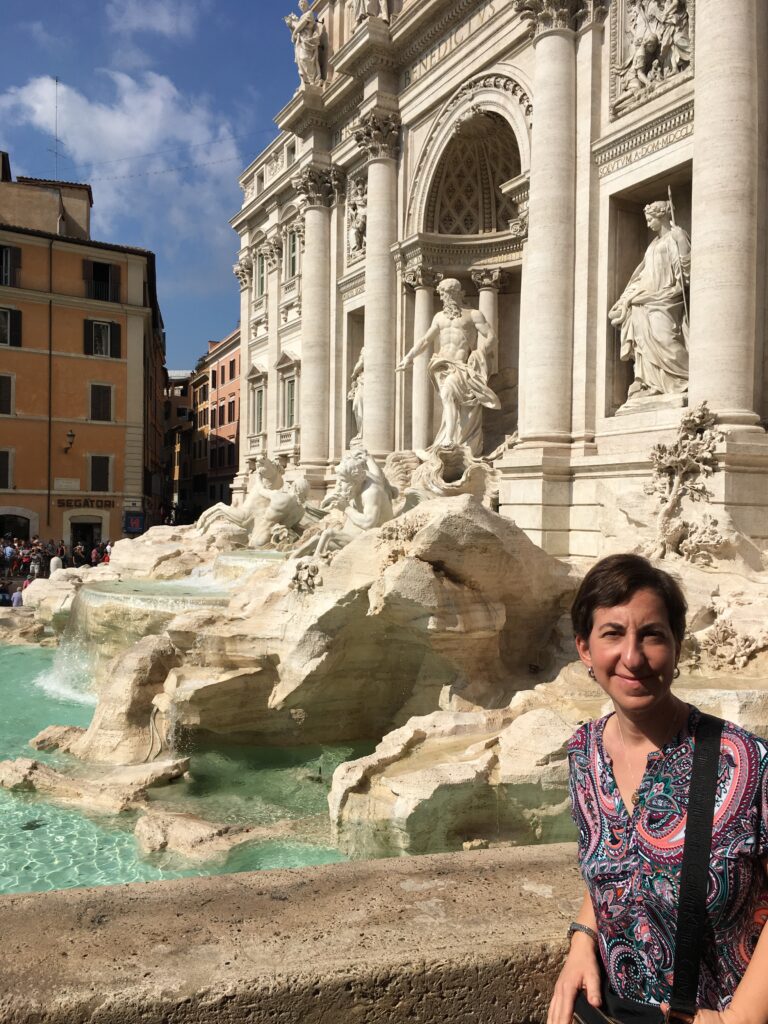 The City of Rome
It is no coincidence that Rome is known worldwide as the "Eternal City." In Rome, time seems to have stopped and its monuments and archaeological sites transform a simple walk through the streets of the city into a fantastic dive into the past. Walking the streets of Rome means walking through history, an outdoor museum. You not only observe the many archaeological finds of the city, for a walk in Rome is a real immersion in its past, when gladiators fought within the walls of the Colosseum, and philosophers strolled in the forum. Among the most popular tourist destinations in the world, with over 16 million annual visitors, Rome is the third European city by number of visitors.
The center boasts mythical places such as the Colosseum, the Imperial Forums, the Pantheon and the Trevi Fountain, but also neighborhoods full of charm, where you can breathe the true Roman spirit, made up of local culture and great cuisine. Without forgetting that Rome has the Vatican and St. Peter's Square, among the most popular religious destinations in the world. 
Headed to Rome this spring? After you have seen all the historical aspects of the city, perhaps consider celebrating National Carbonara Day, celebrated each year on April 6th. The recipe for this iconic dish has been handed down for generations: eggs, pecorino romano, guanciale (pork cheek), and black pepper. The goal of Carbonara Day is to preserve the tradition and spread the recipe that has been handed down for generations. Everyone has their own secret for its execution, of course, but the one constant ingredient, or rather lack thereof, is cream. Never, ever add cream to your carbonara pasta!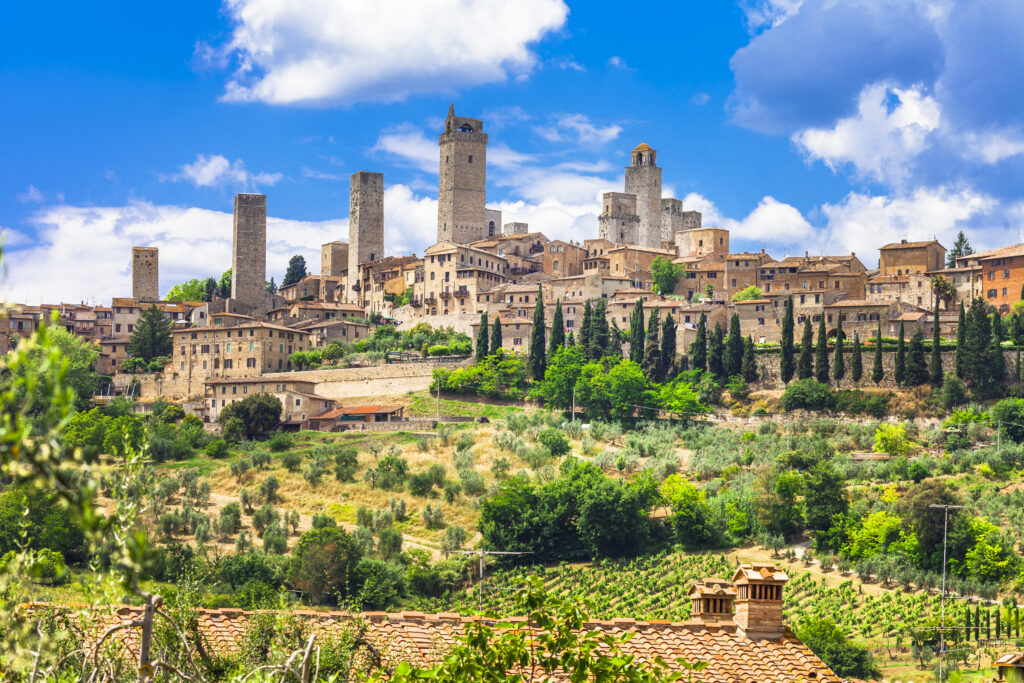 The Hamlet of San Gimignano
San Gimignano is located in the province of Siena, Tuscany and is a medieval village, located on a hill, surrounded by walls, with the main feature being the high towers that distinguish it from other local towns. Each tower corresponded to a family that once lived there, and I am sure it will not surprise you to learn that the higher the tower was, the more noble and rich was the family that lived there. San Gimignano is a true gem indeed. 
San Gimignano is without a doubt one of the most beautiful villages in Tuscany, and its particular medieval center has earned the inclusion as a UNESCO Site. The center goes back to the thirteenth and fourteenth centuries. However, what makes the village of San Gimignano special are in fact these ancient towers that in the distance still define the skyline of the town. Unfortunately, of the 72 original towers, only 14 remain today.
There are two main entrances to the village, Porta San Giovanni and Porta San Matteo, these are the two main "doors" of the historic center of San Gimignano. Porta San Giovanni is the entrance that we use typically when we visit during our Tuscan culinary adventure. This is the southern entrance to the city, and this gate has long been the most important in the city and welcomed those coming from Siena. 
Because we seem to always be able to tie a visit to any site to its local cuisine and specialty, if you're visiting San Gimignano, be sure to make a stop at Gelateria Dondoli, named by several organizations as the best gelateria in the world!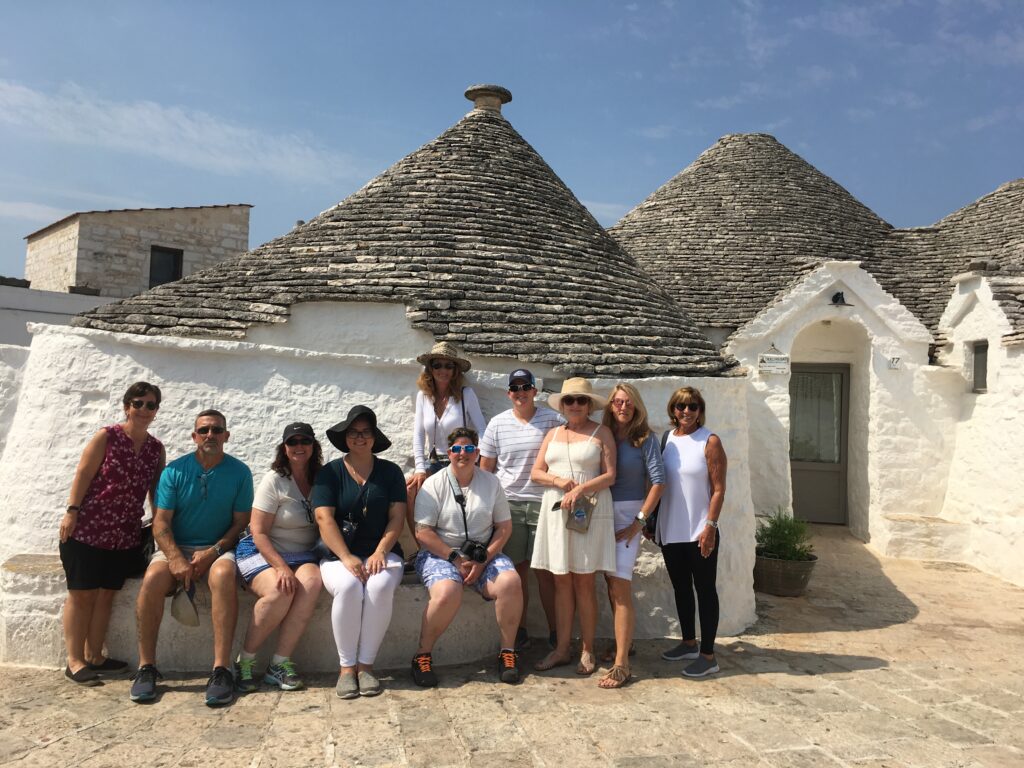 The Trulli of Alberobello
Visiting Alberobello for me is like stepping into a fairytale village. The trulli are cone-shaped domed homes all very similar to each other, and this makes the environment particular to visit. Alberobello has been listed among the UNESCO sites since 1996, and its historic center is divided into two districts: the Aia Piccola district where most of the citizens still live, and the Monti district, where most of the trulli here are no longer being used as private homes. 
Curiosity would have one question how these little homes came to be. The town was born at the end of the 14th century, and according to some studies, the trulli are the result of a scheme devised to avoid paying property taxes. The appearance of these constructions had to be deliberately precarious to give the impression of easily demolished buildings in the event of an inspection. 
The small size of the historic center makes Alberobello easily visited, and like many of the other UNESCO sites mentioned, it can get a but touristy, but as I always say, places are touristy for a reason, they are worth visiting. And try as I might to offer unique adventures to untouristy stops, to visit Puglia and not visit this lovely unique village would be a real shame.
So here you have it…..
Just a few of my favorite UNESCO sites in Italy for you to consider on your next visit. Not detailed above for the sake of space, but definitely worth adding to your list of must see include the canals of Venice, Siena, Pienza, Bologna, Mt. Etna. Shall I go on? I could! There is just so much to love about Italy!
Have you been to any of the UNESCO sites? Do you have a favorite? Have you been inspired to get on a plan and get to Italy? I don't blame you at all. Italy certainly has that effect. Drop me a note in the comments below and let me know if you have been, and if you have a favorite!!  Or if this post has made you want to go even more!!
If you enjoyed this post, hit the share button above. Sharing is caring!

Cosa Mettere in Valigia per l'Italia
Everyone is always asking me what they should pack for Italy,
so I've created a quick reference guide that you can use for your next trip.
Hint: You don't need nearly as much as you think you do!