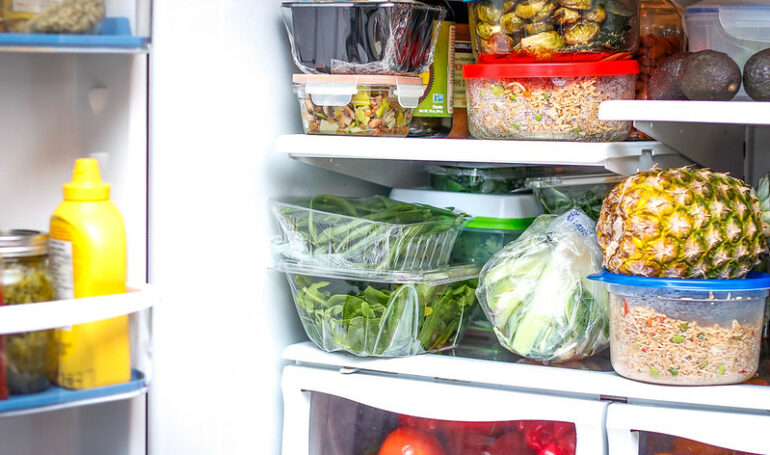 The Italian Fridge & Freezer
There are items in my fridge and freezer that are always there. And when I run out, chances are I have the same items in my fridge in the basement! Yes, just about every Italian has an extra fridge and stove in their basement, and I am by no means an exception! Here is a list of items I suggest you add to your fridge and freezer to bring a bit of Italy home during mealtime.
Cheese
Be it a chunk of Parmesan (from cow's milk) or the saltier, sharper Pecorino Romano (from sheep's milk), or ideally both, grated cheese is used in countless Italian dishes. If buying an entire piece is not an option, ask the clerk at the deli counter to grate some for you. Avoid highly processed, pre-grated cheese at all costs. They are filled with fillers, including wood chips!
Italian Flat-Leaf Parsley
​Herbs such as parsley, basil, rosemary, and oregano add a lot of wonderful flavor to your dishes, but if you must select just one to keep on hand, make it Italian flat-leaf parsley. It will add freshness and a hint of color to any dish. You will need parsley for sauces, soups, pasta dishes and many meat-based dishes.
Bread crumbs
While it's perfectly fine to keep bread crumbs in the cupboard instead of the refrigerator, I, along with many Italians, refrigerate them in order to extend their life. Choose high-quality bakery bread crumbs whenever possible, they are far superior in flavor to other options. Also, select unflavored crumbs (no added parsley or seasonings) so you can adjust flavor accordingly.
Fresh Vegetables
​Fresh vegetables are essential in an Italian kitchen. Broccoli, broccoli rabe, cabbages, green beans, celery, carrots, and Swiss chard are only a few of the vegetables found in the Italian and Italian-American refrigerator. These perish quickly, so be sure to schedule your meals accordingly so as to avoid waste.
Capers and Olives
Salty and packed with flavor, these two staples are an essential ingredient in many southern Italian dishes. They are great in a puttanesca sauce or as toppings on pizza. Watch the added salt when adding these to your dishes as they already offer a lot of sodium.
Butter
​While southern Italians such as myself tend to prefer olive oil as their fat of choice, northerners use butter to flavor many dishes such as risottos or to sauté meats or vegetables. Keep the unsalted version on hand for baking and the salted version for savory dishes.
The Freezer
Peas
​When it comes to frozen vegetables, Italians definitely have a preference for peas. Economical, practical, and savored by the young and not-so young, peas are added to dishes such as soups and stews, risottos, and the famous risi e bisi. They last for several months in the freezer, so why not stock up and store a few bags in your freezer?
Chicken
​Be they cutlets, tenders, or bone-in chicken, keep some poultry portions in the freezer to prepare quick dishes such as chicken saltimbocca, chicken Marsala or chicken with lemon and capers. Boneless cuts are ideal for weeknight meals as they are quick and easy. Bone-in, while equally tasty, require a longer cooking time. The pic below is directly from my cookbook, The 5 Ingredient Italian Cookbook: 101 Regional Classics Made Simple. Be sure to pick up your copy on Amazon today!
Frozen Basil
​It's perfectly acceptable to freeze some fresh herbs when in season and abundant. Although parsley can be found year-round, fresh basil is seasonal and can get expensive if needed out of season. Buy some during the summer, rinse it, dry it on paper towels, and freeze for winter soups and stews.
Frozen Pizza Dough
You never know when the urge for homemade pizza kicks in. While easy to prepare, allowing the dough to rise is time-consuming and not always an option. So why not be like the rest of the Italians in Italy and make some when you have a few hours and freeze some for future use? It's very common for Italians to reserve some frozen dough "in case of emergency," or when the mood strikes and you don't have time to let it rise.
Homemade Tomato Sauce
​Homemade tomato sauce freezes very well, and in this recipe, you will learn to prepare a super easy version. Freeze some in small containers and have it ready whenever needed. Use it as a simple dressing for pasta, add it to soups or to top a pizza—homemade sauce makes everything special.
Cubes of Frozen Pesto or Stock
Fresh pesto is delicious, healthy and quick, but being that the main ingredient is basil, it's also very seasonal. And you don't always have an abundance of fresh basil, so make some when it's available and freeze it in an ice cube tray. When frozen, pop them out and freeze all the cubes in a freezer bag. One cube is enough to make about 1 serving of pasta. Same with chicken stock. Homemade stock is great but time consuming. Follow the steps above and use the cubes for added flavor.
So, do you have these in your fridge and freezer? If so, you're in for some great meals! If not, time to stock up

Cosa Mettere in Valigia per l'Italia
Everyone is always asking me what they should pack for Italy,
so I've created a quick reference guide that you can use for your next trip.
Hint: You don't need nearly as much as you think you do!