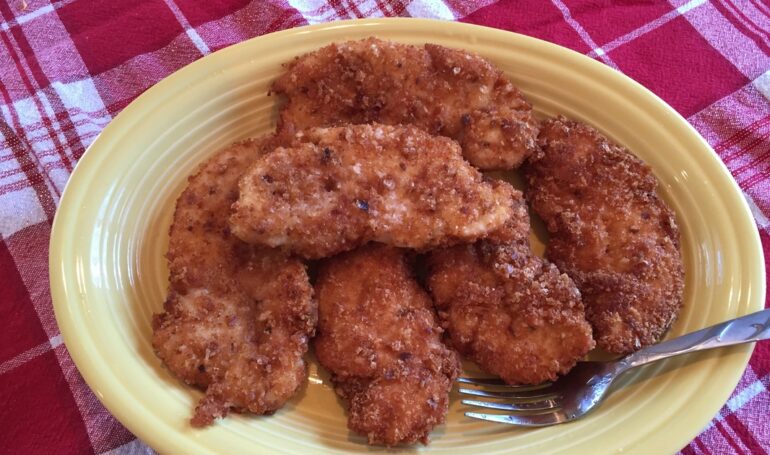 Sunday Traditions
There are a few dishes that scream Sunday Supper in every Italian household. Meatballs, braciole, chicken cacciatore, and of course, chicken cutlets. I love making these as they make great leftovers the next day at work! As you can see from the recipe, I like a high parmigiano cheese to breadcrumb ratio and sometimes it's actually 50/50. Watch the salt here since the cheese is a bit salty on it's own. I always enjoy these with a side of stir-fried peas and pearl onions. It's a combination I grew up on and hard to break!
Italian Chicken Cutlets
Ingredients
1 – 2 lb chicken tenders or chicken cutlets (if using tenders pound them slightly with a meat mallet, this will make frying them easier and faster)
½ cup of flour (you can stick this but it does help the coating stick)
2 eggs, lightly beaten
1 to 1 ½ cups of unseasoned breadcrumbs
½ to ¾ cups of freshly grated parmigiano cheese
salt to taste
Several cups vegetable oil for frying
Directions
1) Prepare a workstation and in three bowls add the flour in one, the lightly beaten eggs in the second one and in the third bowl add the breadcrumbs with the cheese. Blend the bread and cheese with fingertips or a fork.
2) Wash chicken under cold running water and dry with paper towel
3) Lightly sprinkle with salt
4) One at a time, lightly coat the tenders in the flour, shaking off excess.
5) Next, dredge them in the egg wash
6) After that, add to the bread/cheese bowl until you have a nice even coating
7) Place in the prepared baking sheet while heating your oil
8) In a large frying pan add enough vegetable oil until it comes about ½ way up the pan.
9) Fry cutlets in several batches, making sure not to overcrowd your pan. Fry for about 4 minutes per side, making sure the oil is not too hot, or they'll burn on the outside but not cook fully on the inside.
Tips
• The amount of ingredients above are all estimates, you can adjust according to how much chicken you are using
• The same method makes great veal cutlets
• Be sure to use unflavored, bakery-style bread crumbs that are fresh, do not use pre-packed grocery bread brumbs
• Discard any unused flour, breadcrumbs or egg
• Homemade tomato sauce makes an excellent dipping sauce
​

Cosa Mettere in Valigia per l'Italia
Everyone is always asking me what they should pack for Italy,
so I've created a quick reference guide that you can use for your next trip.
Hint: You don't need nearly as much as you think you do!