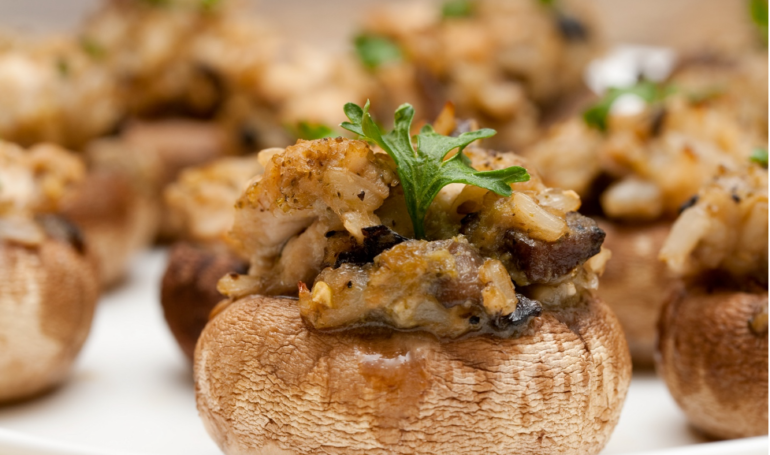 Stuffed Mushrooms
Looking for an alternative side dish to your summer BBQ? While summer is abundant in great veggies, sometimes you've just had your fill of eggplants and zucchini. Or the green leafy salad! In comes the stuffed mushrooms. I love these next to a grilled steak, or some grilled chicken. These are also the perfect appetizer, often served at Italian weddings. Stuffed mushrooms also make the perfect vegetarian dinner option for folks staying away from meat, they are certainly satiating on their own. While the ingredients for the stuffing varies from recipe to recipe, many southern Italians like myself, not wanting to waste anything, often use the stems. Mushroom stems are fully edible, but many people unfortunately discount them as not worth eating. They make the perfect filling in this recipe, but if you prefer not using them, you can substitute 8 – 12 ounces of small button mushrooms instead, minced finely.

Stuffed Mushrooms
Ingredients
8 large stuffing mushrooms
¾ cup fresh breadcrumbs
½ cup freshly grated Parmesan cheese
3 tablespoons olive oil, plus additional for drizzling
2 tablespoons chopped parsley
2 – 3 garlic cloves, minced
Sea salt to taste
Freshly ground black pepper to taste

Instructions
Preheat the oven to 375°F.
With a paring knife, remove a very thin slice off of the mushroom stem and discard. With a moistened paper towel, remove any visible dirt from the mushrooms. Carefully, so as not to break the mushroom cap, remove the stem from the cap and mince it finely. Add the minced stems to a medium mixing bowl.
To the bowl with the minced stems, add the breadcrumbs, cheese, oil, parsley, and garlic. Mix everything until the stuffing is moistened and well combined.
Place the mushroom caps on a baking sheet and season with desired amount of salt and pepper. Using a tablespoon, generously stuff the caps with the filling, using the palm of your hand to pack it in. Lightly drizzle some additional oil on top.
Bake for 18 – 20 minutes, until top is slightly crunchy. Enjoy hot or at room temperature.

Cosa Mettere in Valigia per l'Italia
Everyone is always asking me what they should pack for Italy,
so I've created a quick reference guide that you can use for your next trip.
Hint: You don't need nearly as much as you think you do!