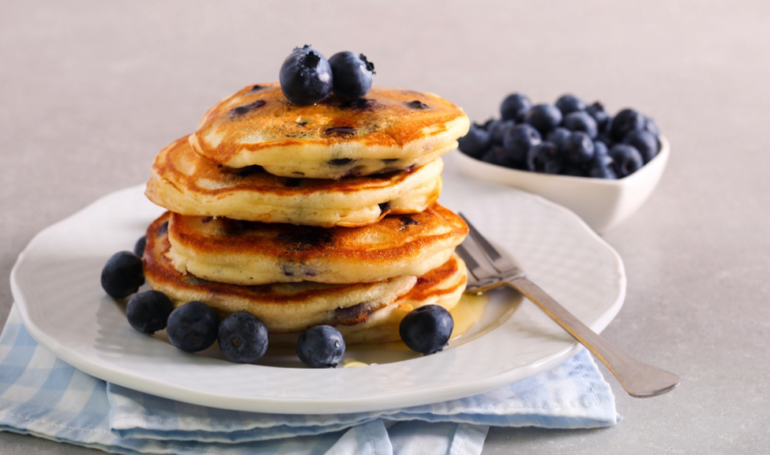 Ricotta Blueberry Pancakes
I have a dear friend who lives in Italy. She's a great cook and baker and every time I talk to her it appears she's in the kitchen, behind the stove cooking or baking something for her family's next meal! The kitchen is where she loves to be and when I visit her in person, she's usually wearing an apron and flip flops, that's her summer uniform it seems! I love visiting her because when I do, she's always offering me a sweet treat which she just baked. As a gracious visitor, I always bring her something usually food based such as cheeses, a basket of fresh figs or peaches, or wine, all things I know she'll use for her family.

A number of years ago, I was invited to her home for an outdoor breakfast in her yard. She has a beautiful yard and it's the place she hosts all her guests during the summer months. Her fruit-filled trees make it that much more appealing. If you didn't have enough to eat (which is never the case with her), just get up and grab some figs or grapes from her yard!

During breakfast she had a beautiful spread of food, but what appealed most to me were her ricotta pancakes. Pancakes aren't really a thing in Italy, rarely eaten or enjoyed so I asked her where she had learned to make them. "On the internet!" she replied, of course. She said she took a basic pancake recipe and, you know, threw some ricotta she had on hand in the batter! Of course, she did! She's great at "throwing" recipes together just like that, that result in amazing final products! She served them with homemade cherry jam for the adults and Nutella for the kids. I told her that she needed some real Vermont maple syrup to go with them, so now, I always bring her some real syrup from Vermont from I visit her from the States.

Here's her recipe, or at least what she was willing to tell me is her recipe! Her favorite reply when I ask her for specific amounts of ingredients in her recipes is "Quanto Basta!" Quanto basta in Italian means, "until it's enough" so when asked how much of this or that is added, many Italians will tell you, quanto basta, until it's enough! Of course, the tricky part is knowing when it's enough! How much flour, you ask? "Quanto basta!" How much ricotta? "Quanto basta!" It's actually a cooking philosophy that I adore, let the ingredients and dishes tell you when it's enough. And amazingly, everything always comes out perfectly.

These pancakes are great topped with real maple syrup, whipped cream and some fruit. A spear of high-quality jam also works wonderfully.

Ricotta Pancakes
Yields 6 pancakes

​Ingredients
1 cup whole-milk ricotta
2 large eggs
¾ cups milk ( I use skim)
zest of 1 lemon or 1 orange
1 cup all-purpose flour
1 teaspoon baking powder
3 tablespoons sugar
½ tablespoon butter, divided (for the pan)
1/2 cup blueberries

Instructions
1. In a medium bowl, add the ricotta, eggs, milk and zest and mix gently with a hand whisk. Use a fork to break down any lumps of the ricotta.
2. Sift the flour over the batter, add the baking powder and sugar and mix to combine. Batter will be fairly thick, thicker than usual pancake batter do to the addition of the ricotta.
3. Heat a griddle or large frying pan and melt about half the butter. Pour about two 1/3 cup servings of batter into the pan to form 2 pancakes at a time, depending on the size of the pan, you may be able to fit 3 pancakes. Drop several blueberries on top of the batter. Cook until bubbles form on the edges, about 45 – 50 seconds for the first 2 pancakes, 35 – 40 seconds afterwards. Flip the pancakes and cook the other side for about 30 seconds, until golden.
4. Continue with the rest of the batter, melting off additional butter as needed.
5. Serve with maple syrup, blueberries, strawberries, jam, whipped cream or as desired.
Note that because the batter is thicker, they end result will not be perfectly round pancakes, but a bit more rustic.

Cosa Mettere in Valigia per l'Italia
Everyone is always asking me what they should pack for Italy,
so I've created a quick reference guide that you can use for your next trip.
Hint: You don't need nearly as much as you think you do!