June 13 – The Feast Day of St. Anthony
Growing up in an Italian household, I heard the phrase "St. Anthony will help you find it!" so many times that they were ingrained in me pretty much from birth! It didn't matter what the "it" was, whether it was an object of little monetary value or an item more sentimental, my mother always had utmost trust and belief that if we prayed to the Patron Saint of Lost Things, we'd find whatever us kids had misplaced. More often than not, she was right. And I'd be lying if I said I still don't call on him when I misplace my everyday items. If not for St. Anthony, I might never find my car keys!
My mom has always had a close relationship with St. Anthony, also the Patron Saint of Padova (Padua in English), and she has passed that on. We were excited when a few years ago, we were able to visit his own preferred location in Italy.
​A few years ago, on a return trip to our native Calabria, my mother, sister and I decided to take a train ride to Padova to visit the shrine that is devoted to St. Anthony. Calabria is as far south as you can get in Italy, with the exception of Sicily. The Veneto area, the region in which Padova is located, is pretty much at the opposite end of Italy. It was August and it was hot. Very, very hot! And why we decided to take the train as oppose to a simple flight it still beyond us! But the adventures train ride did add to the experience.
The very long, hot, uncomfortable train ride was all but forgotten once we reached the beautiful, but not very "touristy" city of Padova. There's a sense of classiness to this city that is somewhat unique. The people are beautifully dressed, the dogs are on leashes, which is not always the case in Southern Italy, and the drivers actually appear respectful of traffic lights, which, again, is not always the case in Southern Italy! Our first stop, and reason for the trip, was a visit to the Chapel of St. Anthony, an immense, brick building, overwhelmingly stunning.
​The inside is massive and adorned with art, religious statues and relics of St. Anthony. A sense of calm immediately overtakes you upon entering. I knew being here meant a lot to my mother, particularly since we had lost our father not long prior and needed a restoration of faith. This was a "bucket list" trip for her, so my sister and I were delighted to see how content she was at being there. Folks from all walks of life are drawn to this church by their strong devotion to the Saint, and she was no different.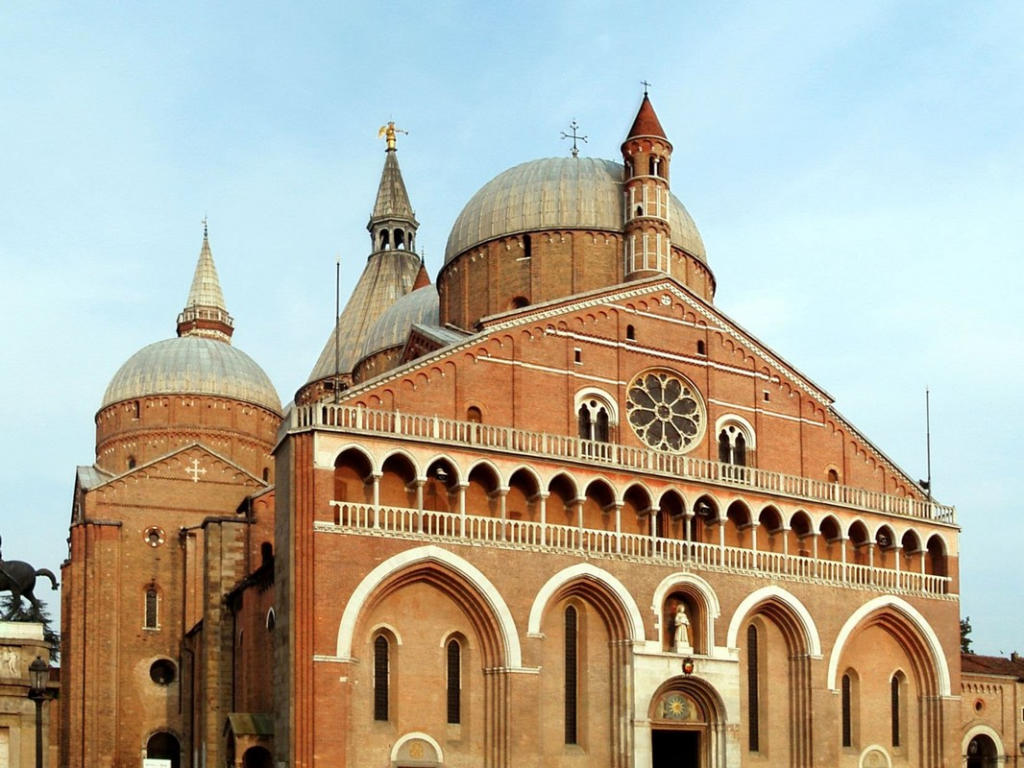 Whether one is religious or not is almost inconsequential once one takes a view of both the outside and inside of this beautiful chapel. Museum like in nature, the outside was initially built as a small, single construction, but extensive additions and renovations over the centuries reflect Romanesque, Gothic, Baroque and Byzantine influences. Architecture aficionados and novices alike will appreciate the beauty of the outside. Upon entering, you'll notice that it's much like entering a museum. Beautiful frescoes, statues and figurines adorn the inside. Most impressive is the statue of the Madonna and Child, sculpted by Donatello.
​Despite being the patron Saint of the city of Padova, St. Anthony was actually from Portugal. Born in 1195, his birth name was Ferdinand and he was born to a well-off family who had high aspirations for him, none of which included a religious calling. Despite his good fortune, he ended up leaving his home at 15 to follow his religious ambitions. At the age of 25, he was ordained a priest, and soon after became a Franciscan friar, changing his name to Anthony.
His goal was to go to Morocco and preach the gospel, but after arriving there, he became severely ill, so decided to return to Portugal. His boat suffered great damage and went off course, and he eventually found himself in Sicily instead. From there, he made his way north to Assisi, and eventually to the city of Forli. One day he was asked to attend an important sermon, but when the friar scheduled to preach did not show up, he was asked to step in his place. This is when his life as a preacher took off, and he traveled all over Italy and beyond to preach. Padova was one of his favorite places to hold his sermons.
​When he recognized that he was becoming deathly ill, he asked to be taken to Padova to die, but unfortunately died en route to his beloved city. He died on June 13th, 1231, when he was just 36 years old. For his innumerable good deeds and several possible miracles, including a witnessed apparition of the Child Jesus being held in his arms, Anthony was canonized a Saint in 1232.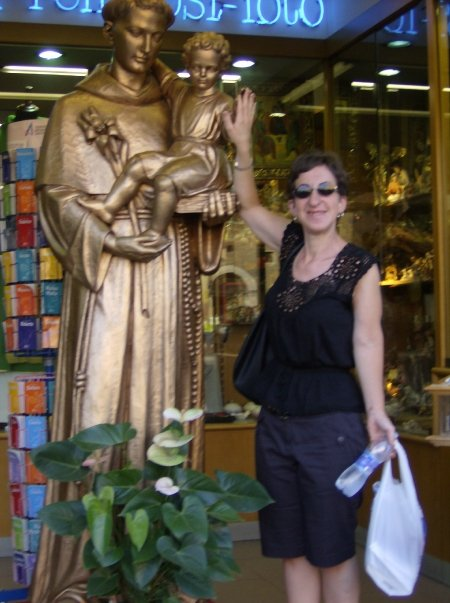 This trip, dare I say, pilgrimage, was very moving for us all. It's hard not to be touched when surrounded by such artistic beauty, as well as all the handwritten notes on the walls left behind by pilgrims who wholeheartedly believe their prayers were answered by the Saint. It restored not only my religious faith, but also my faith in humankind. To see this devotion is unlike any other experience one might have in Italy.
​I have beautiful memories of how we celebrated June 13th, the feast day of St. Anthony, when we lived in Italy. On this day, bread shops bake many extra bread rolls for the purpose of celebrating the Saint. Rolls are bought and given away to friends, families and neighbors as an offering of thanksgiving for prayers answered by St. Anthony.
So if St. Anthony has come through for your before, being by finding your car keys or other more meaningful miracles, consider doing a good deed on June 13th, perhaps buy someone less fortunate lunch and consider it a thank you to St. Anthony.

Cosa Mettere in Valigia per l'Italia
Everyone is always asking me what they should pack for Italy,
so I've created a quick reference guide that you can use for your next trip.
Hint: You don't need nearly as much as you think you do!