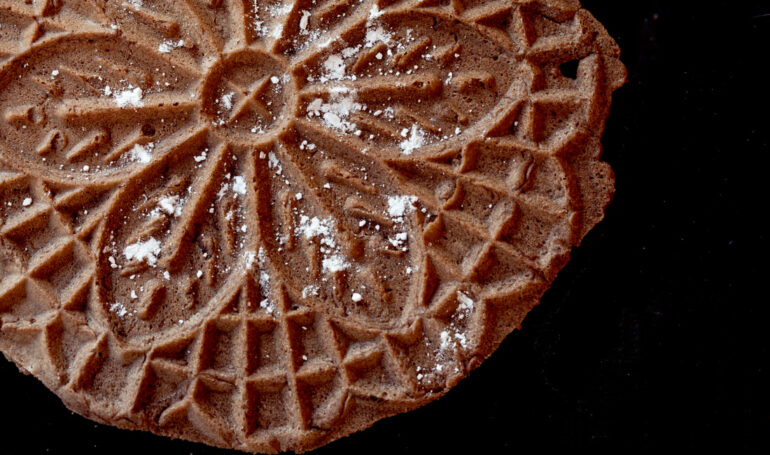 Bacio Perugina Pizzelle
Do you love the Bacio Perugina chocolates as much as I do? It is my all-time favorite Italian chocolate! The flavor of dark chocolate, paired together with my favorite nut, the hazelnut, what could possibly be better?

How about taking that flavor and turning it into the perfect Italian treat for coffee? Pizzelle are a specialty of the Abruzzo region and traditionally made with anise extract or anise seeds. But in the kitchen, it's fun to experiment and play on classics, and with that in mind, how about preparing some chocolate hazelnut pizzelle? These taste like the cookie version of the Bacio. They're chocolaty, not at all overly sweet, and have a nice crunch from the ground nuts. While they're perfect with coffee, tea or hot chocolate, they also go great with a class of wine!

I want to offer you a few tips I've learned over the years of baking pizzelle:
Always store pizzelle in a traditional aluminum cookie tin. They turn soft if stored in a plastic container.
Never store pizzelle in the same tin as other cookies, they will draw in their moisture and turn your pizzelle soft and pliable.
Baking powder – more baking powder means a fluffier pizzelle, use less if you want a crisp pizzelle.
Always make sure your machine is heated fully before dropping your dough.
Spray your machine with a little cooking spray for the first pizzelle only, you don't need to spray it every time.
If you're batter is too thin, it will stick to your machine. Add a few more tablespoons of flour, if needed.
Butter should be slightly cooled so as not to risk scrambling your eggs.
Bacio PeruginaPizzelle
Yields Approximately 32 – 34 Pizzelle

Ingredients
2 cups all-purpose flour
¼ cup cocoa powder
¼ teaspoon salt
1 ½ – 2 teaspoons baking powder
4 large eggs
1 teaspoon vanilla
1 cup sugar
8 tablespoons (1 stick) unsalted butter, melted
¾ cup hazelnuts, ground
Non-stick cooking spray

Optional topping:
Powdered sugar for dusting

Instructions
1. Sift together the flour, cocoa powder, salt and baking powder and set aside.
2. In a stand mixer, or using a hand-held mixer, whisk together the eggs, vanilla and sugar until lighter in color, about 2 – 3 minutes.
3. With the mixer on low, add in the melted butter and whisk until combined.
4. With the mixer still on low, add the flour mixture and mix until combined.
5. Turn the mixer off and add in the ground hazelnuts and with a spatula or wooden spoon mix to combine.
6. Heat the pizzelle iron according to instructions. Lightly spray the press with non-stick cooking spray and wipe off. Add about 1rounded teaspoon of batter on each imprint. Press the iron and bake for about 30 – 45 seconds, depending on your press. Remove from press and place on clean towel or cookie cooling rack to cool. They will crisp up as they cool off.
7. Optional: Dust with powdered sugar, if desired.

Cosa Mettere in Valigia per l'Italia
Everyone is always asking me what they should pack for Italy,
so I've created a quick reference guide that you can use for your next trip.
Hint: You don't need nearly as much as you think you do!