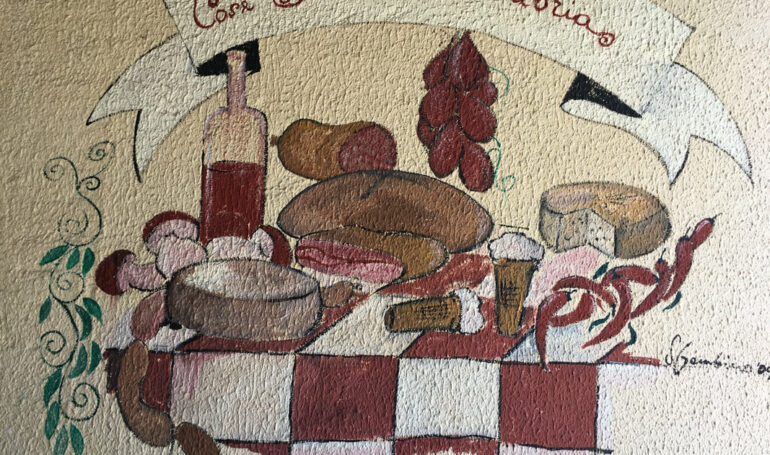 A most delicious day trip
​If you have read my previous post, follow me on social media or have just been snooping around my site, you know I have just returned from a glorious 5-week sojourn to Italy, with much of my time spent in my native region of Calabria, in Southern Italy. Perhaps the biggest perk to traveling back home for me is the cuisine. No doubt we have wonderful USA-made products readily available to us in the States, and by no means am I going hungry when back in Boston, but there's something so spectacular to food in Italy that words just can't do it justice, it must be experienced. This is the main reason why I run culinary tours to Italy. While I could have focused on many aspects of Italian travel: art, culture, architecture, food is really the only common denominator we all have in common, I mean, we all have to eat, right?? Why not do so in Italy!
 
I make no apologies for frequently posting recipes I call "lazy," hence the name of my business and blog. In the U.S, we live a fast-paced experience. Work, commuting, gym, kids, kids' homework, housework, errands! Even this native doesn't have the time to simmer any sauce for hours! And if we're going to be efficient in the kitchen and save time and energy, we're going to need top-notch ingredients. After all, a final dish is only as good as what goes into it! That's why I don't use "cooking wine," – what is that anyway? If it's not good enough to drink, it certainly isn't going into my dish! And that's also why earlier this year I was super excited to be introduced to Migliarese products. Produced in Calabria, (I know, what are the chances!), Migliarese offers incredible products, many organic, that make the cooking experience that much tastier, and more efficient.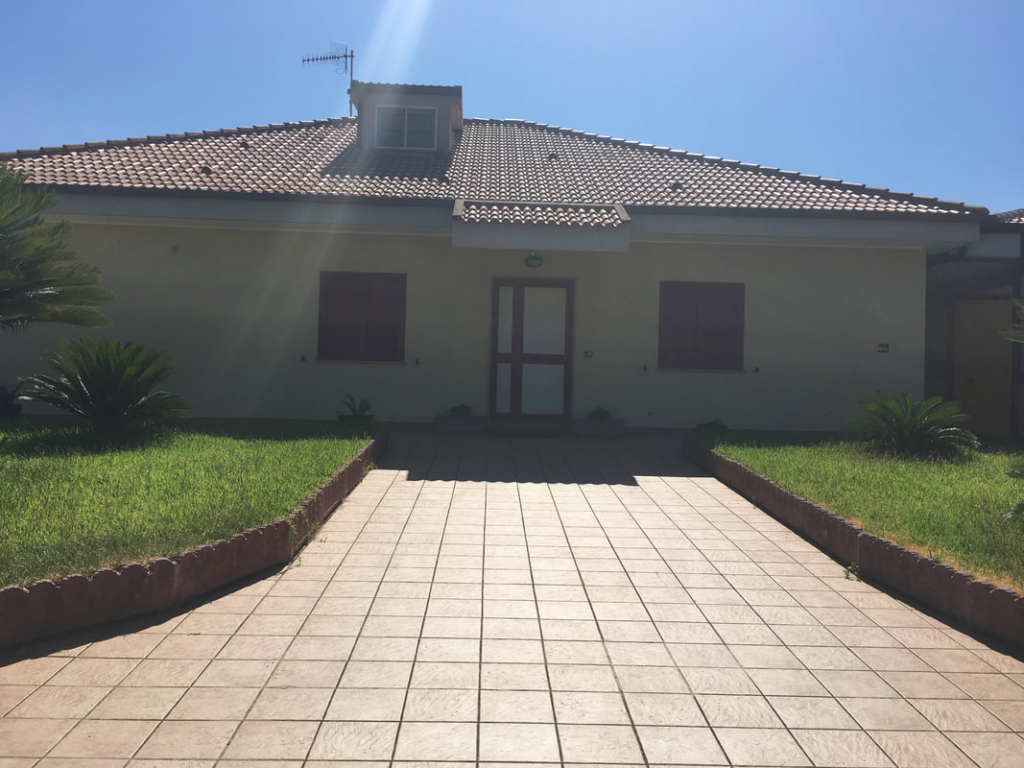 Some of my go-to products include their extra virgin olive oil (oil from my native region? That's a no-brainer!), pitted olives (for my chicken and rabbit recipes as well as pizza topping), their savory jams – such as red onion and pepperoncino and their tomato puree. The tomato puree alone is a lifesaver. There isn't a time where there isn't tomato sauce either simmering on my stove or already prepared in the fridge.
 
Imagine my excitement when I was asked if I wanted to tour their facilities this summer! Their factory is only about 30 minutes from my home in Italy, so you bet I jumped at the opportunity! As an avid user of their products in the U.S., products I also promote to my students in my cooking classes, I had high expectations and was hoping they didn't disappoint. And you bet they didn't!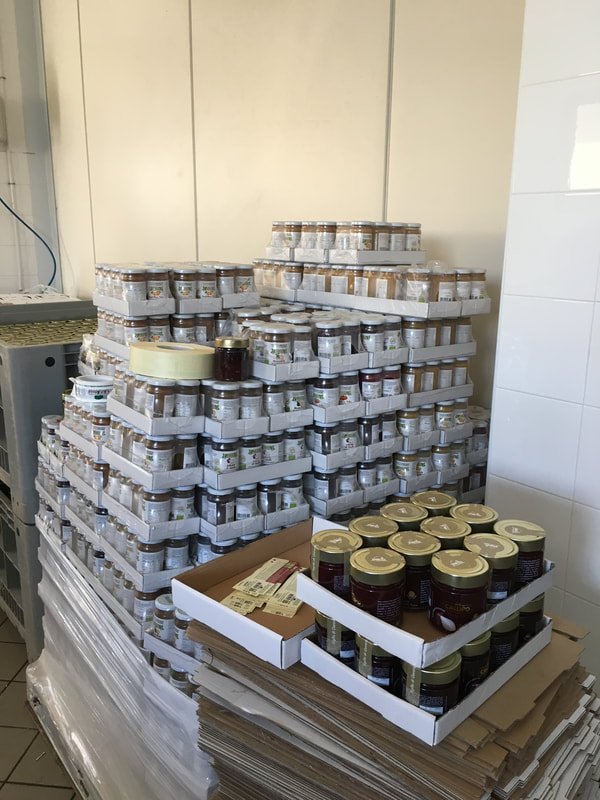 After meeting with the owner and learning more about their company, I was taken "behind the scenes" to where the products are made and packaged. I was immediately highly impressed with their standards of production and obvious cleanliness. As someone with self-diagnosed OCD, I was worried I would be disappointed and see conditions that weren't up to my standards. Thankfully, that didn't happen at all.

This first place I am shown is one of their storage rooms! For this foodie, it was like seeing gold! I couldn't yet tell what they were but I knew I wanted one of everything! There they were, all wrapped up and ready for my kitchen, I mean, someone's kitchen…The jars are all lined up perfectly, protected and sealed. They would be making someone's cooking experience that much more delicious. When I use their products at home, I wash out the glass jars and reuse them for leftovers. They are just the right size for when I have a bit of leftover sauce.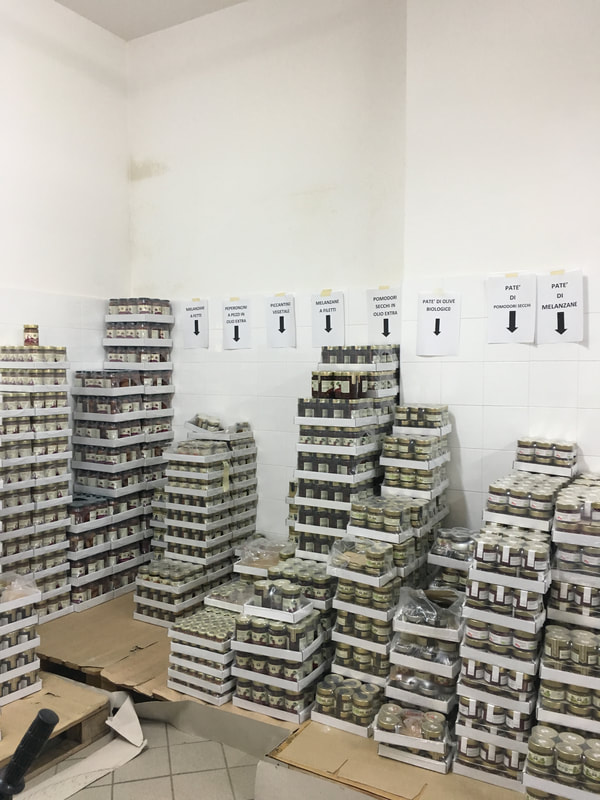 Next, we move to their herb garden greenhouse. It was here that I learned that they grow all of their own produce. All of it. So every tomato that goes in their sauce, every peach that goes in their jam, olives for their oil and everything else gets grown on premises or nearby premises that they own. In the herb garden, I see seedlings sprouting. The Italian classics like parsley and basil and everywhere, as are the rosemary and other typically used herbs. To top it off, I see a staff member planting herb seedling by hand. Let me repeat, by hand! Would it not be easier, faster, and more efficient if you are using a machine, I ask. I realize that to the owner, doing so probably hasn't even occurred to him. This gives staff members jobs, and likely a gentler process for the herbs. Forget I even asked!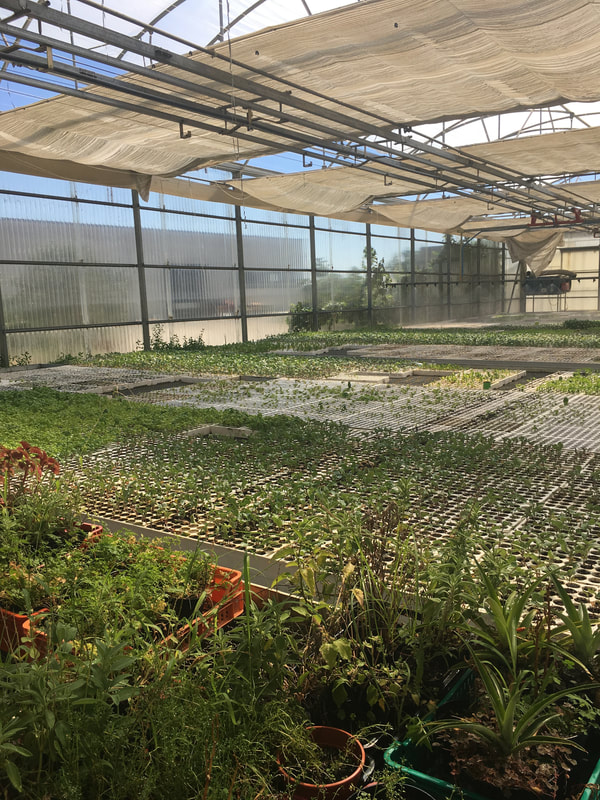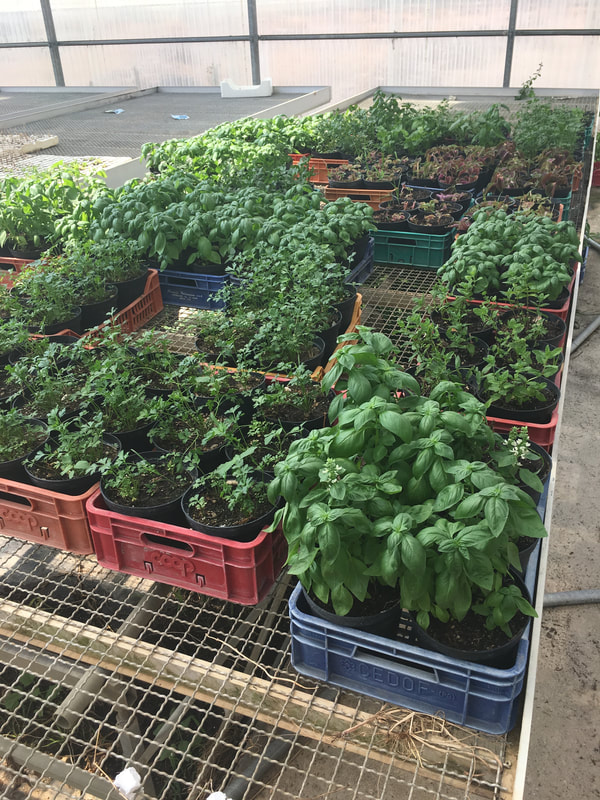 Next we move to the tomato line. As an avid user of their tomato sauce, I was curious as to see how it's made. Here again I see staff members preforming lots of tasks by (gloved) hands. Tasks such as peeling the tomatoes and hand-packing them in their glass jars. The staff is laughing and joking around and they look genuinely content for being there. I immediately think of how much time their work has saved me with their products, particularly the tomatoes they're holding! I touch a jar of the "passata" or tomato sauce. It's still unlabeled but I recognize it well. The jar is still warm to the touch! "Take one," says the owner. And like a kid in a candy store, I happily oblige. I know it's going to be used for dinner that night. I am introduced to the ladies working the line as "an American" but I remind them that I was born just 30 minutes from where we are standing. "Allora sei una di noi!" they say, "So, you're one of us!"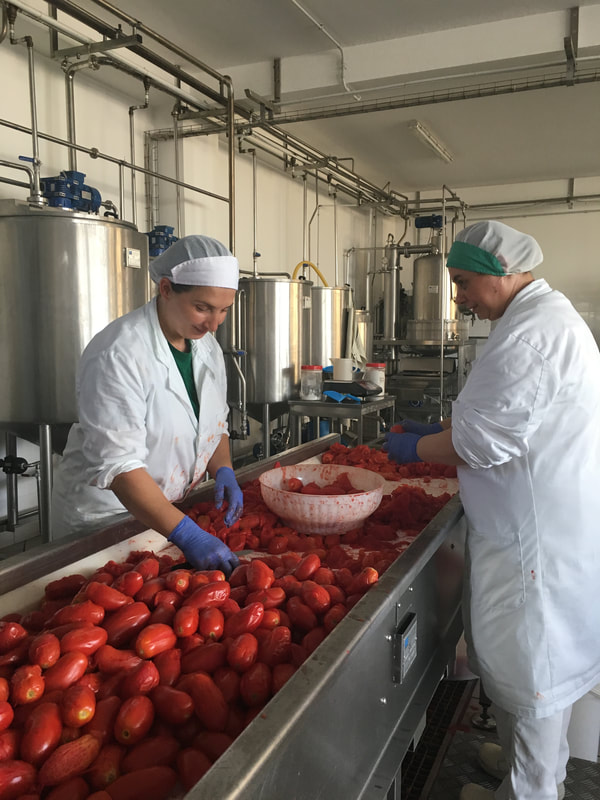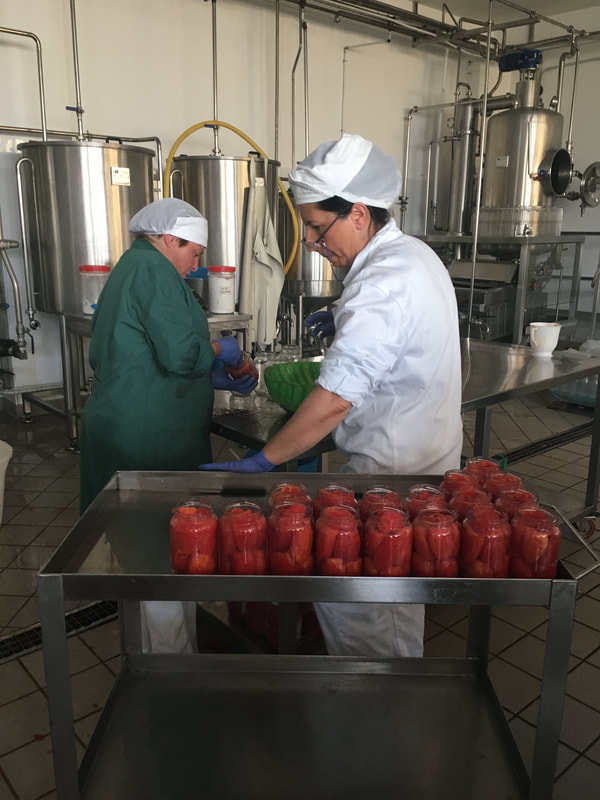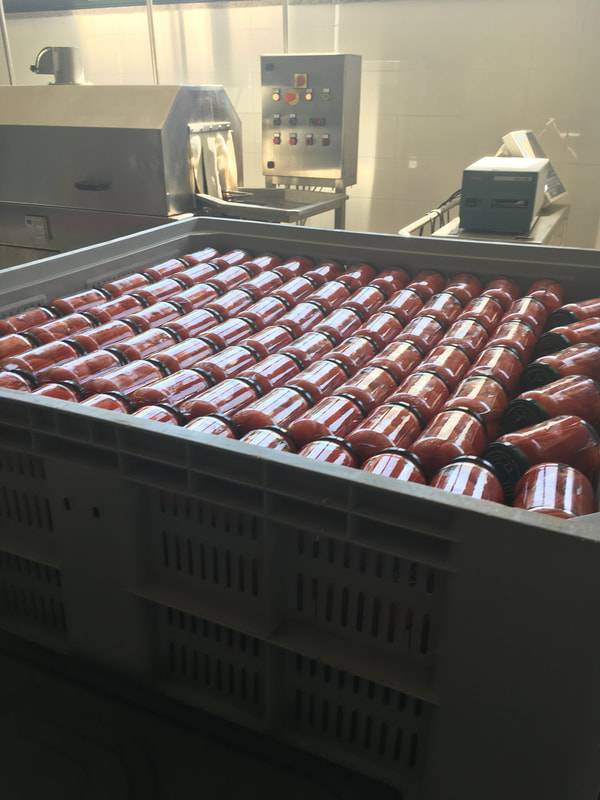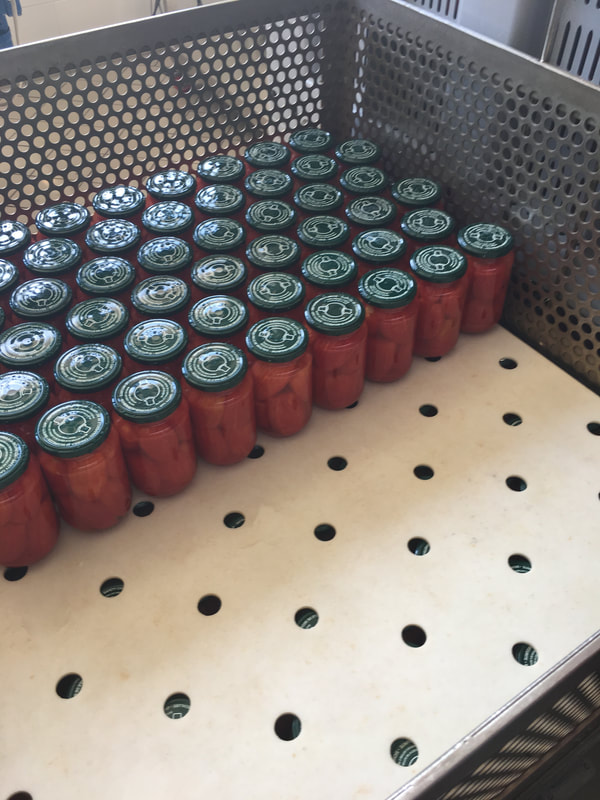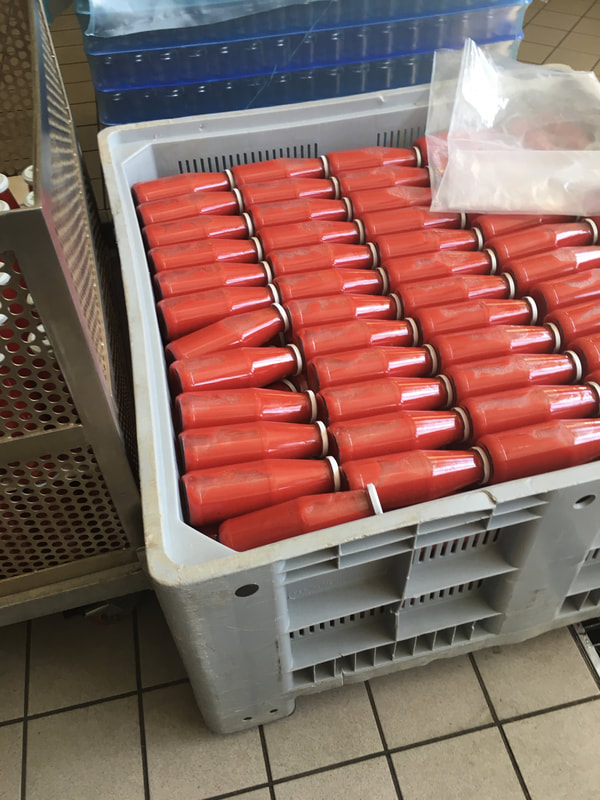 After another walk in the facility, my tour is coming to an end. I've enjoyed this experience very much and it makes me want to use their products even more. Not only because of their quality but I can really tell that the staff enjoys being there, which is really nice to see. They are a family company, started by the grandparents of the current owners and I love supporting businesses such as these. They make the life of a home cook that much easier by providing high-end products that are also affordable for the everyday cook.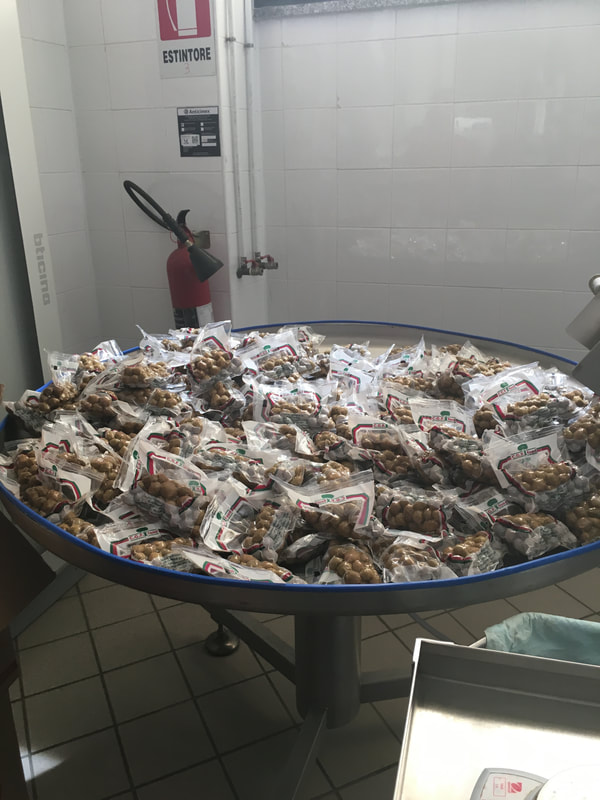 I am given a goodie bag of products to take home. Some products I have used in the past, others are new to me. I'm thankful my vacation is just starting out so I will have time to use the products while in Italy. And you bet what wasn't used made it in my suitcase. I'm thankful for their generosity and hospitality during this tour. It's not often we get to see how the products we use get made. This "behind-the-scenes" look opened up my eyes and made me thankful that I have products like these to run to in order to make my own cooking experience easier.
Interested in learning a few new recipes using these delectable products? Click here for our Three Cheese Baked Farfalle, here for our Strozzapreti with Artichokes and Tomatoes, or here for everyone's favorite: Salted Cod & Potatoes. Most importantly, be sure to check out Pasta & Vino's website, which is where I get my Migliaresi products. I admit buying them here and having them delivered to my door is far easier and cheaper than adding them to my suitcase. Alitalia didn't take to the weight of my suitcases too kindly, neither did my credit card! Next time, I'm just going to visit Pasta & Vino's online shop!

Cosa Mettere in Valigia per l'Italia
Everyone is always asking me what they should pack for Italy,
so I've created a quick reference guide that you can use for your next trip.
Hint: You don't need nearly as much as you think you do!