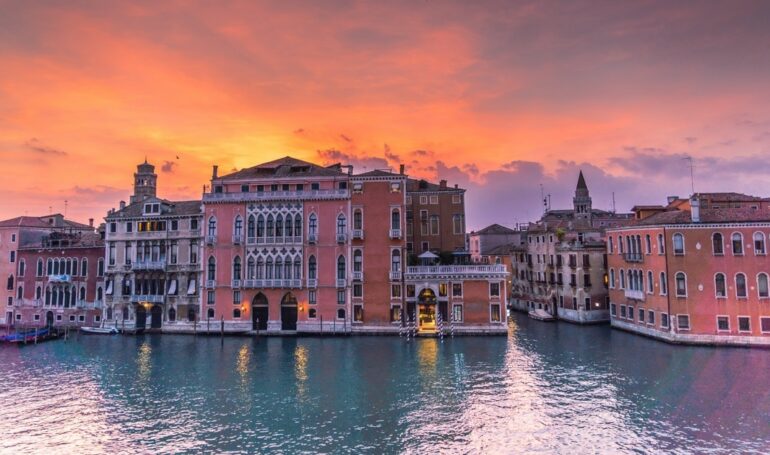 Souvenirs: What to Bring Back From Your Next Trip to Italy
Is it June, or is it November? If you live in the Boston area, it's hard to tell these days. Rain, dreary, cold and downright depressing! We haven't had much of a spring and I'm afraid we're going to jump right into summer soon. What ever happened to a nice spring? The only thing keeping me going these days is my upcoming trip to Italy! The thought of summers in Italy has kept me going ever since we moved here from the Bel Paese. Summers in Italy is what made the school year bearable growing up!  Especially when we first moved here, and we were still learning English. My dad and I would count down the months, then the weeks, until eventually we were counting in days and hours!  The excitement was almost too much to take!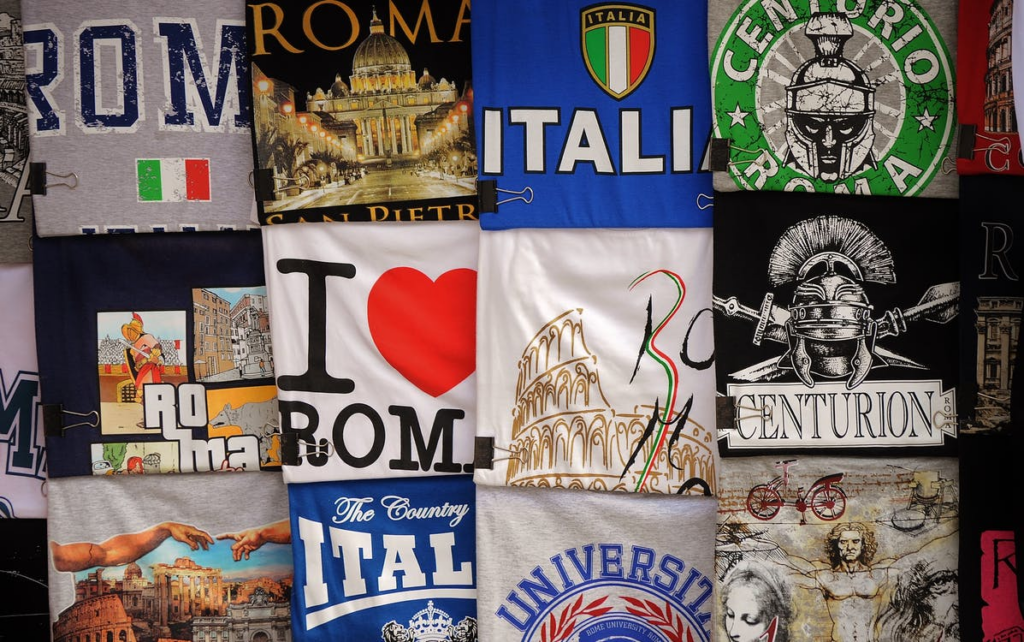 I must say, not much has changed, and I still count down the days to my return trips to Italy! And, if you're like me and are planning a trip to Italy this summer, chances are, you're going to be bringing some souvenirs for yourself and close friends. But rather than the standard magnet that says "I "heart" Italy" that is likely made in China, how about a thoughtful gift instead? Yes, you will be spending more, but it will go a lot further in appreciation and will surely make the recipient feel so special! Think quality over quantity!
Much like everything in Italy, souvenirs can be regionally divided. Depending on your destination, I have created here a short list of ideal gifts based on the region you will be visiting. Perhaps it's the foodie in me, but I must say, food is always an appreciated gift. But don't limit yourself to food alone; use this guide as a quick reference of must bring back gifts. But if you are planning to bring back food, be sure to check with your airline and the State Department before packing anything, just to make sure you are not bringing back any contraband food items! Nothing hurts more than having your luggage cracked opened at customs and seeing the agents trash your goodies, trust me I know how much it hurts from experience!!
Northern Italy:
If you're headed to Venice this summer, brace yourself for the heat and crowds! But besides that, be sure to pick up a small handmade Murano glass statuette or figurine. Murano is a small island off of Venice that produces the real thing. When buying your gift, be sure it has the Artistic Murano Glass trademark to make sure you are getting an authentic item and not a cheap replica aimed at eager tourists!
Perhaps you're headed to Lake Como this summer. I know, I know, I want to get a glimpse of George too, but in case he's too busy with his new twins, I can at least shop for some high-quality silk. Seventy percent of Europe's silk is made in Como, so you know you're going to find a beautiful scarf for that fashionista friend of yours.
Headed to one of my favorite regions, Emilia Romagna? Here is where you will want to stock up on the foodie gifts for your special friends. Whether it's a small piece of Parmigiano Reggiano Cheese from Parma or small bottle of Balsamic Vinegar from Modena, a few eatable gifts are a must from this region. They even sell dry tortellini that are incredibly delicious! And yes, you can find these same exact items throughout Italy, but there's noting like handing a loved one a small bottle of real Balsamic Vinegar of Modena that you bought, well, in Modena!
Central Italy:
​Headed to Tuscany? While you will find great leather throughout Tuscany, Florence is the place to find high-quality leather shops selling locally made leather goods. Check the label for "Made in Italy" and "Italian Quality" to make sure you are getting an authentic item. Keep in mind that the real thing will have some minimal imperfections and even slight discolorations in any given item, be it a large bag or set of gloves. So don't look for perfection, as that's a sign of a chemically-treated item. My favorite leather gift? A journal! I can never have enough of these!
​And the vino! How can you go to Tuscany and not bring a loved one a bottle of Chianti, Brunello or Vino Nobile di Montepulciano. Tuscany also produces the sweet wine, Vin Santo, which ironically, goes very well with their Cantucci di Prato. Cantucci are miniature dry biscuits resembling biscotti, but smaller in size. Tuscans love dipping these in Vin Santo and enjoying them as an after dinner treat. A bottle of Tuscan wine and a bag of Cantucci are sure to go a long way as souvenirs. I know I'd love receiving them!
Or perhaps you are going to Italy's capital, Rome? Whatever you do, step away from the wobbly-headed gladiator. I know, it's tempting, in his skirt and all, but don't do it! Opt instead for an artistically made ceramic coffee mug or small piece of marble engraved with a beautiful saying. Both of these are regionally made and typical of Rome. And if all else fails, buy a small wedge of Pecorino Romano cheese, Rome's preferred cheese made from sheep's milk.
Southern Italy:
Going to Calabria? Did you know that Calabria produces almost a third of the country's olive oil? How about bringing back a small bottle of oil for those "special occasion" dinner parties? Other food specialties of Calabria include tuna packed in oil, olives, and Guglielmo espresso coffee. And I also love the ceramics in Calabria. I visit a small town by the name of Squillace. Here you will find many pottery shops that love welcoming visitors and will even give you a demonstration of how they create their masterpieces. Now, if you're going to buy a magnet, this is the place to do it! They make beautiful ones here, relatively inexpensive and light in weight, so easy to pack!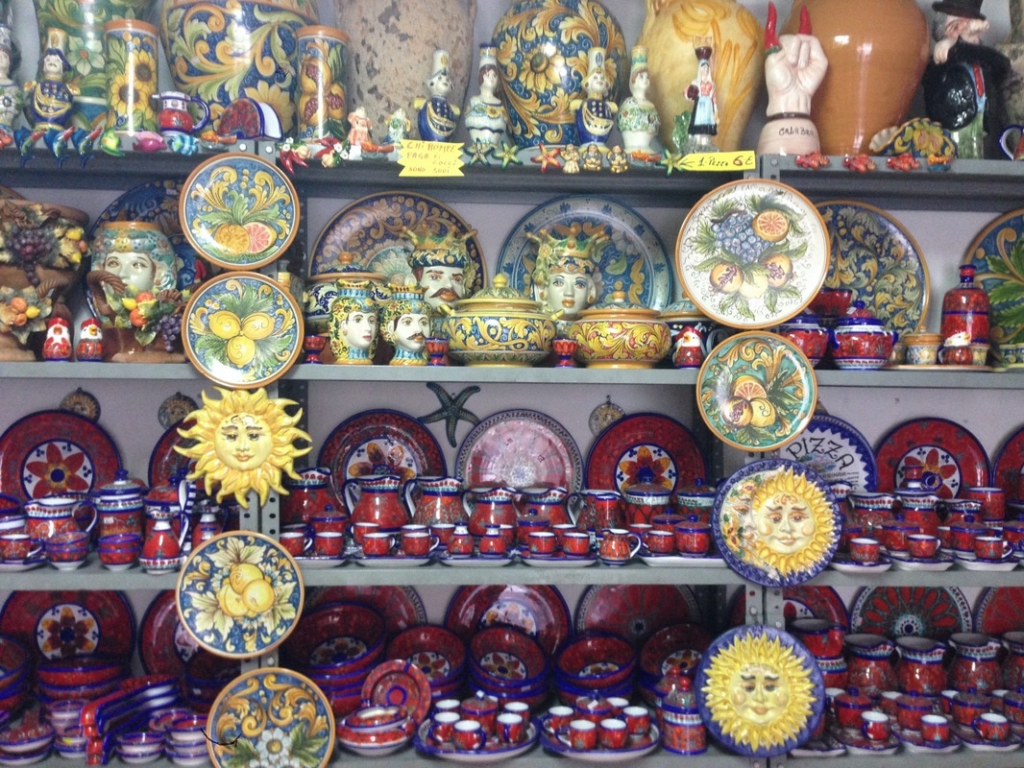 Or perhaps you're going to the Amalfi Coast? If so, a bottle of Limoncello is a must. Made with lemon peel and alcohol, this after dinner digestive is a must and usually enjoyed after a hefty dinner as it aids with digestion. The Amalfi Coast is also where you will find beautiful handmade pottery, frequently decorated with those beautiful lemon images. A small handmade item such as a sugar bowl or tray will make a great addition to any kitchen.
What should you bring back if you are headed to Sicily? Sicilian wine and cheese would surely make a great gift, I mean, how can you go wrong with that? But are you thinking about something more authentic? How about a piece of Etna? Yes, you read that right. The still active volcano sits between Catania and Messina and is a tourist destination of many folks visiting Sicily. Along the way, you will find souvenir and specialty shops selling trinkets made from lava stones. Whether it's jewelry, decorative pieces or more practical items such as mugs, there's no shortage of unique items to bring back, even cosmetics made from the lava!
So don't get caught buying a cheesy, overpriced gift at the airport. Nothing says "I was having too much fun to think about you while on vacation" than a calendar purchased at the duty-free shop! With just a little bit of forethought and a few extra Euros, you can really make someone's day with a well-thought-out gift from one of the world's most beautiful country! And when in doubt, head over to one of the many craft markets held throughout Italy. Here you will find handmade items that are locally made and very unique. Purchasing from these vendors will not only ensure that the gift will be well-received, but you are also supporting a small business owner that counts on your purchases for their livelihood!
But if all else fails, forget shopping, forget souvenirs, and head to the beach instead! I'm sure your friends will understand! 😉
Need help planning your trip to Italy? Be sure to contact us for private trip planning services or consider joining us on a tour. Use the contact button to reach us!

Cosa Mettere in Valigia per l'Italia
Everyone is always asking me what they should pack for Italy,
so I've created a quick reference guide that you can use for your next trip.
Hint: You don't need nearly as much as you think you do!