Sneak Peak: 5 Ingredient Italian
It's corny and a cliche to say the least, but writing a cookbook really is a labor of love. For me, it really brought me back to my life in Italy, to when I was young and the highlight of the day was running home from school, seeing my mom behind the stove, smelling lunch and enjoying a most delicious, freshly made meal.
My elementary school was directly across the street from my home. One of the beauties of living in a small town in southern Italy is that everything is a stone's throw. But seeing my home from my school was a double-edge sword. It was comforting that I could look out and see my mom in our terrace, many times hanging clothes, but it also made me that much more homesick. I wanted to be there with her, cooking, cleaning, petting my dog Billy, or "mock" sewing clothes for my Barbies. I was known for cutting the sleeves of old sweaters, flipping them upside down and giving Barbie a new, sleeveless dress! I was so crafty!
I really credit my mom for my love of cooking. My dad, a greengrocer and great cook himself gets some credit too, but my mom was always the primary cook, so everything I know, I credit her. But it goes beyond knowledge, really, she instilled in us an appreciation for dinnertime that I still value immensely. And while what she prepared for us mattered, of course, it was really about the time spent at the table.
Mealtime was, and still is, a time for catching up, for discussing the day's happenings, for reconnecting after a day at school or work. Lucky for us all, we really kept that tradition going when we moved to the States.
Writing this book really brought me back to those days. On many occasions, I consulted with mom, because let's face it, Italians are great cooks but rarely do they write any recipes down! Testing and retesting the recipes with my mom was the highlight of putting this book together. Why test recipes that we've made all along, you might ask? Because cooking for your family and cooking for the book is a different endeavor.
"We have to measure the oil?" My mother would ask, with such a surprised look! "Yes! We do when writing a book!" This was an entire new concept for my mom.
My mom's favorite measurement? "Quanto basta!" Quanto basta is the enemy of a cookbook writer. It basically means, "until it's enough." How much oil do we add? Quanto basta, of course! How do you know when it's enough??? That's a question I asked my mom countless times growing up. Her reply, while looking at me straight in the yes, "You'll know!" "But how?" "YOU WILL KNOW!"

Recipes are really guides more than anything, and this book is no different. I want you to use this book as a guide. Nothing is written in stone. If the recipe calls for 2 tablespoons of parsley, by all means, use 1, or 3. Does the recipe call for lemon zest, but you prefer orange? Than change it. You are your own chef when in your kitchen.
The main goal of this book is to get you sitting next to your family at dinnertime, to enjoy each others company and to create memories around some saltimbocca. 😉
Pick up your own copy of The Five Ingredient Italian Cookbook: 101 Regional Classics Made Simple by clicking here.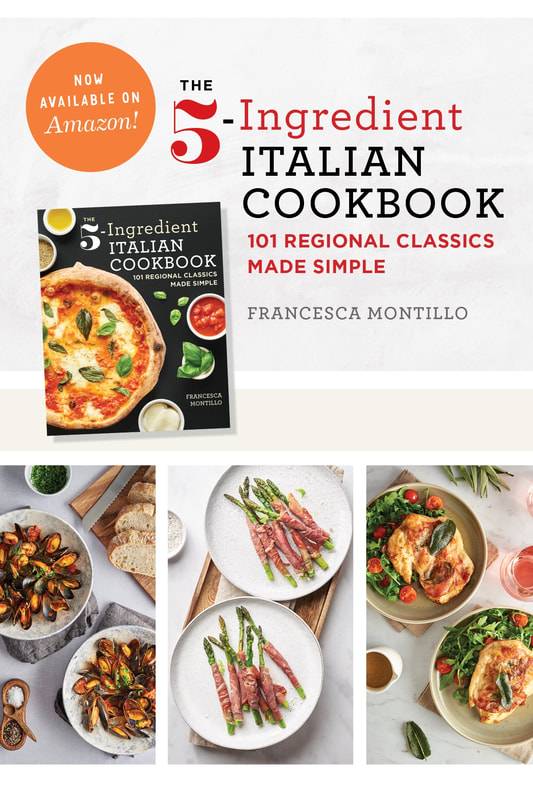 Cosa Mettere in Valigia per l'Italia
Everyone is always asking me what they should pack for Italy,
so I've created a quick reference guide that you can use for your next trip.
Hint: You don't need nearly as much as you think you do!