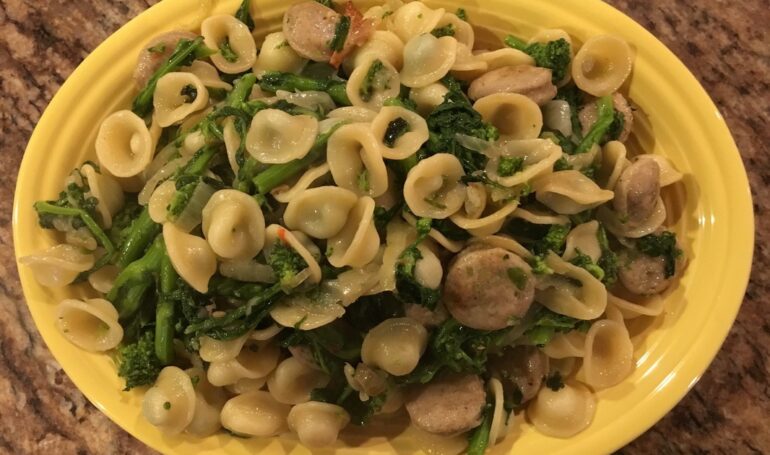 Orecchiette with Sausage and Broccoli Rabe
If Rome has the carbonara, and Bologna has the fettuccine in Bolognase sauce, than Puglia's dish to fame is Orecchietti with Sausages and Broccoli Rabe! Puglia is a region in Southern Italy and being a Southerner myself, its cuisine is certainly something I enjoy eating and preparing. I recall growing up in Calabria and being surrounded by wonderful produce. My father was a produce merchant, so we certainly never lacked for great produce around the house. Summertime favorites growing up were zucchini and their delicate blossoms, eggplants and of course, tomatoes! If you have never had a freshly plucked tomato in August in Calabria, well, I will go so far as to say that you've never had a really delicious tomato! They are just amazing simply sliced with salt and olive oil. A fresh mozzarella next to them always helps too! 😉

One vegetable that is versatile and found year-round is broccoli and also broccoli rabe, or rapini. I really enjoy both and one of my favorite ways of preparing the rabe is in this typical Pugliese dish. The Pugliese are known for their orecchiette shaped pasta. Orecchiette means little ears, although I think they look like small caps more than little ears! It's very typical to walk in the streets of Bari and find local women making these fresh and selling them right on the streets. If you happen to find yourself there, I highly recommend buying a kilo or two, you will not be disappointed.
This is my version of how to make this classic dish. Everyone has his or her own way but I have found I rather like my version, if I do say so myself! Many do not use the onion that I add, but I really like it and find that it adds lots of flavor, so I use it. Add garlic too, if you wish, although I do not in this dish. This dish serves about 4 people.
Orecchietti with Sausages & Broccoli Rabe

Ingredients
2 bunches broccoli rabe, trimmed, and washed
2 teaspoons salt
4 tablespoons of olive oil
2 Tablespoons chopped parsley
1 small onion, chopped
1 – 2 teaspoons salt (or to taste)
4 pre-cooked sausages of your choice (pork, chicken, hot, sweet)
1/2  pound orecchietti pasta

Directions
Bring a medium pan of salted water to boil. Clean your broccoli rabe by discarding the leaves on the lower end of the stem. With a paring knife, trim the stem by removing the outer layer. Wash the broccoli rabe and give it a rough chop, cutting each stem into about 3 – 4 pieces. Blanch them on the boiling water for about 5 – 6 minutes.  Do not overcook.
Using kitchen tongs, remove the broccoli rabe from the boiling water and place them in a dish, set aside.
Bring the water that the broccoli rabe cooked in back to a full boil and add the pasta, cook for 1 – 2 minutes less than the package instructs.
While the pasta is cooking, prepare your sausage. In a large skillet with the heat on medium, add the oil, parsley, onion, salt and sausages that have been thinly sliced. Cook until the onion wilts just slightly.  (I like using pre-cooked sausage because it cuts the cooking time, you can use raw sausage instead, if you wish.) Add the broccoli rabe to the skillet and toss around to coat in the oil.
Drain pasta and add it to the skilled containing the sausage and broccoli rabe.
Lower the heat to low and mix well so the oil coats all ingredients and all the flavors have been absorbed.
Plate and serve hot and top with grated parmigiano, if desired and drizzle additional oil, if needed.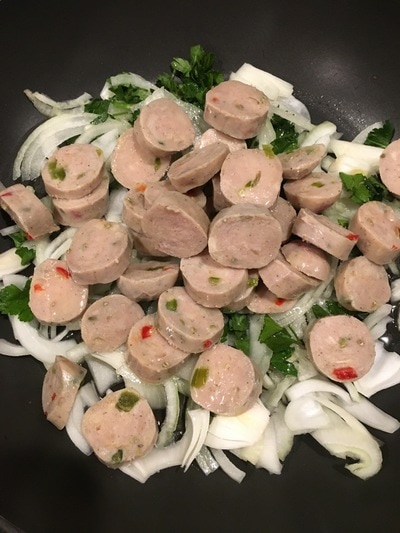 Cosa Mettere in Valigia per l'Italia
Everyone is always asking me what they should pack for Italy,
so I've created a quick reference guide that you can use for your next trip.
Hint: You don't need nearly as much as you think you do!