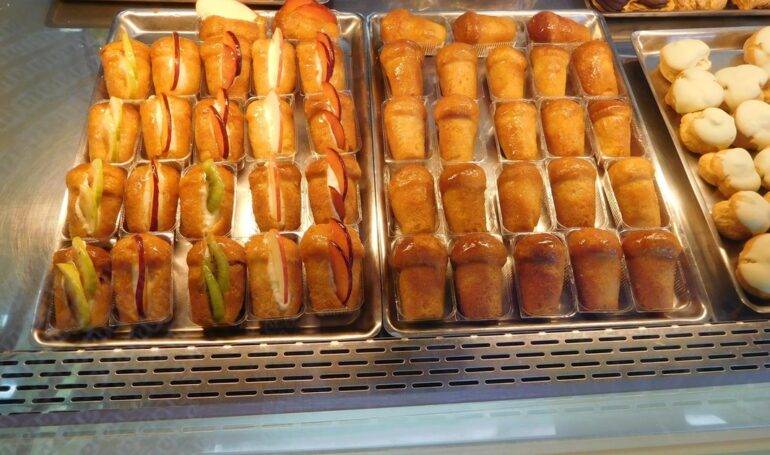 La "Dolce" Vita – An introduction to Italy's Finest Pastries
First, it's the smell that will hit you as you enter. You might momentarily wonder if you've died and gone to heaven. Then, displayed graciously behind glass windows, very much like valuable jewelry safely nestled and protected, your eyes might not believe the beauty you are seeing. No, you have not died and gone to heaven after all, but you have just entered an Italian pastry shop, or pasticceria. I shamefully have to admit that on my return trips to Italy, the pasticceria is most likely going to be my first stop, jet lag and all. Dolce means sweet or sweets in Italian, I'm starting to think that the saying "La Dolce Vita" is referring to their pastries and not their lifestyle!

It's very much a tradition in Italy to utilize pastry as hostess gifts when visiting friends or family for lunch or dinner. Although eaten on a daily basis, you will certainly find a greater selection on Sundays, when just about every household will buy a tray to be enjoyed after Sunday lunch. And much like all Italian food actually found in Italy, the flavors are intensified immensely, particularly so in pastry, where the fresh eggs and butter make all the difference.

The below are just a few of the specialties you'll find in the Italian pasticcerie. You'll note that much like all Italian cuisine, pastries are also very regional and each region will have its own specialty. Be sure to grab a tray for your host, and one for yourself.

Sfogliatella: A specialty to Naples, though found throughout Italy, the sfogliatella is a shell-shaped, crunchy, multi-layered pastry comprised of multiple layers of very thin pastry dough and filled with pastry cream and sometimes candied citrus fruits. Foglia means leaf in Italian and this is called such as it is supposed to resemble layers of dry, flaky leaves. Be warned, the flakes are sure to leave evidence of your gluttony all over your clothing!

Cannoli: Hugely popular in Sicily, cannoli are tubular shaped pastries made of a delicious crusty dough that is deep fried and filled with various versions of creams, though a ricotta based cream is most authentic to Sicily. Variations of this popular treat include a pastry cream or chocolate filling and a doughier and thicker outside dough.
Bocconotto: Typically found in Southern Italy, particularly my own native Calabria, the bocconotto closely resembles a small, individual sized tart filled with various creams then covered again with the crust. Usually small and dainty in size, it's easy to eat, not requiring a dish or fork, thus making it ideal for on the go with an espresso.

Millefoglie: Translated in English, millefoglie means one thousand leaves. This refers to the crunchy layers in this pastry. Generally created with 5 layers of pastry and cream and covered with confectionary sugar, this flakey and delicious pastry has a few variations known as parigini or diplomatico.
Cassata: Another specialty of Sicily, the cassata is pan di spagna, doused in liquor, then topped with a ricotta cream with added candied citrus, covered again with pan di spagna and enrobed in an almond marzipan coating, finished off with elaborate decorations. This specialty is made in individual servings as well as large cakes that can be sliced and served.
Baba' al Rum: This pastry is really an alcoholic drink disguised as a pastry. It's made with a light, yeast dough, shaped to look almost like a mushroom, and then soaked in liquor, typically rum. Sometimes you will find it filled with whipped cream or pastry cream. Best eaten with a spoon as it's generally too soaked that eating it any other way would be impossible. Best not to serve this one to the kids at your next family gathering!
Zeppole: Extensively used on March 19th for the feast of St. Joseph, though found year round, zeppole are round shaped pastries with a whole in the middle, fried, cut in half and filled with pastry or ricotta cream and dusted with confectionary sugar. Some pasticcerie also offer these baked, which are lighter and crispier than the fried version. When baked, they are best known as ciambelle.
Tiramisu': This very popular pastry needs little introduction to the US population as it's the most widely recognized on our list and can be found rather easily here in the States. Translated, it means "pick me up" – referring to the heavy dose of espresso used to moisten the ladyfingers in this dessert. Made with a mascarpone cream and topped with cocoa powder, be sure to try a real Italian tiramisu' on your next trip to Italy.
Aragosta: Aragosta is the lobster tail (hence the name) shaped crunchy pastry found throughout Italy. Crunchy layers make up this pastry and the inside is filled with a very generous serving of velvety smooth pastry cream.
Brioche con Crema: This morning pastry is very popular in cafes and coffee houses throughout Italy and makes a great breakfast treat. Italians aren't shy about eating things like these in the morning and this particular one is made with a dough resembling a sweet bun and filled with cream. As my image demonstrates, it goes wonderful with a delicious cappuccino
This is just a partial list and you'll find at least a few dozen other varieties to try on your next trip. The only consolation is that many of these come in mignon size, which means miniature or diminutive, so you can easily try a few varieties without going overboard.
**************************************************************************************************************************
Ready to make your 2019 Italian Travel Dreams come true? Consider joining us in one of our Culinary Adventures! We have three planned!
​
TUSCANY: MAY 1 – 8, 2019. Click here for all trip info and to sign up!
PUGLIA: SEPTEMBER 1 – 8, 2019. Click
here for all trip info and to sign up!
SICILY: SEPTEMBER 10 – 18, 2019. Click here for all trip info and to sign up!

Cosa Mettere in Valigia per l'Italia
Everyone is always asking me what they should pack for Italy,
so I've created a quick reference guide that you can use for your next trip.
Hint: You don't need nearly as much as you think you do!