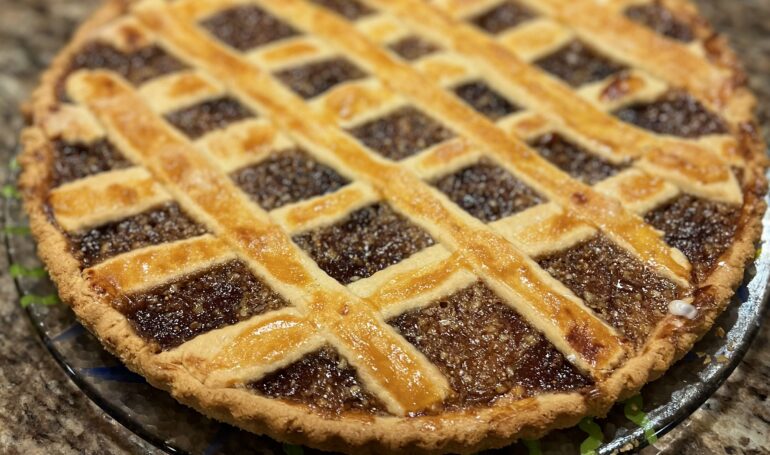 Fig Jam and Walnut Crostata
Despite being a very summery fruit, to me, nothing says fall and the holidays like a dessert containing fig jam. I use this jam a lot for baking for treats such as fruit filled cookies, jam prints, and of course, this delicious Fig Jam and Walnut Crostata. This crostata is simply devine. The crust is butter and it melts in your mouth. It goes perfectly with a hot cup of tea or coffee, and is even perfect for breakfast. Perhaps it's just me, but during this month of December, I have no shame in enjoying a delicious sweet treat for breakfast! After all, the healthier toast can take a back seat until the new year!
The ingredients are basic everyday baking items that I have no doubt you have on hand. If you have leftover crust after decorating it with a simple lattice topping simply bake it into shaped sugar cookies! And there's no need for the complicated overlap lattice topping, just lay 5 strips down, then 5 strips on top of those in the opposite directions! Let's keep it simple!
Let me know if you've made this by leaving a comment in the comment section below!
Fig Jam and Walnut Jam Crostata
Yields One 12-inch Tart
Ingredients
11 tablespoons unsalted butter, at room temperature
2/3 cups granulated sugar
1 large whole egg
2 large egg yolks (divided)
2½ all-purpose cups flour (plus extra for dusting the pan)
Zest of 1 large orange or 1 large lemon
2 teaspoons baking powder
1-2 tablespoons milk (use only if needed, see note below)
1 15 oz jar fig jam (see note below)
1/3 cup walnuts (finely chopped in food processor)
Instructions
Preheat oven to 350° F. Butter and flour a 12-inch tart pan, set aside.
With a stand or hand-held mixer, mix the soft butter with sugar. Mix until just combined, mixture will be slightly crumbly. Add the whole egg ,plus one egg yolk and mix well.
Slowly add the flour in 2 – 3 additions. Add the zest and baking powder and mix until combined.
Invert crust on a slightly floured surface and if needed, work the dough with your hands until it forms a nice, smooth round ball. Divide the dough into 2/3 and 1/3 pieces.
Press the larger piece of dough into the prepared pan, coming up about mid-way up the sides of the pan. Dock the crust with a fork at least 15 -20 times, this will prevent any air bubbles from forming while baking.
Mix the crushed walnuts with the jam. Spread the jam mixture evenly on the crust.
With a rolling pin, roll out remaining dough and using a pastry wheel or pizza cutter, cut 8-10 equal strips of dough about ½ inch wide. Decorate the crostata with a simple lattice topping.
Brush the lattice strips of dough with the remaining egg yolk, which has been beaten slightly. (This is optional but will give your crostata a nice, golden look.)
Bake for 35 minutes, cool completely before removing from pan.
Note #1: If the dough is dry, add 1-2 tablespoons of milk. Amount will depend on the softness of butter, and if the eggs you are using are on the smaller side. You may not need any milk at all.)
Note #2: I prefer a thicker layer of jam, so I generally use one full jar of jam, plus a few additional tablespoons from a second jar. If you only have one jar of jam, you can use just that, and the filling will be slightly thinner.
TRAVEL WITH US IN 2023! CLICK LINKS BELOW FOR ALL THE INFO!
THE TUSCAN COUNTRYSIDE: MAY 6 – MAY 13, 2023.
BOLOGNA and EMILIA ROMAGNA: MAY 14 – 21, 2023
THE AMALFI COAST: MAY 22 – 29, 2023
CALABRIA: SEPTEMBER 1 – 8, 2023
PUGLIA: SEPTEMBER 9 – 16, 2023

Cosa Mettere in Valigia per l'Italia
Everyone is always asking me what they should pack for Italy,
so I've created a quick reference guide that you can use for your next trip.
Hint: You don't need nearly as much as you think you do!