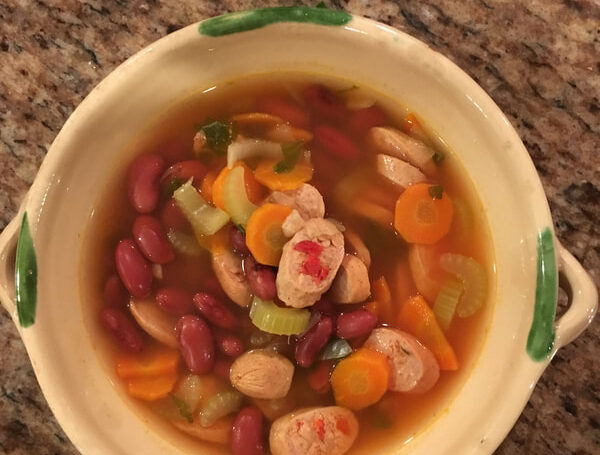 Easy Pressure Cooker Bean and Sausage Soup
We've been busy at Lazy Italian Culinary Adventures lately and the year is kicking off at full steam ahead. We're finalizing our culinary tours, which are fast approaching (If Calabria, Puglia or Bologna are calling your name, be sure to answer that calling by joining us on a tour), we're participant at Mahoney's Winter Market selling some of our delicious treats, and will be there for several Saturdays over the next few months, (stop by if you are in the neighborhood!), we're guest blogging for several sites, we're contributing to several culinary outlets and even writing queries for future publications. Pheeew…. we're exhausted! But we never comprise a home cooked meal! Restaurants? No thanks! At Lazy Italian, we love home cooking!
Today is Sunday and as is everyone else, we're getting ready for the week ahead. Tonight, I decided to make a pressure cooker soup. We admit that Italians aren't generally big on pressure cookers but if the name of this blog is any indication, it surprises me that I haven't discovered pressure cookers before. I mean, you plug it in, hit one button and on you go with your life. Do everything else that needs to be done while dinner is cooking on its on! No stirring, no standing by the stove, no thinking required. Press one button and that's it. Now, if that's not lazy, I don't know what is! Today, we're using the Harvest Direct, Cooper Tech Pressure Pro. This thing is beautiful, easy to use, (one button people!), large for family meals and just looks fancy smancy on my counter!
I run to my cupboards and fridge to see what I can throw in the pressure cooker to make a meal. Shall it be sauce, roast a chicken (yup, it really does that), a stew? I decide on bean soup because it requires little effort and I have some chicken sausages in the fridge that are eager to be turned into a meal. Plus, soup means plenty of leftovers for lunch over the next few days. ​
Here are the basic ingredients that will be turned into tonight's dinner plus lunch for tomorrow and likely the next day. As with all soups, it always starts with carrots, celery, onion and parsley. When making soups with legumes, I always add garlic, they go very well together.
I'm using sodium-free flavoring today. I have been using bullion cubes for years in soups but they do tend to add a lot of sodium so I switched to the sodium free, which gives the flavors without the salt. I just add a teaspoon of salt to the soup, this gives me full sodium control. If sodium isn't a concern for you, feel free to add a half of the regular bullion cube, chicken of vegetable will work wonderfully.
This is less a recipe and just a matter of adding ingredients together. Adept and change this as you see fit. Don't have red beans, use, cannellini, use chickpeas too, the food police is not looking. I use the precooked chicken sausages because, well, I really like these. I use these a lot actually for many dishes because they are healthy (reasonably), easy, quick and less messy than the raw pork sausages. But again, you can use whatever sausage you wish.
Add all the ingredients in the inner pot of the pressure cooker, add the water (or you can use vegetable stock) and off it goes. Turn it on and I can go on to work on something else, such as workout, do housework and simply prepare for the week ahead. So far, the absolute best part of using a pressure cooker has been the clean up. With soups, my stove gets a workout. OMG! Soups generally spill a bit on the stove and unless you clean it up immediately, that's going to get hard and difficult to remove. With the pressure cooker, I just have to wash the inner pot! No spilling, no "is it boiling yet?" no, "did it spill?" no "should I remove the lid?" If you're new to cooking, I highly recommend getting a pressure cooker!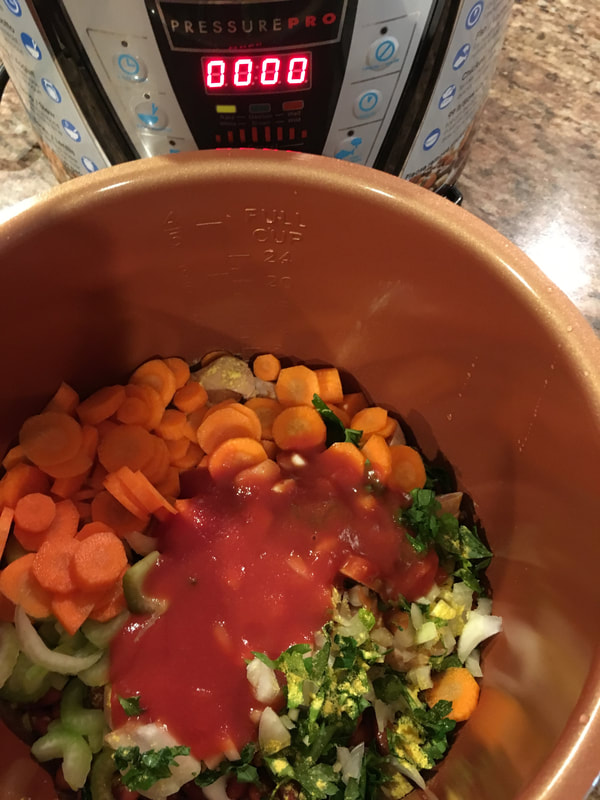 Ingredients
1 small or half a medium onion, finely diced
1 garlic glove, minced
2 tablespoons chopped parsley
2 carrots, peeled and finely diced
2 celery stalks, diced
2 cans beans of your choice, drained and rinsed
1 8 oz can tomato sauce
1 packed sodium free bullion packed or half regular bullion cube
3 tablespoons olive oil
3 – 4 sausages of your choice (cooked or uncooked, chicken or pork, sweet or hot)
1 teaspoon salt
Directions
1) Add all of the ingredients in the inner pot of the pressure cooker
2) Add enough water to cover all the ingredients, plus 1 – 2 inches above. (Be sure to not over fill, follow the directions on the instruction booklet)
3) Lock the lid and hit the "soup/stew" button on the pressure cooker
4) Cook for 25 minutes and serve immediately. Top with grated cheese, if desired.
Ready to jump on the pressure cooker bandwagon? Get your own by clicking here.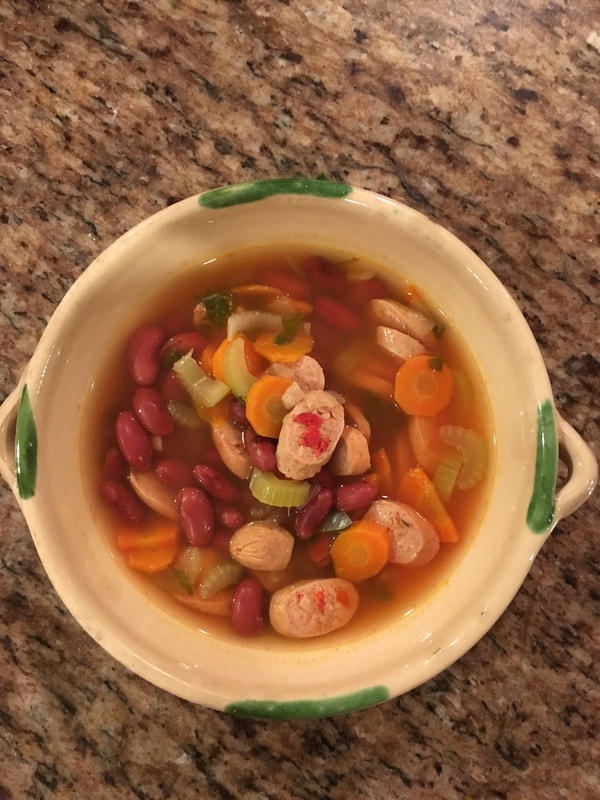 Cosa Mettere in Valigia per l'Italia
Everyone is always asking me what they should pack for Italy,
so I've created a quick reference guide that you can use for your next trip.
Hint: You don't need nearly as much as you think you do!