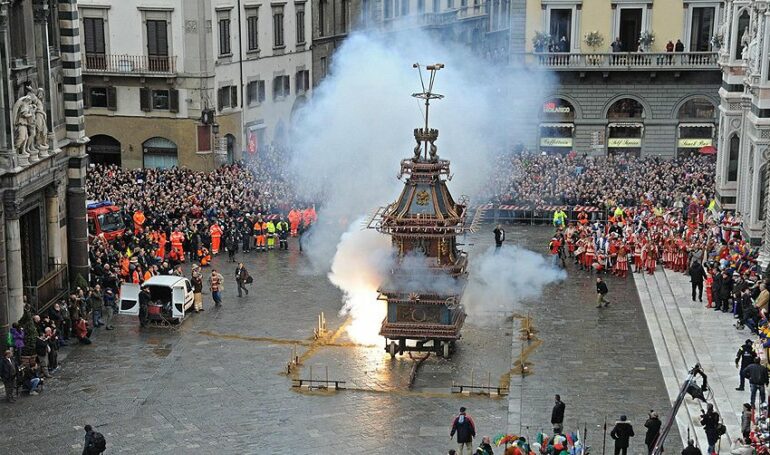 Easter in Italy
Seeing as Italy is 90%+ Roman Catholic, it's not surprising to learn that Easter is Italy's second most celebrated Holiday, right after Christmas, of course. Palm Sunday sets the tone for the entire week with religious celebrations and traditions. Yes, Italians celebrate the entire Holy week leading to the big day. You will find many offices, schools and government offices are closed on Good Friday, and some even the Thursday before.
Thousands of reenactments of the Passion of Christ take place all over Italy on Thursday night. Called "Maundy Thursday" or "Holy Thursday," it is the day Christians believe Jesus washed the feet of his disciples. Many churches reenact this scene, as well as the Last Supper on the Thursday prior to Easter.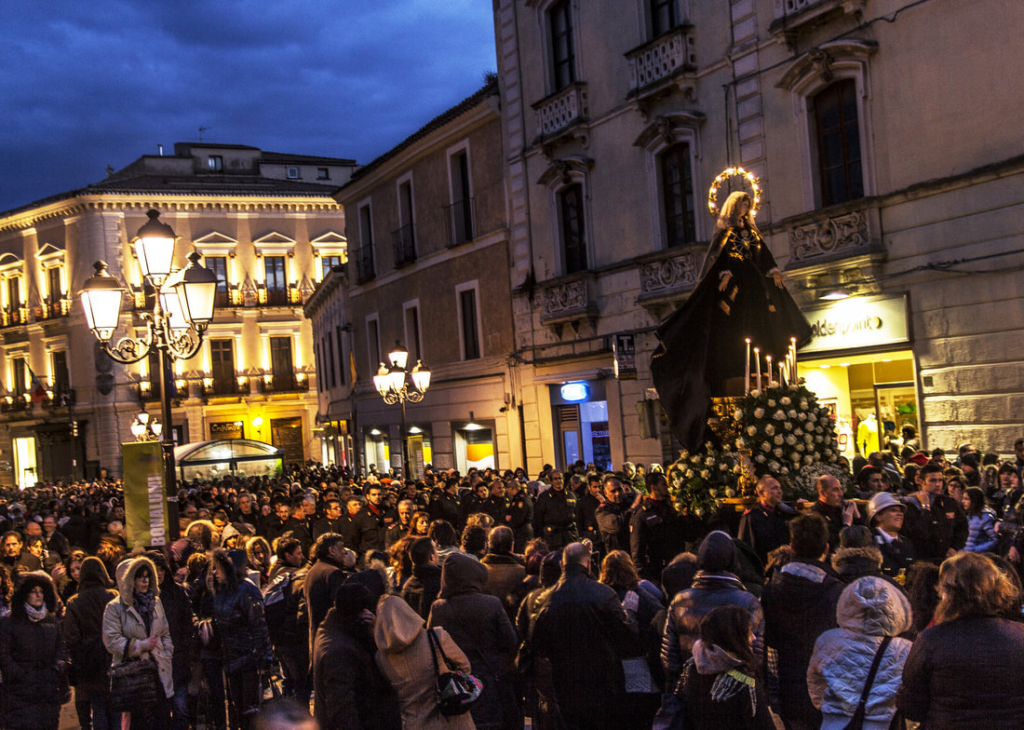 ​Holy Friday is the day churches reenact the Via Crucis. The Way to the Cross is the 14-step Catholic devotion that commemorates Jesus Christ's last day on Earth as a man. Most towns in Italy celebrate in a processional pilgrimage and reenactment that ends at the town's Calvary. Our home in Italy is located on the way from Church to the Calvary, so I recall vividly watching the parishioners walking from church to the Calvary, holding candles, some in bare feet as devotion. It very much resembles a funeral, and the atmosphere is no different.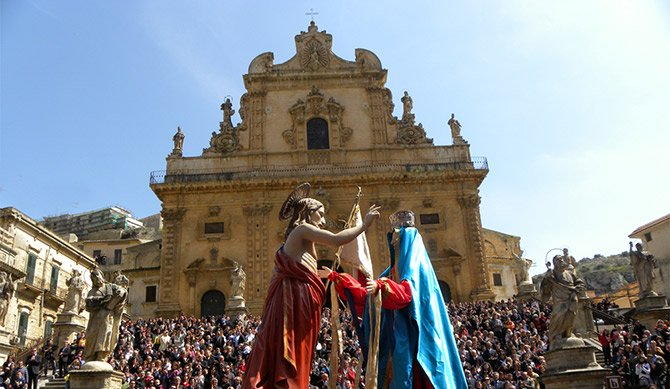 Some traditions in Italy include Sicily's "Vasa Vasa," or Kiss Kiss. On Easter Sunday in southeast Sicily, there are two processions. One carries a statue of the Risen Christ and the other carries Virgin Mary, clad in back and in mourning. They are carried around the town's main streets, until they meet. The Virgin is so content to see her Risen son that she throws off her black robe to reveal a celestial blue cloak and red dress. As she leans forward she plants two kisses on Jesus. Then spectators hear the sound of a band, church bells and fireworks in celebration. It's a beautiful thing to experience this procession in person. 
 
This is certainly not the only tradition, cities such as Florence, Abruzzo, Milan and others have their own similar celebrations, usually including a procession, fireworks and musical bands. Not to be missed in person is Florence's Scoppio Del Carro.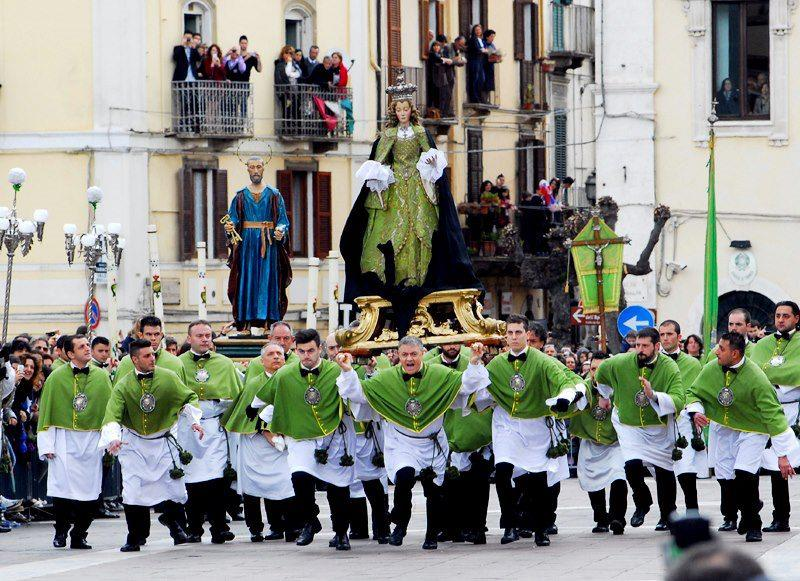 nd the celebration doesn't end on Easter Sunday. The Monday after Easter is called "La Pasquetta" – or "Small Easter," the day is reserved for picnics in the mountains, open-air markets, and overall cause to celebrate with more food, fun and friends. While the days leading to Easter can be very somber and subdued, and Easter Sunday is reserved for family, La Pasquetta is a joyous day mostly reserved for friends. To do it properly, one must back a picnic basket and head for the mountains!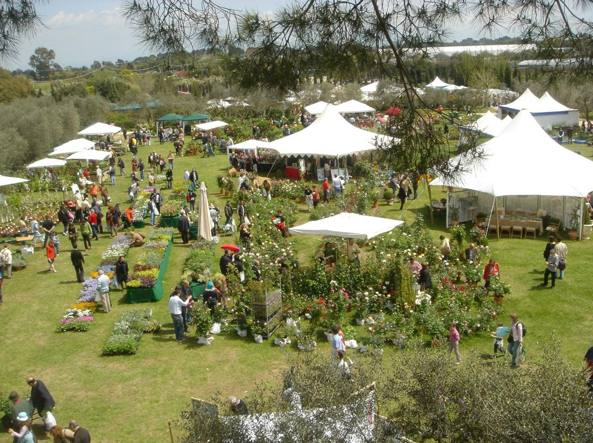 Some foods that are enjoyed during Easter week include:
Stracciatella: Simple broth / soup with egg in it.
Agnello (Lamb): A favorite choice of meat for Easter in Italy.
Artichokes and Potatoes: Traditional side dish to agnello, especially in Rome.
Pizza Ripiena (aka: Pizza "Chiena"): Neapolitan stuffed pizza filled with cured meats, salami, cheeses, hard boiled eggs, ricotta, parmigiano cheese, mozzarella…..)  
Colomba Pasquale: Dove shaped sweet yeast bread very similar to Christmas panettone but shaped like an Easter dove.
Easter Bread: Sweetbread topped with whole (shelled) colored or plain eggs. In Calabria, this is called "Cuzzupa Calabrese." Typically eaten for Easter breakfast. Click link for recipe. 
Pastiera: Neapolitan tradition of ricotta pie filled with cooked wheat and scented with citrus zest.
Chocolate Easter Egg: Italians give children chocolate eggs as oppose to chocolate bunnies.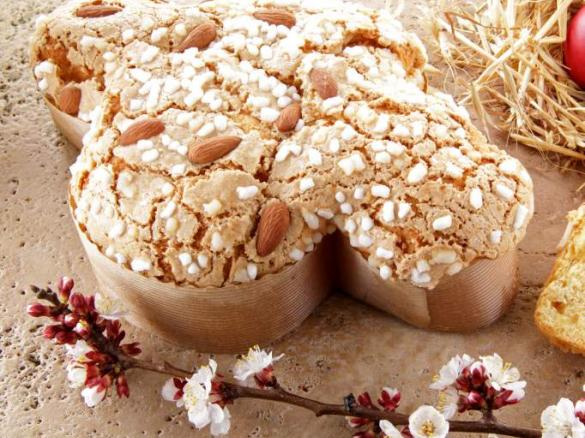 If you happen to be traveling to Italy during Easter week, you are in for a treat. Easter is equally as important as is Christmas is in Italy, foods are plenty, processions are at every corner but keep in mind that tourists are also abundant! It is a peak travel time, so something to keep in mind when taking public transportations, making reservations or plans to visit any site that might be closed for the holiday.
Buona Pasqua!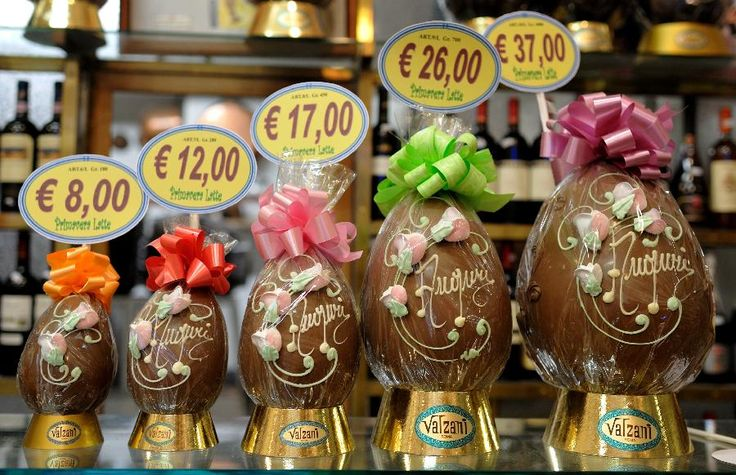 POST UPDATE:
The images below are of the Good Friday Procession in my town in Southern Italy, held on Friday, March 30th. I was Baptized and received my First Holy Communion in the church in these images.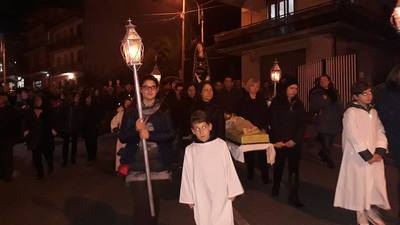 Cosa Mettere in Valigia per l'Italia
Everyone is always asking me what they should pack for Italy,
so I've created a quick reference guide that you can use for your next trip.
Hint: You don't need nearly as much as you think you do!