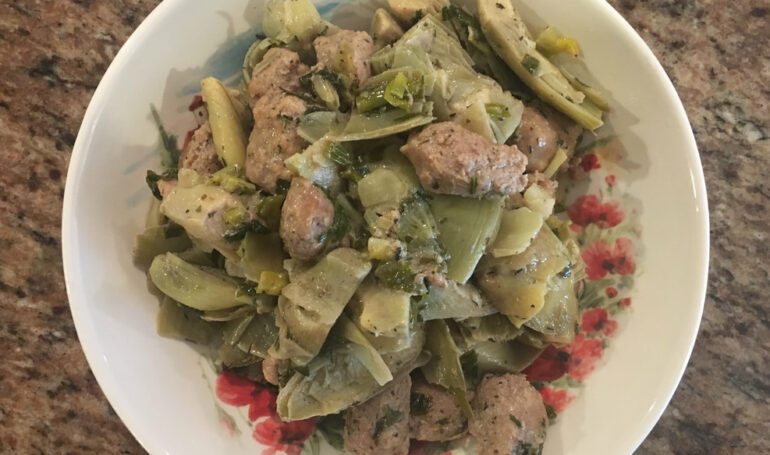 Artichokes & Sausage in White Wine
A few years ago, I discovered frozen artichoke hearts, and I can say, my cooking life has never been the same! I love these things and I'm always thinking of new ways to prepare them. I add them to soups, salads, sauces, pizza toppings and even coated in an egg batter and breaded and roasted. They are that delicious, and no clean up like the fresh ones!
I recently had an open bottle of white wine in the fridge for a few days and was feeling sorry for it. Nothing like wine going to waste!
I decided to make this stir-fry with it, combining my fave item, the artichokes. This dish is a wonderful side or makes great filling for a hot panino! I mean, who wouldn't love this for lunch!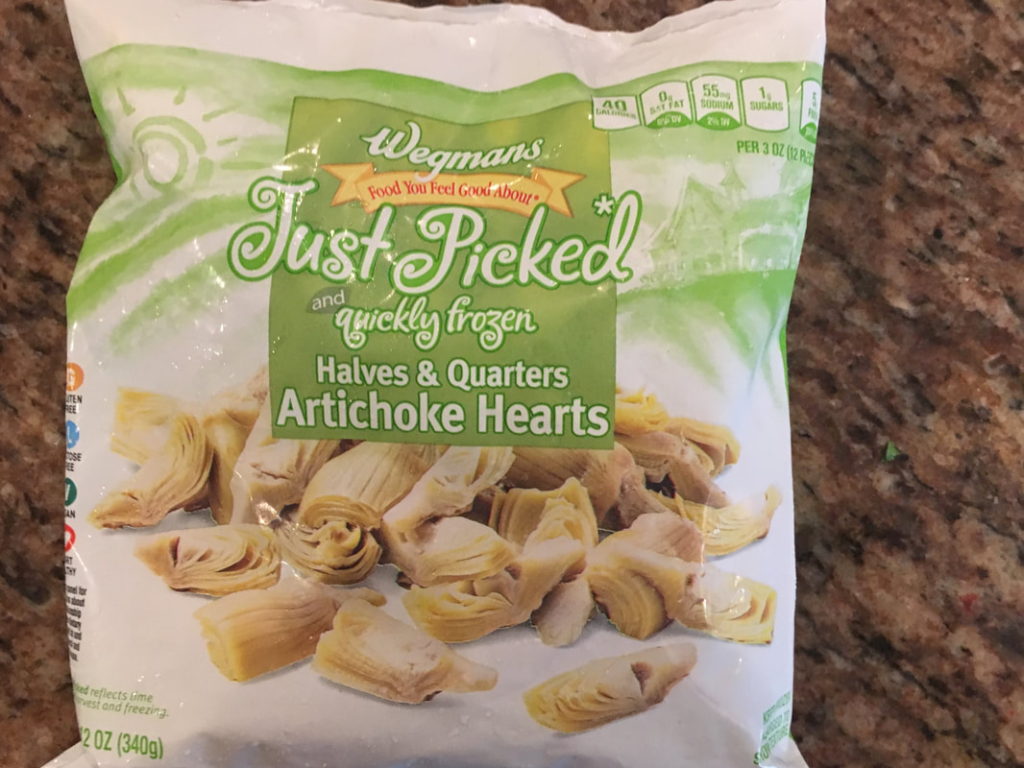 I really ADORE these frozen artichoke hearts and can always come up with new ways to cook them. They are such a great ingredient to many dishes. They are also great roasted with diced potatoes, herbs and EVOO. I even make a sauce out of them. Just an item I really love. I don't like substituting the ones in vinegar, they have too many flavors in them. I like the frozen ones as they are plain and unflavored and I can add flavor as I like. Wegmen's has them, as does Trader Joe's, and some Wal-Mart stores. Whole Foods has them canned, unflavored. Rinse those and substitute if you cannot find the frozen ones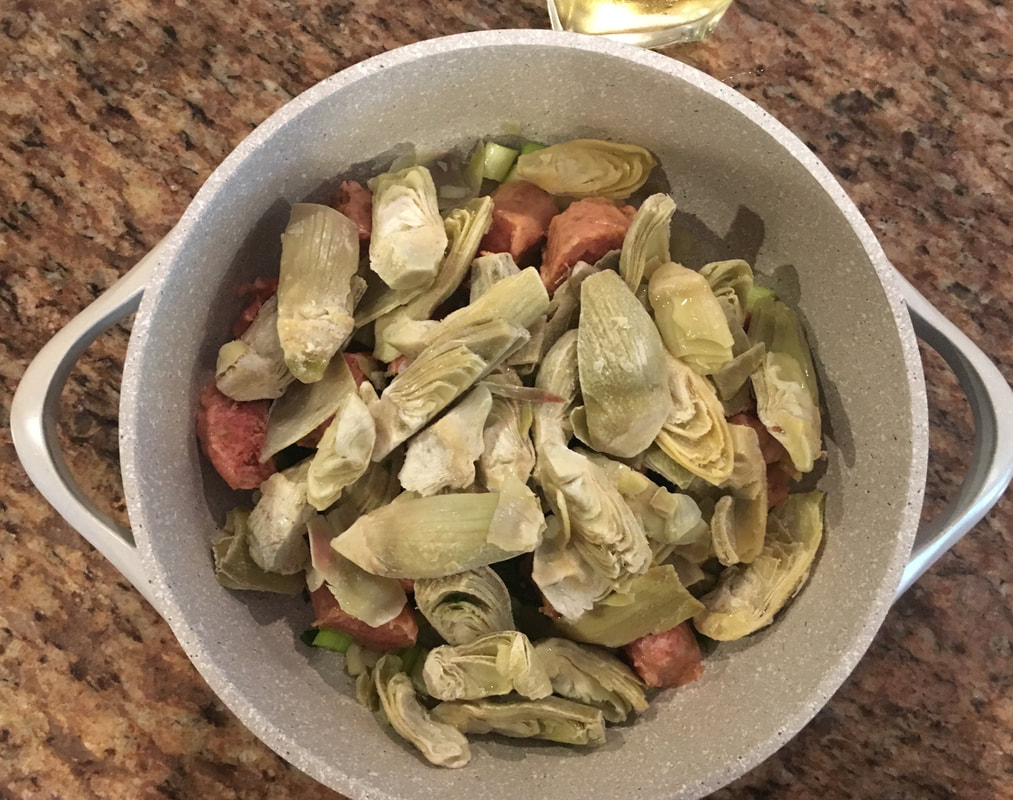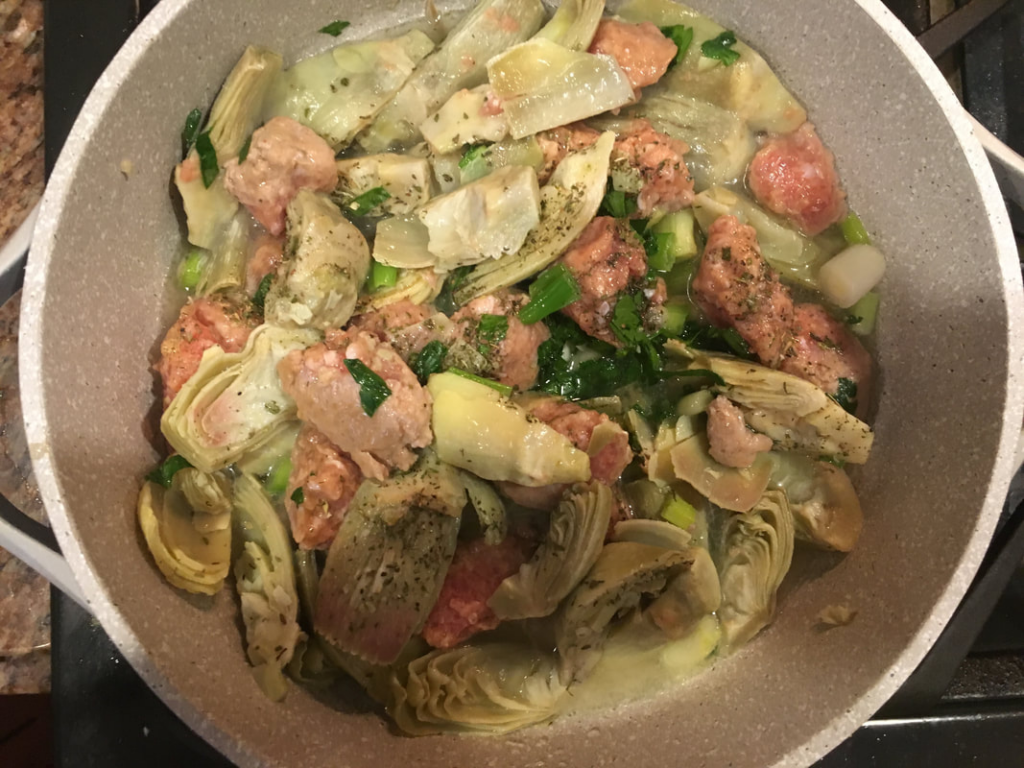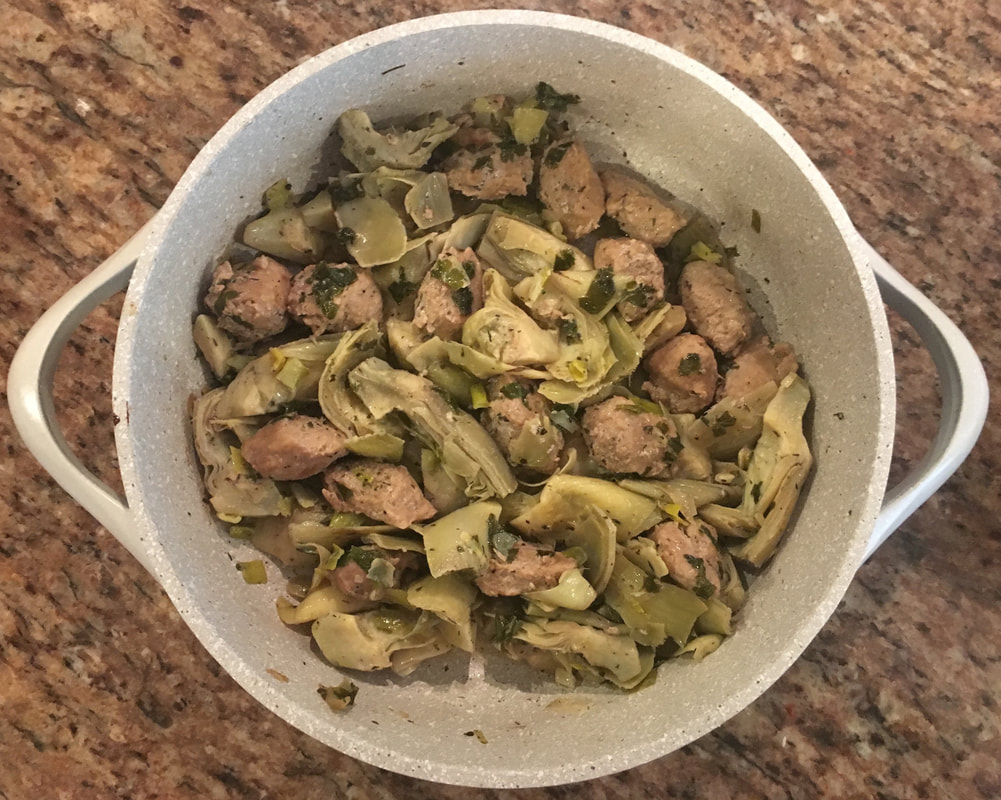 Artichoke and Sausage in White Wine
Ingredients
3 – 4 Italian sausages of your choice, diced into 5 – 6 pieces (I used mild turkey in my this dish, but you can use whatever you like)
3 – 4 Scallions (green onions) or 1/2 medium yellow onion, diced
2 – 3 Tablespoons chopped parsley
1 Teaspoon salt (more to taste)
4 Tablespoons olive oil
1 1/4 Cups dry white wine (divided)
Directions
1. In a medium saute or frying pan, add all the ingredeints except the wine.
2. With the heat set on medium, fry everything for several minutes, browining the sausage.
3. Add 1 cup of wine and continue cooking on low-medium heat until sausage is cooked fully, about 20 minutes. As it's cooking the wine will dry out, add the remaining 1/4 cup of wine. (If, during the cooking process, you drank the wine, add 1/4 cup of water instead!) 😉
Serve as a side dish or in a delicious, freshly baked sub roll and serve as a hot panino. Enjoy!

Cosa Mettere in Valigia per l'Italia
Everyone is always asking me what they should pack for Italy,
so I've created a quick reference guide that you can use for your next trip.
Hint: You don't need nearly as much as you think you do!